We spend a lot of time with mobile apps. We know what we like and what we don't—sometimes within the very same app. Our Fix This App series takes a closer look at a mobile offering that's not without some flaws and tries to nudge it a little closer to perfection.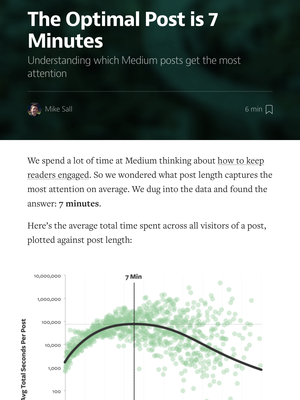 Story-sharing platform Medium has done well since it launched in 2012, providing a site for authors to write and share stories with readers. For writers, Medium offers tools that enable you to easily publish well-designed multimedia pieces. For readers, Medium is about finding and reading great stories and sharing them via Facebook, Twitter, email, and Medium-based collections.
The recent release of Medium, a read-only app for iOS, makes sense. I wanted to really like this app, but at this point, however, the app is very much a beta. The developers acknowledge that many features available on the website have yet to be implemented, while simultaneously saying they've been "optimizing the app experience for the iPad, and know you are going to be just as excited as we are to see how beautiful Medium looks on it."
What it gets right
Medium can be easily viewed on Safari for iOS and other iOS browsers, but the standalone app enables you to read without the potential distractions inherent in reading via a Web browser. At the same time, it's a way for Medium to keep readers engaged for longer periods, and the stories themselves shine in the app's environment.
What it gets wrong
Medium's stories do look beautiful on both the iPhone and iPad, but using the app can be an exercise in frustration. For example, both the site and the app enable you to bookmark stories, but while you can view a list of your bookmarked stories via Safari for iOS, you can't do so within the app. The same goes for your reading list, which bundles stories in collections you've subscribed to, individual authors you're following, and stories posted in Twitter and Facebook accounts you're following. And, again, the same goes for the list of Medium's "Top 100" stories. These three menus—Reading List, Bookmarks, and Top 100— are front and center on Medium's website, but are currently unavailable within the app.
In short, the app is a very simple story browser, and accessing Medium.com on Safari for iOS provides more satisfying experience. When signed in to your Medium account in Safari, you can search for stories and easily search for and browse collections. You can also view stories in either portrait or landscape mode; the app is portrait-mode only. If you want to save a Medium story for later reading in an app like Instapaper or Pocket, you can do so via mobile Safari, but no option exists to do so via the Medium app.
An unadvertised feature of the app is that it enables you to read stories offline. To do this, you "collect" stories on Medium by connecting with other Medium users via Twitter or Facebook, subscribing to individual writers' feeds within Medium.com or the app, and by bookmarking stories. However, it's not clear how many stories are cached for offline reading, and the only way to find out what stories you've got on your iOS device is to scroll through them by swiping left or right, as you would scrolling through a slide show.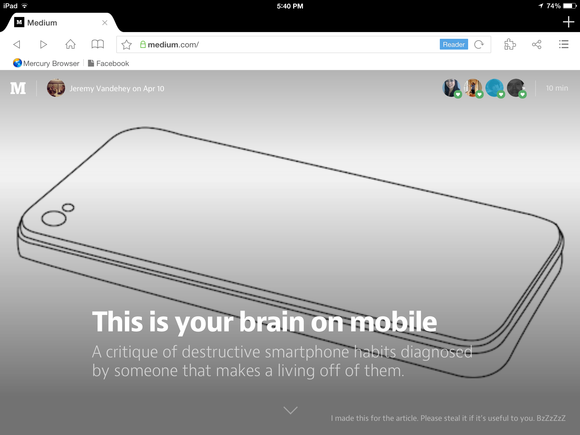 At this point, you can only use Medium for iOS if you have a Facebook or Twitter account. You can browse and read stories on Medium's website without an account via Safari for iOS.
How to fix it
It's hard at this early stage in its development to recommend Medium for iOS as an everyday app for readers; hopefully, it get there at some point soon. In the meantime, it's a better experience for readers to visit Medium.com and set up an account, because of the terrific content that can be discovered there.
Make it clear how many stories are cached for offline reading: Right now, you have to scroll from story to story, instead of selecting a story to read from a queue.
Add support for read-it-later services: Though reading within the app is a nice experience, having support for Pocket or Instapaper would be a welcome addition.
Support bookmarks and add tabs for Medium's three main browsing menus: It's not that easy to find new things to read without these features.