Hands-down, one of the most impressive features we saw during a demo of Amazon's soon-to-launch Fire Phone was Firefly, Amazon's answer to real-time discovery. At first, it just sounded like a glorified barcode scanner: A button on the Fire Phone launches Firefly, and the app uses the phone's cameras to identify products, DVD and book coves, CDs, games, QR codes, email addresses, phone numbers, and barcodes. Once we saw it in action, however, it's clear that it's a scanner on steroids—from what we've seen, it's lightning-fast and super accurate.
Besides product recognition, Firefly also has Shazam-like knowledge and can identify songs you're listening to or TV shows you're watching. Amazon has opened up a Firefly SDK to third-party app developers to bring this cleverness into other apps—right now, for example, you can build an iHeartRadio station around a song you identified through Firefly, or search for concert tickets through StubHub. And, because it's Amazon, it provides you with purchase links through Amazon's massive database.
Whether or not you're an Amazon devotee, you have to admit this technology is pretty sweet. Better yet, you can access some of it right now, on your own phone, without even having to wait for the Fire Phone to launch.
Tell me when to Flow
Firefly is an extension of an older Amazon app for iOS and Android— Flow Powered by Amazon—and it's available in the iOS App Store and Google Play Store right now.
Unlike other barcode scanners, Flow recognizes most products with or without a barcode—like packaging, book covers, and the other things Firefly can recognize. Once the app is launched, just use your camera to view an item, and Flow will take it from there. There's no need to press a button, or line up the barcode and wait for your camera to focus before it begins to search. It starts searching right away, reading the item for information that it recognizes.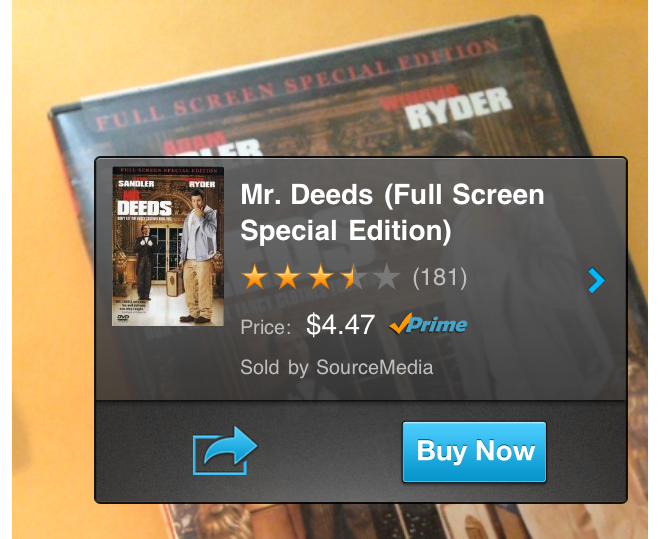 It's pretty solid with packaged products. I lined up an array of products—books, CDs, DVDs, packaged food, unpackaged food (an apple, with the sticker), toys, and other various products, both packaged and unpackaged. It correctly identified almost every single packaged product just by packaging alone—no barcode scanning necessary—and showed Amazon results for each.
Flow searches pretty quickly: You can see various dots moving on the screen that search for usable information, and they quickly hone in on words, icons, labels, numbers, and images. It typically only takes a few seconds to reveal the item name and a handy link to its Amazon purchase page. Results are stored in a dashboard at the bottom of your screen, and will remain there until you manually clear it out.
The only item to stump it was a still-wrapped Moleskine notebook, so I resorted to scanning its barcode. Flow then directed me to Moleskine's website instead of Amazon, even though Amazon sells Moleskine notebooks. That was a little odd.
Not everything will Flow
As for the unpackaged products, it had a little trouble. As in, it couldn't identify anything. To its credit, Flow isn't designed to decode naked items, but it appears that Firefly will be able to, to some extent.
Flow can recognize phone numbers, but presents a more limited scope of options for what you can do with it. When scanning a business card, for example, it recognizes the phone number, and gives you the options of dialing, editing, or sharing the number with another app: Messages, Mail, Facebook, or Twitter. There's no way to save that number in your phone's contact list directly from Flow, but you can copy the number and paste it into a new contact entry. How primitive.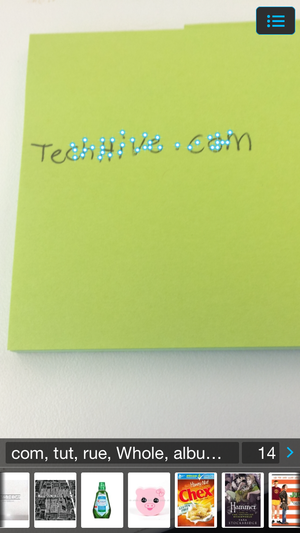 It also doesn't store any other information besides the number: When scrolling through your list of items you've scanned, the only thing saved is the number itself—not a picture of the business card, just a phone number. Not helpful if you didn't save that information elsewhere. Firefly, by contrast, can show you the original photo if you need help jogging your memory about where you got that phone number.
Another thing that Flow struggles with is handwriting. If the phone number, email address, or website you're trying to scan is typed, it has no trouble picking it up. If it's handwritten, however, that's another story. A scan of "TechHive.com" in my—ahem—perfectly-legible handwriting led me to "chhivc.com." Nailed it.
So while Firefly on the Fire Phone will do more than Flow (identifying music and TV shows, for starters, and telling you more about famous works of art), Flow is a good demo of how quickly and accurately Firefly can find identify thousands of products. Once the Fire Phone launches on July 25, it'll be fun to see the further evolution of this technology in the hands of third-party app developers. Perhaps "Will it Firefly?" will become the new "Will it blend?"