These days, keeping up with games can be a full-time job. So how do you separate the signal from the noise, the wheat from the chaff, the Temple Runs from the Temple Jumps? Allow us to help by regularly selecting a game You Should Play.
Any notion that smartphones and tablets would only be capable of dumbed-down, casual-centric games has thankfully been diminished over the past several years, as we've seen an incredible array of excellent experiences that fit comfortably on such devices. Even genres that seemed like they'd be totally questionable without a physical gamepad or a keyboard and mouse—like first-person shooters or precise platform-hopping games—have spawned smart and satisfying touch iterations.
Still, the touchscreen games I often find myself most impressed by aren't the ones that surprise me with how well they translated, but rather those that simply wouldn't be feasible on any other kind of device. I love playing a game that feels uniquely designed around the unique strengths and limitations of a particular piece of hardware, and one of the best such examples of late for iPad and iPhone is a little wonder called Blek.
Blek launched fairly quietly at the end of 2013, but then caught some well-deserved recognition a couple months back and has been floating near the top of the App Store's paid chart since. Incredibly simple and approachable, yet deviously (and enticingly) challenging, this puzzler tasks you with clearing all of the colored dots from each screen by drawing a single doodle—which then becomes animated based on your input and continues moving along the screen.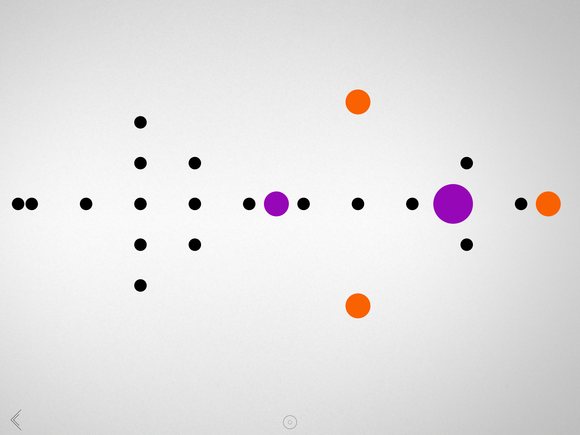 It's such a smart and versatile concept, and there's nothing else like it on iOS (and eventually Android) or any other gaming platform. Why should Blek be your next portable puzzle obsession? Here are three reasons why:
There's no single way to win: Unlike puzzle games that have a single solution to suss out, Blek lets you freestyle your way through each stage—and that's really the hook. You need to clear all of the colored dots with a single scribble and without it touching the black dots along the way. How you get that done is up to you, and while the really complex dot arrangements probably have a more limited selection of viable solutions, you can sketch your own route and try any number of different strategies. The lack of a grid to follow or any complex rules really makes for an engaging and welcoming experience.
You'll fail thousands of times, but that's OK: Blek is one of the best examples of a trial-and-error experience done right. You'll lose repeatedly, every few seconds or so, and maybe many dozens of times on a single puzzle before figuring out a correct solution. But in doing so, you'll learn the potential pathways on each stage and get pulled deeper and deeper into its web. Blek doesn't waste time with menus informing you of a failed attempt; the doodle just disappears and you're free to draw another and give it a fresh attempt. That you're never pulled out of the moment is a masterful move that keeps the game from feeling frustrating, and the ability to learn from your failures and immediately react yields a satisfying feedback loop.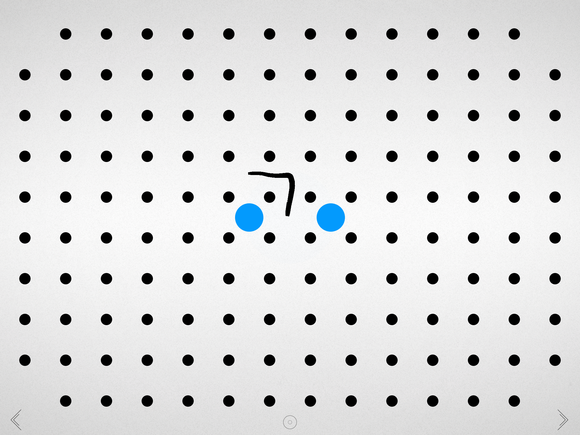 It's accessible and charming: In terms of interactions and gameplay elements, there's really nothing more to it than drawing little squiggles and patterns and adapting them to the results. As such, anyone can learn the game in an instant and start having fun—but there's definite challenge packed in here, and it doesn't take long before you're fixating on a single puzzle for a long stretch of time. Luckily, the super-minimal design is quietly attractive, and the silly sounds the black dots make when struck add a lighthearted touch to what can be a very tough game later on.
Blek is easily the most interesting game about drawing little squiggles that I've ever played, and while approachable and simple in focus, it develops a strong grip on you as its puzzles become ever more complex. I love all manner of mobile and tablet experiences, but there's just something about a touch game that wouldn't make sense with a controller, and Blek is one of the best such titles around.
Developer: Kunabi Brother Platform: iOS (Universal) Price: $3