This is probably going to make me sound old, but it still astounds me that people can make studio quality music and recordings on their iOS devices. The first time I saw someone using an iPad as part of her live DJ setup, my mind was blown. I watched her add layer upon layer upon layer of beats to expertly craft a danceable song that had the whole venue raging.
Of course, you need the proper tools to make this happen. One such tool that's perfect for both aspiring and professional musicians is Beatwave, an app that lets you create dreamy electro-pop tunes on your iPhone or iPad. It's essentially a pocket drum machine, with a wide array of sounds to choose from.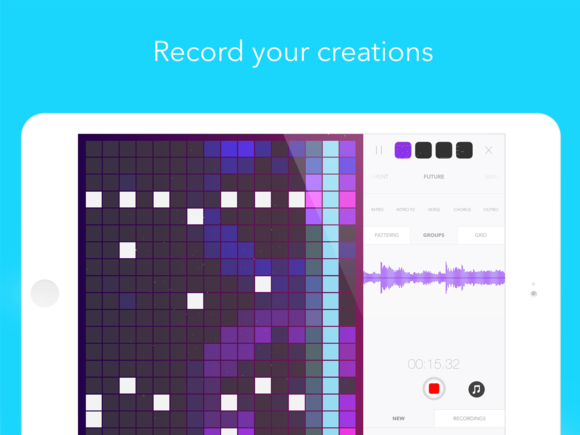 One thing that's turned me off from music-making apps in the past is that they tend to be a little intimidating for noobs. Beatwave isn't like that at all. Its main screen shows off a grid with tiny squares, and you'll see a bar moving from left to right across the screen, starting over when it reaches the end. Tap anywhere on the grid to start creating sounds. That bar keeps time, and when it hits the square you've filled in, it will play that note.
The higher up on the grid you are, the higher the note will be. Draw notes together to create continuous sound. Your bottom two rows give you a drum beat.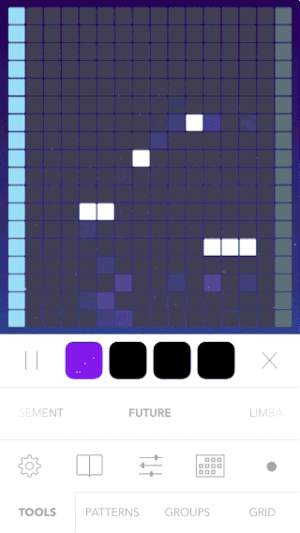 Below the grid, you'll find your controls, where you can add up to four instruments playing at once. Tapping on the instrument name gives you controls and sound options for that layer, and you scroll from left to right to sample all of your instruments.
If you create a sound you love, save it to use again later: Saving a pattern saves a single string of notes from one instrument, while saving a group will save the entire grid. This is useful if you're creating a chorus, because you can place a group or pattern throughout different spots in your track.
You can also experiment with tempo, check the mixer to tweak the intensity of each instrument, and control overall volume. Other controls let you record, share, or start a new session.
Beatwave is an entertaining app to play around with, because that's exactly what you're doing—playing! Even if what you create is just a jumble of notes, you can tweak it in a way that makes it enjoyable. You'll be surprised at what blindly tapping on your phone's screen will create. It's music to your ears… Sort of. Maybe. It will be something noisy, at least.
Beatwave is a free app for the iPhone and iPad, and is available now in the App Store.