Thanks to our smartphone obsession, we're taking more photos now than we ever have—but where are those photos going?
Maybe we're uploading them to Facebook, Twitter, or Instagram. Maybe we're sharing them with our friends and family via text message and email. Or maybe they're just sitting in our Camera Rolls, unseen and completely forgotten about…until we have to go back and delete them because we want to download a new app and our hard drive has no more space.
It's time to get those photos off of your phone and somewhere they can be seen, whether that's in an email, on social media, or on a physical piece of paper in a physical book. Here are six apps that can help you turn your phone photos from forgotten, hard-drive-space-wasters into cool, shareable memories.
Story
If you're looking to tell a story with your photos and videos, Disney's Story (free; iOS) can help you do it. Story connects to your Camera Roll and lets you pick up to 20 photos and two video clips to combine into a short, shareable slideshow set to music. The app is easy to use and, best of all, not entirely Disney-centric (though there are a handful of Disney themes, if you want to go that route).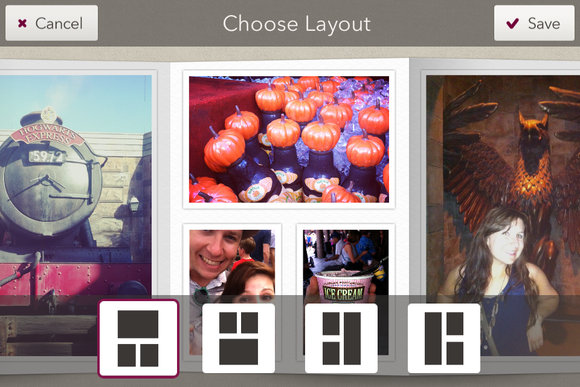 I like Story because it's easy for even the least tech-savvy people—such as my mother—to use. The app starts out by pulling photos and video clips from your Camera Roll and grouping them by date and location into "suggested memories." This way, you don't have to go looking for individual photos from a trip or event—they're all right there, organized into convenient photosets. Of course, if you'd prefer to hunt down photos individually, you can do so by tapping "select from your Camera Roll."
Once you've chosen your photos and clips, you can start setting up your slideshow. If you're looking for a quick slideshow, choose a theme (there are several free, simple themes, as well as a handful of premium themes that cost $2 each) and the app will pre-arrange your photos and set them to music. You can also tweak the music, add captions, or tap photos to remove them, replace them, or crop them. You can preview your slideshow at any time, and when you're finished you'll have the option of sharing your story via email, Facebook, Twitter, or Pinterest.
Magisto
If your phone is rife with video clips, you'll want to check out Magisto (free; Android, iOS, and Amazon Appstore), a "magical" video-editing app that's like Story for video clips. Magisto takes your clips and photos and stitches them together into a polished, shareable 1-minute clip, complete with cool transitions, video effects, and music.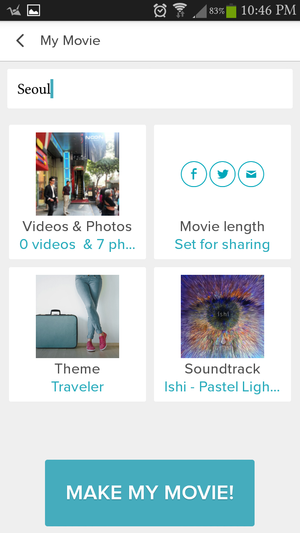 Magisto lets you pick up to 16 video clips and ten photos from your Camera Roll or Google Drive. The app supports all standard video formats, so you should be able to upload clips from various sources to Drive, if you want more media. Once you've chosen your clips and photos, Magisto basically takes over: You can pick a theme (there are 17, ranging from "Summer" and "Fashion" to "Sentimental"), music to go with that theme, and name your movie, but Magisto does the rest. The app "magically" detects the most interesting parts of your video clips and photos, and combines everything into a neat little video clip that you can share via email or social media.
As a free Magisto user, you can create video clips up to one minute long, which is basically perfect for online sharing. But if you want a little more flexibility, Magisto also offers a paid option—$5 per month or $18 per year—that lets you upload more media per clip (up to 25 videos and 30 photos) and create longer movies.
Postagram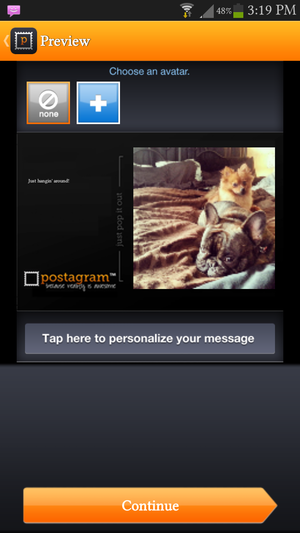 Whenever I travel, my mother asks me to send her a postcard from the cities I visit. While I understand the sentimental value of a physical postcard stamped and mailed from across the world, the logistics are often not so simple: I have to go buy a semi-relevant postcard, find a post office and/or someplace that sells stamps, and remember to drop it off before I hope on my flight home. But Postagram (free; Android and iOS) makes sending pretty, personalized postcards to anyone in the world, from anywhere in the world, a snap.
Think Instagram in postcard format. Postagram lets you grab photos from your camera roll and send them as glossy postcards, complete with a message, to anyone in the world for just $1 apiece. Just choose a photo from your Camera Roll, favorite photo gallery, or Facebook, and crop it into a square (Postagram only lets you send square photos). Add a message, choose an avatar for yourself (it'll appear as a small icon above your message), and enter in your recipients' address. If you don't know their address, Postagram will also let you email or text them to find out. Preview your final card and then hit "Looks great, I'll buy!" to send the card.
If your recipient is in the U.S., they'll receive a physical postcard printed on thick, glossy cardstock in two to five days (if they're outside the U.S., it'll take a little longer—my Postagram took about a week to get to my brother in Tokyo). The photos are printed at 300 dpi and measure 3 by 3 inches, and they're die-cut so the recipient can pop them out of the Postagram and save them. Postagram does lose a little of the postcard charm—there's no international stamp, for example—but it's a great way to send a personalized physical postcard.
Ink Cards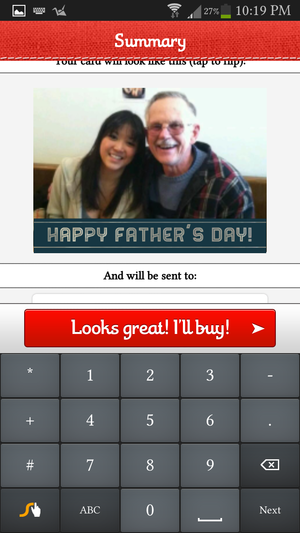 Postcards are quick and fun, but some occasions call for a little more formality. Created by the same company as Postagram, use Ink Cards (free; Android and iOS) to send personalized greeting cards through the mail.
The Ink Cards app is, not surprisingly, very similar to Postagram. Instead of postcards, you get actual greeting cards, and instead of $1 apiece, they cost $2, which is actually very cheap when you consider the cost of regular greeting cards. To get started, open up the Ink Cards app and choose a template. Templates are organized into categories, which include birthdays, various holidays, and miscellaneous categories such as "Pets" and "Thinking of You." Most templates include a place to put your own photo, but you'll also find some non-personalized cards with cutesy graphics and Hallmark-style sayings.
Once you've picked a template, you can modify its elements: Add your own photo, personalize the message, and adjust the color scheme (if applicable). When your card looks perfect, tap continue to add your recipients' address and make your purchase. If your recipient is in the U.S., they'll receive the card in three to seven days; if your recipient is international, it'll take seven to ten days.
Groovebook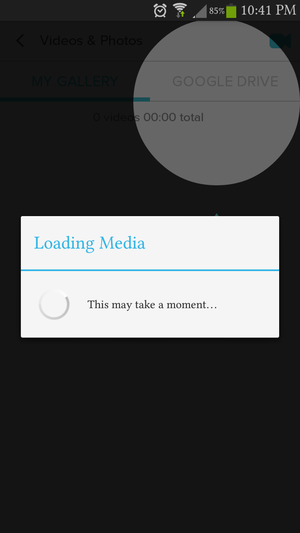 I first discovered Groovebook ($3 a month; Android and iOS) on ABC's Shark Tank. The concept—get your photos off your phone and into your hands in a neat, cheap little book—wooed both me and the sharks (app creators Brian and Julie Whiteman made a $150,000 deal with Mark Cuban and Kevin O'Leary). The subscription-based service costs just $3 per month, including shipping, and delivers a physical photo book of up to 100 photos directly to your door.
While Groovebook's concept is fantastic, its app needs a little work. However, if you're the type of person who likes to show off your phone photos, it's definitely a lifesaver. Not only is it significantly cheaper than developing your photos one by one (CVS Pharmacy charges 19 cents per 4-by-6-inch photo), it's also vastly more convenient.
To get started with Groovebook, download the app and sign up for an account. Your book is technically free—you just pay $3 shipping and handling. You can upload up to 100 photos each month to go in your Groovebook, and if you upload fewer than 100 (at least 40) you'll just see repeats. Groovebooks are delivered once a month (when you're nearing the deadline, the app will send you an alert), and feature a soft, textured cover, 100 full color prints, and perforated pages so you can remove pictures and frame them or stick them in real photo albums. The photos are sort of halfway between matte and glossy, and are printed on very thin paper—you are only paying about 3 cents per photo, after all.
The main issue I have with Groovebook is its app. The app is easy enough to use, but…let's just say it's not exactly smooth sailing. The app asks you to first review the photos you want to add or remove, and then upload them to your Groovebook. The upload process takes a long time—so long, in fact, that I often had to just leave the app open and walk away while it was doing its thing. The app also freezes frequently and occasionally crashes. This is definitely an app that takes a little patience, but if you stick with it you'll eventually be able to upload all the photos you want in your book.
Mosaic
Groovebook is a neat way to get photos off of your phone and into your hands, but the Groovebooks themselves aren't exactly photo book masterpieces. If you're looking for a photo gift or a true keepsake, Mosaic is definitely the way to go.
Mosaic (free; Android and iOS) helps you create gorgeous printed photo books for $20 each. That might sound a little pricey, but you're paying for quality: Mosaic books are printed on smooth, glossy paper with thick, linen covers. The books, which measure 7 by 7 inches, feature an artsy "Mosaic" photo collage cover, and can hold up to 20 photos chosen from your smartphone or social media.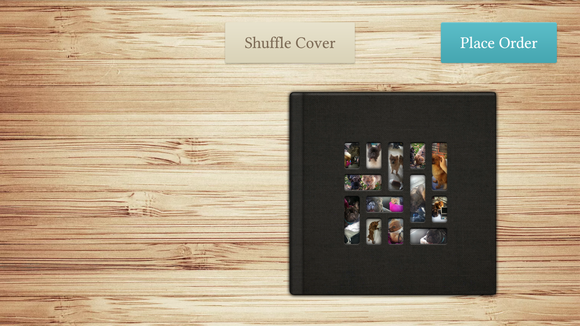 Mosaic's app is intuitive and much more polished than Groovebook's. The app draws photos from your Camera Roll, and asks you to pick 20 (no more, and no less) photos for your photo book. After you've picked your photos, you'll see a preview of your book, including the photo collage cover. You can tap "Shuffle Cover" to see a new photo collage (tap this as many times as you like until you get the perfect look), and then flip through the book to preview it. Tap "Rearrange" to re-order your photos, and toggle between white and black backgrounds.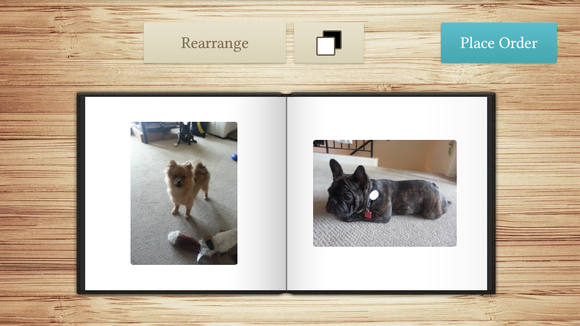 When you're ready to order your book, tap "Place Order" to enter in your payment information and address. Mosaic books take just four days to get to you, and because they're printed within 48 hours and shipped via UPS Next Day Air, they're a great last-minute gift.