I'm a huge Tetris fan. There's just something about the pure adrenaline that rushes through your veins when you've lined up the perfect Tetris combo, and your next piece is a straight polyomino. You know what I'm talking about. Heck, my mobile ringtone is an electronica version of the Tetris theme song.
And I know I'm not the only one: After all, Tetris is only one of the most popular games ever. But even we diehard tetramino stackers need a change of pace every once in a while. Luckily, that doesn't mean we have to give up block-stacking goodness—instead, we can just pick up one of these Tetris-y mobile games that offer up the same simple, fast-paced, and thoroughly addictive gameplay as our old standby.
Tetris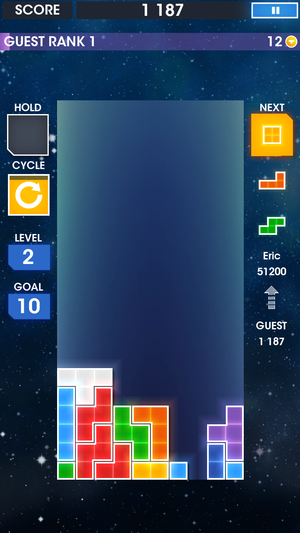 We can't have a Tetris games round up without Tetris, but if you're a diehard Tetris fan you may want to take a deep breath before you power up Electronic Arts' mobile Tetris game (free, Android; $1, iOS). The concept is, obviously, the same as the original, but the controls are a bit…wacky.
If there's one thing everyone loves about Tetris, it's the fast-paced, reflexive gameplay. But that's difficult to replicate on a touchscreen device with no physical buttons. To compensate for the lack of tactile controls, EA offers several new, somewhat bizarre controls for the old game, all of which take a little time to get used to. The "classic," or rather "mobile classic" controls—swipe controls—are still there, and they offer the closest thing to traditional Tetris that you're going to get. With swipe controls, you swipe your tetramino left and right to place it, tap to rotate it, and swipe down to speed it toward the bottom.
EA also offers "One-Touch" controls and "Drag-and-Place" controls. If you choose to play with One-Touch, your tetramino will no longer fall toward the bottom of the screen. Instead, it sits at the top and you see several outlines of where it could potentially end up. You can then tap one of the outlines to make the piece travel there, or you can tap the screen to see several more options. There is a timer, and if you fail to choose an outline in time the piece will simply fall as-is. If this sounds really weird, that's because it is, and it definitely takes some practice and an open mind. Drag-and-Place is a little more intuitive; with these controls, you simply tap on the piece and drag it into place.
If you're looking for classic, old school Tetris, EA's mobile Tetris will almost certainly leave you disappointed. But if you're looking for a twist on the original game, these new controls constitute just that.
Dream of Pixels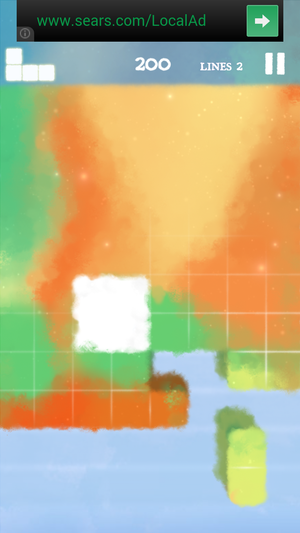 What would Tetris be like if, instead of stacking blocks, you were pulling them back out? Now you can find out, thanks to Noodlecake Studios' Dream of Pixels (free, Android; $3, iOS). Simply put, Dream of Pixels is reverse Tetris. Instead of fitting blocks together to form a solid wall, you're pulling blocks out of a solid wall. But you can't just pull them out at random, or you'll end up with stranded blocks that can't clear themselves.
In Dream of Pixels, a solid wall of blocks descends slowly from the top of the screen. In the upper left corner, there's a shape—the shape of the tetramino you can pull out of the wall. To pull the shape out, tap any block near the bottom of the wall: If it can somehow combine with blocks near it to form that shape and leave the wall, it will (if it can't, the block will pulse red). The trick is to pull shapes from the "right" places, because if you pull a shape from too far up, you may end up with orphaned blocks that can't be turned into tetraminos (they'll be floating on their own, not adjacent to any other blocks). The goal is to basically undo Tetris, block by block.
Dream of Pixels has a bit of a learning curve, and it's definitely challenging. But it's just challenging enough to keep you interested without frustrating you (too much). True to its name, Dream of Pixels has an overall tranquil, dream-like feel: The blocks are multi-colored clouds floating through a starry sky.
Puzzlejuice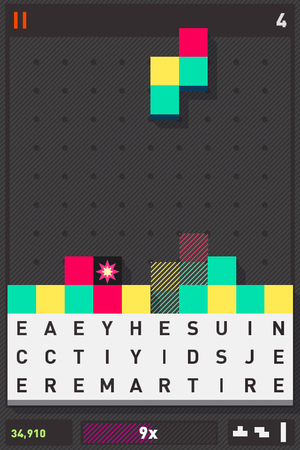 I love Tetris, and I love word games. And Puzzlejuice ($2, iOS) combines both of these loves into one challenging, addictive game.
You can think of Puzzlejuice like Tetris, but with an extra step. The main part of the game is block-matching tetraminos using intuitive swipe controls (swipe right/left to move your block, tap to turn it, and swipe down to speed it toward the bottom). But when you make a line, it doesn't clear from the board: Instead, the blocks turn into letter tiles. To clear blocks from the board, you must now make words with those letter tiles by dragging your finger across the tiles (similar to Scramble, or offline Boggle) while still fielding falling blocks.
Puzzlejuice also utilizes colors in its gameplay: Tetraminos are made of individually colored blocks. As blocks start to pile up, you can tap on color-groupings of three or more blocks of the same color to quick-change those blocks into letter tiles. For the most part, you don't need to strategize to get colors together (they'll end up falling that way), but if you want an extra layer of challenge you always can.
Although Puzzlejuice sounds much more complicated than traditional Tetris, it's actually not—it just has one extra step. However, it is a challenge to try to find words while simultaneously fitting tetraminoes in place, and even the most seasoned Tetris and word-game players will find Puzzlejuice exhilarating.
Shibuya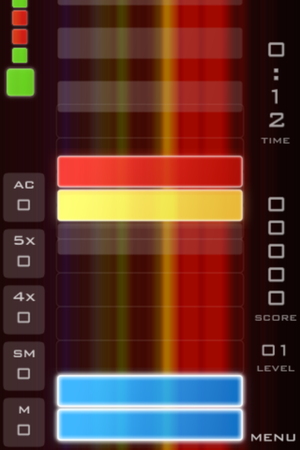 Not all block-stacking games involve tetraminoes and shape matching. Shibuya ($1, iOS) is a simple-looking block stacker that focuses on color matching.
In Shibuya, all blocks are the same size and shape: Wide, solid bars. They fall from the top of the screen empty, with no color assigned to them. In the upper left corner, small boxes display a color line-up, including the current color. Tap on any empty box to fill it with the current color, and then tap on another box to fill it with the next color. The goal is to put colored boxes next to each other and then tap on color groupings to remove them from the screen. This means you'll want to choose your color assignments strategically, because you can only remove groups of two or more.
Shibuya is easy to pick up and play, and once you have the hang of it you can choose from five different speed classes (slow, normal, adept, fury, and gentle rain), depending on how difficult you want the game to be. The game also looks and feels nicely polished, with a cool, futuristic soundtrack and smooth gameplay. If you're looking for a block stacker that doesn't feel like a Tetris clone, this is it.
Puzzle Prism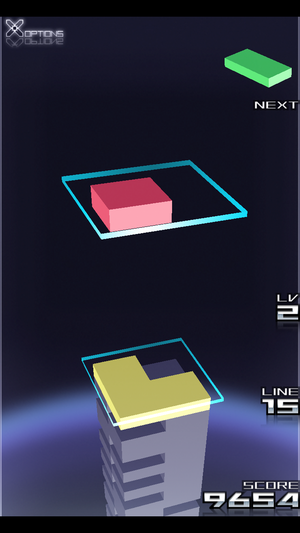 Remember Blockout, the 1989 "3D Tetris" arcade game that has you manipulate 3D tetraminoes as they fall into a pit? Puzzle Prism ($1, Android; $3, iOS) is a lot like Blockout: A fast-paced, block-stacking game that adds and extra dimension (literally) to traditional Tetris.
In Puzzle Prism, you have an angled side view of a slowly spinning tower of blocks—think Jenga, but with tetraminoes. New pieces appear above the tower (and spin in tandem with the tower; the spinning is there so you can view the tower from multiple angles before making a decision), and can be rotated by swiping left or right, flipped upside down by swiping up, and accelerated toward the tower by swiping down. The block flipping, which is the main difference between Puzzle Prism and Tetris, takes just a moment or two to get used to if you've never played before.
Puzzle Prism is one of my favorite Tetris-like games: It's easy to pick-up, very fast-paced, and completely addictive. It feels a little nostalgic, with simple, neon-colored graphics and an F-Zero-esque soundtrack, but gameplay is smooth and modern and perfectly suited to the touchscreen. The game has four modes—standard, time attack, dead line, and extra—which are unlocked (slowly) as you play.