It's official: Summer has arrived, and with it, longer days with warmer weather. It's the perfect time to strap on some supportive sneakers and hit the trails. Whether your idea of a great hike is a ten-mile trek through the wilderness, a leisurely stroll through the woods, or a power walk in the urban jungle, apps abound to help you make the most out of the experience. Here are seven that will help you with everything from planning your adventure to logging your journey.
Hiking Planner and Hiking Checklist
For those who are preparing for a longer hike or extended backpacking trip, you might want to make a list of necessary supplies. Hiking Planner ($1, Android) or Hiking Checklist ($1, iOS) may look a little dated, but they handily come with more than 250 pre-loaded items geared for hiking trips. The items are split into a variety of categories, including backpack, clothes, food and snacks, and first aid kit.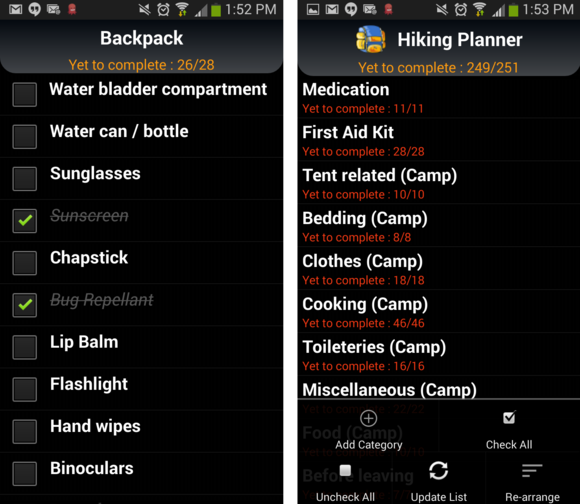 There are also seven sections dedicated to camping-specific lists in the event your hike is a multi-day affair. Features are minimal; you can add your own categories, add items to each category, and rearrange the lists. You can also hide checked items from lists, which is a nice hack for customizing each section.
National Park Maps
Before you take off to one of our country's many beautiful national parks, have a map already in hand—not all ranger stations have paper versions in stock. For Android, National Park Maps (free; Android) is a great app that offers a one-stop-shop for downloadable maps, which is key since you probably won't get cell service in a lot of the parks. Many of the maps are available for free as well, although you have the option to purchase topographical maps for a dollar or two depending on the park. In addition to providing trail maps, you can view (where available) points of interest, lodging and camping locations, and general park info. There's also a compass and the ability to track your location—again, if you have service. My gripe: it's not the most intuitive app to navigate.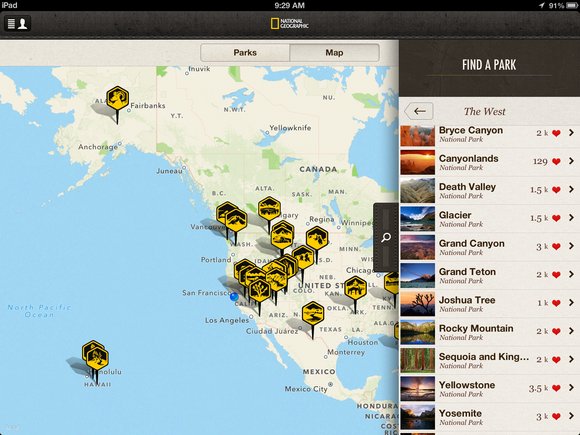 For iOS users, there's National Parks by National Geographic (free; iOS), which has a nicer interface than the above. But whereas National Park Maps offers maps for all of the 58 parks, Nat Geo's version has guides on just the 25 most popular. It's also more of an interactive experience, offering maps along with photos, tips on park secrets and advice on what to see and do. You can also collect "stamps" based on visited locations and completed activities. Want more? There's an option to purchase full guides, ranging from $2 for individual guides to $14 for the whole pack. The one downside is that there doesn't appear to be a way to download maps, which could present a problem for those traveling to more remote trails.
MapMyHike
Looking for something a bit more organic than national park trails? MapMyHike (free; Android, iOS, and Windows Phone) has an answer for that. This app includes user-generated routes, so you can see what walks or hikes are near your current location, chose a trek based on distance and gain, and then follow a map of the route.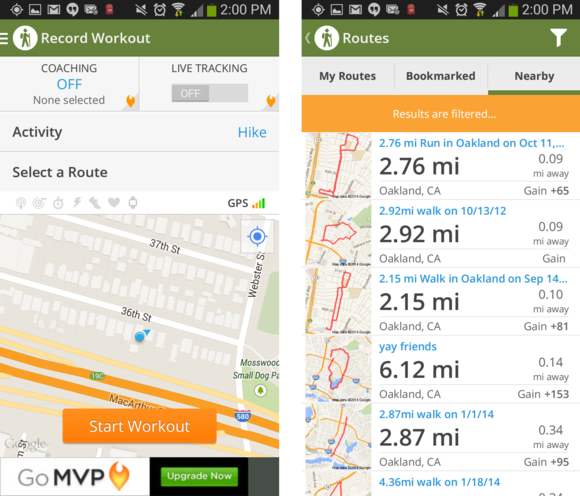 But the main purpose is to record your own routes, including distance, elevation, and calories burned. In addition, this app provides some full-fledged fitness features, such as the ability to log food and an assessment of your nutrition. An upgrade (for $30 per year) is available that adds audio coaching, personal training plans and live tracking, for sharing your real-time location with family and friends—extremely handy if you often hike alone.
MobilyTrip
If you'd like to keep track of your hikes, consider using MobilyTrip (free; Android and iOS) to create a travel journal. This nicely designed app and web service lets you store your trip photos and blog about your experience in one handy location. (Here's a thought: Take a screenshot of your route from MapMyHike and add that here as well.)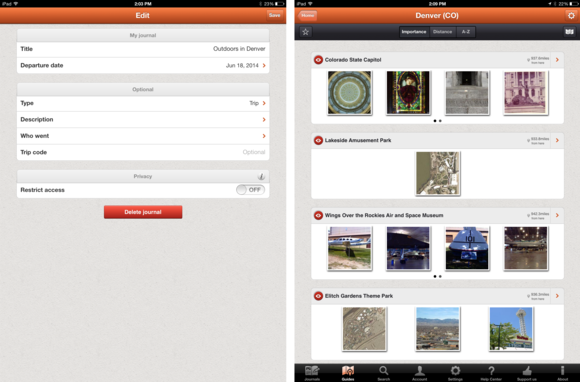 MobilyTrip also provides 125 free guides (and more to purchase) in the event you've traveled afar for your hike and need info on the surrounding area.
PeakFinder
Mountain-aficionados are sure to appreciate PeakFinder, which offers four versions—Alps ($4; Android and iOS), USA East ($4; Android and iOS), USA West ($4; Android and iOS), and Canada West ($4; Android and iOS)—for around four bucks apiece. This nifty app logs your location and then displays all the peaks around you in a panorama display.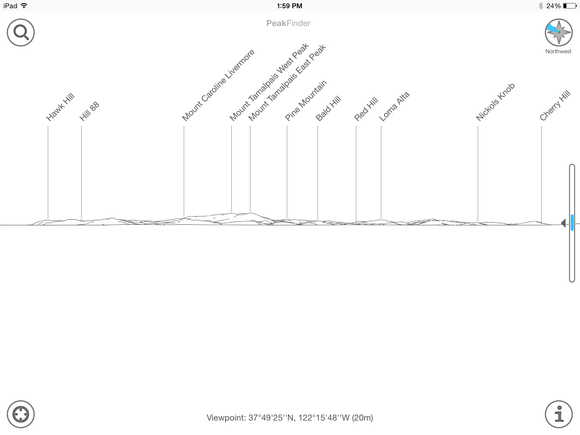 With the compass activated, you move your device and then see the names and elevations of the mountains directly in front of you. Other features include digital binoculars that let you view less prominent peaks, and maps for selecting your viewpoint.
SAS Survival Guide
Especially for those who go on longer hikes and backpacking trips far from civilization and cell service, it's a wise idea to have some basic survival knowhow. Of course, memorizing all those details is tough for some of us, which is where SAS Survival Guide ($6; Android, iOS, and Windows Phone) comes in. The free version provides a barebones guide that includes info on building fires, finding water and navigating by stars as well as details what should go in your survival kit. Each tip offers photos and plentiful instruction.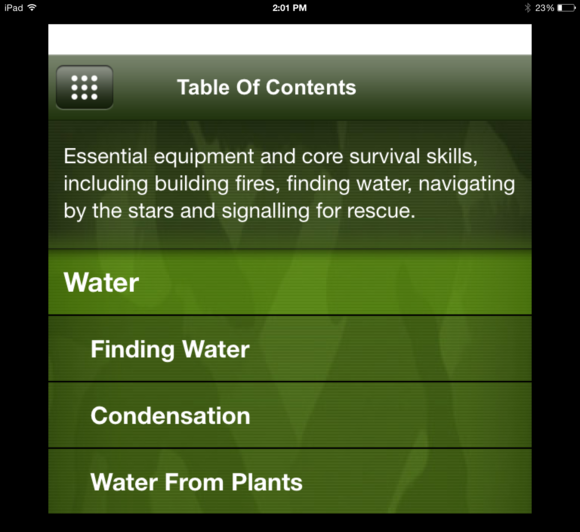 However, you should consider springing for the full version, which gives you additional sections, like how to identify edible plants and extreme climate survival for dessert, polar, tropical and sea situations.
First Aid by American Red Cross
The hope is always that no one gets sick or injured on a hike, but the fact is that it happens sometimes—it's best to be prepared just in case. Downloading First Aid by American Red Cross (free; Android and iOS) is a good way to do that. The app provides some basic instructions on how to deal with everything from minor to severe broken bones, bleeding, allergies, asthma attacks, and more.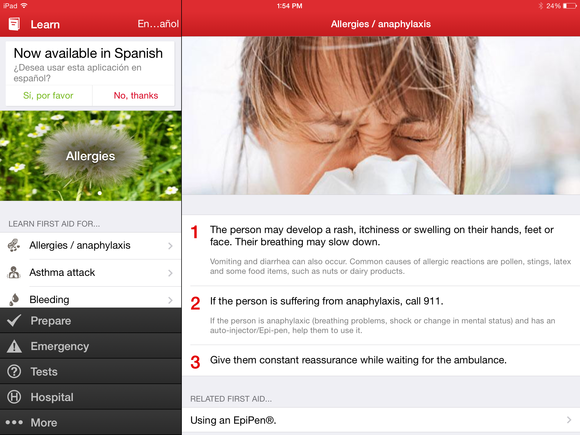 The minor stuff can be dealt with on the trail for the most part (given the proper supplies), while more severe injury requires dialing 911, which is integrated in to the app for phones. Additional features include safety tips for emergency preparedness, interactive quizzes and video tutorials.