If there's a single app that defines the OS X experience, it's probably Safari. Not everyone uses it (many of my friends and family members prefer Chrome), but as the default browser it's the window on the Web for most Mac users. It's clear that Safari is the stock Apple app that has changed the most under OS X Yosemite.
Where's the rest of me?
By default, Safari is sparsely decorated in Yosemite. There's no longer a title bar with the name of webpages, and the "stoplight" window buttons have merged down into the toolbar as they have in some other apps. All other toolbars are off by default, and the address/search bar no longer even displays a full URL, just the name of the host that's serving the page you're viewing. (If you want to see the name of the page you're on, you need to show the Tab Bar—tabs are the only part of the Safari window that can display page names.)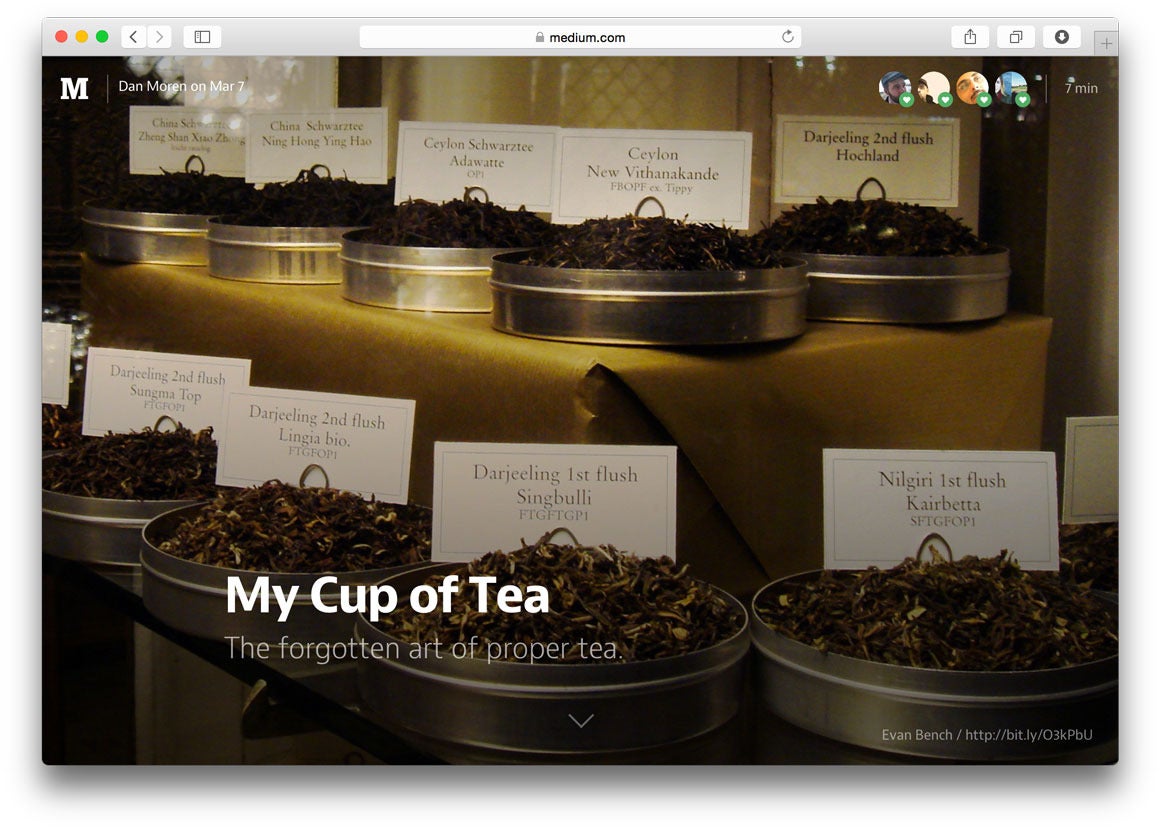 The result is a minimalist look that feels like it was taken right out of Safari on iOS 7: One bar, very little text, and everything else is the webpage itself. On a phone, minimizing the stuff around the webpage is desperately necessary. On a tablet it's a good idea. On a 15-inch Retina MacBook Pro or a 27-inch iMac it feels a little pointless.
In Mavericks, my Safari app was set to display the Status Bar and the Favorites Bar. The Status Bar shows me where a hyperlink will take me, which I like. The Favorites Bar gives me quick access to my most important sites as well as bookmarklets, little JavaScript-embedded macros that do things like add podcasts to Huffduffer or articles to Instapaper. Though I use browser tabs sometimes, I don't have the Tab Bar turned on by default—it only appears when I have more than one tab open in a window.
The way Safari does things in Yosemite is essentially the opposite of the way I use my Web browser. The good news is, most of these choices can simply be changed by the judicious use of the View menu, which can restore the Favorites Bar (which, oddly, now centers the bookmarks!) and Status Bar. Unfortunately, the page name doesn't show up in the menu bar anymore, nor can you opt to see the full webpage URL.
General crankiness aside, there's also a major usability problem with this design approach. By removing the Title Bar space at the top of the browser window, Safari windows are immediately more difficult to drag around the screen. The center of the window is now the Address/Search Bar, and you can't click on that. Nor can you click on the "stoplight" buttons or any of the other toolbar buttons. There is a narrow gray space just to the left and right of the Address/Search Bar, and that's the only place from which you can drag reliably.
The centering of bookmarks in the Favorites Bar is also a mistake, because now when you resize a window or add or remove an item from the bar, every other item in the bar slides around. It's easy to build up muscle memory, knowing exactly where in the browser window you can find your favorite bookmarks—but in Yosemite the Favorites Bar is all shifting sands.
Adding more views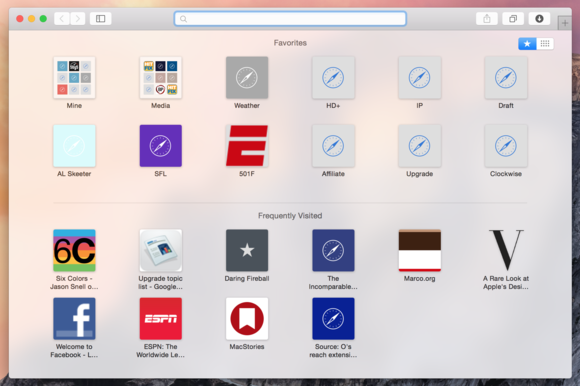 But Apple hasn't been content to just hide features in Safari for Yosemite: There are also several feature additions, some of which are taken from Safari for iOS. The demotion of the Bookmarks Bar seems to have happened because there's a new Favorites view that looks very much like what you see when you tap in the URL/Search Bar in Safari for iOS: The browser window fills with the contents of your Favorites bookmarks, the same collection that populates the Bookmarks Bar. The background to this page is translucent, so it will let in some hints of whatever's behind the browser window. If you like the Favorites view, you can even set it as the default view when you open a new page or tab. A smaller version also appears as a drop-down when you type Command-L or choose Open Location from the File menu.
In this view, there are large icons for each bookmark in your Favorites folder, and folders full of favorites appear as an icon full of smaller icons. In the menu bar itself, it's sort of annoying—it just gets in my way when I'm typing a URL. But as a replacement for Top Sites or a blank page in a new browser window, it's actually kind of a good idea. Your very favorite sites, and your frequently visited sites, are all arrayed in front of you, represented by simple favicons. It takes some getting used to, but it's a good idea.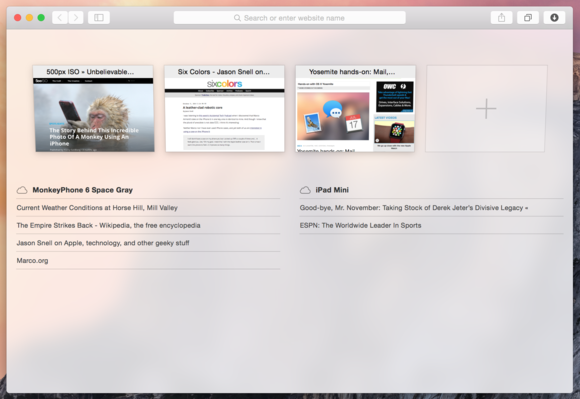 Another addition is Tab View, which is actually a redesign of the existing feature that would let you zoom out (by pinching on a trackpad) to see the contents of all your open tabs in one place. In Mavericks, that view was a series of slightly zoomed-out pages that you could swipe through, one by one. Well, that's gone. The new Tab View, accessible via pinching on the trackpad or clicking on the new Tab View button in the toolbar, is a grid of thumbnails of the tabs currently open in that window, supplemented with a list of tabs open on your other devices, synced via iCloud. (This is the replacement for the old iCloud Tabs button.)
I never considered the old quick-tab view anything but a nuisance—a mode I got into when I zoomed out of a page too far unintentionally. And I'm still not convinced that the new Tab View is going to be used a lot, though the addition of iCloud Tabs will give some people a reason to visit. (Me, I preferred iCloud tabs when they were beneath a button on the toolbar, but that feature has been removed in Yosemite.) The ability to scroll through a long list of tabs in the Tab bar, added in Yosemite, seems like it will appeal to more people than this zoomed-out view.
More ways to search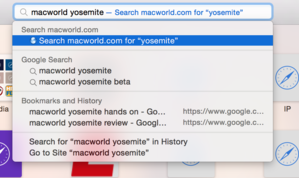 One feature addition that I really do like is the enhancement of the auto-complete options when you're typing in the URL/Search bar. And as you type into the URL/Search Bar, Safari's not just querying your search engine and bookmarks anymore—it's also searching Wikipedia, Maps, iTunes, and news—just like in Spotlight. It's a small change that makes it much easier to use the browser as a quick reference tool, since you can (for example) jump straight to the Wikipedia page for a topic you're interested in directly from the bar. The destination of so many of my Google searches is a Wikipedia page that it makes sense for Apple to eliminate the middleman and allow me to jump straight there.
There's also something called Quick Website Search. Once you've searched on a web site—but only from the home page—it's added to Safari's list of searchable sites. Once that's been done, you can use the site's name as a shortcut to search directly from the URL/search field. For example, if I type macworld retina iMac, Safari gives me an option to search macworld.com for "retina iMac", and if I select that item I am immediately taken to Macworld's own search results for that term. That's a nifty shortcut that, again, eliminates an intermediate page and takes me right to my results.
Hands off my stuff
Per-window Private Browsing, long a feature in Google Chrome, arrives in Safari with Yosemite. Previously, to browse securely, you had to enable a Safari-wide Private Browsing mode from the Safari menu. That feature is now gone, and it's not a bad thing. Making it available on a per-window basis will make it much more useful. (Even with that feature there, I always switched to Google Chrome for my private browsing.)
Now can now choose New Private Window from the File menu and, according to Apple, your browser session will be completely anonymous. An alert appears at the top of the screen when you create a new Private Window; if you dismiss it, the Private Window looks just like every other Safari window, except the URL/search bar is dark gray with white text, the reverse of the usual color scheme. (I'd prefer it if a Private Window was more obviously different from regular Safari windows.)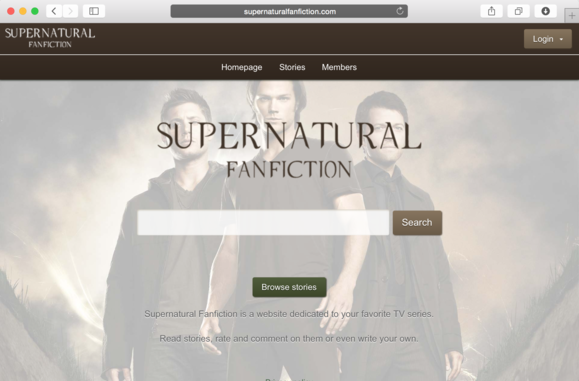 Too much of our behavior on the Web is stored and tracked, and sometimes (especially when searching sensitive topics) it's comforting to know that what we're doing is not being stored. However, keep in mind that Safari's Private Browsing feature can't completely obscure you—your device's internet address and some other basic information about your computer are still passed on to servers.
Another Apple move toward more privacy on the Web is the integration of the DuckDuckGo search engine, which has been added to the previous options of Google, Yahoo, and Bing. DuckDuckGo is most notable for being committed to not collecting or tracking the personal information of its users, in contrast with the more established search engines.
And within the Privacy tab of Safari's Preferences window, there's now increased granularity when it comes to storing cookies and website data, which allows you to limit whether previously-visited websites can track you.
A whole new Safari
The Safari's new search and privacy features are welcome. And on small screens (such as an 11-inch MacBook Air) its new simple, sleek look will be helpful. I question whether most Mac users need the browser experience simplified to quite this degree, but at least most of the toolbars and features we've seen in previous versions can be turned back on (or at the very least approximated) by toggling various preferences. Old hands can put things back the way they want it; less adept users will probably appreciate how much Safari on the Mac now resembles its iOS cousin.
Jason is the former editorial director of Macworld, and has reviewed every major Apple product of the last few years, including the original iPhone and iPad as well as every major version of Mac OS X. Check out Sixcolors.com for his latest Apple coverage.