Skitch is one of those apps that you're not quite sure what to make of at first. It's part of the Evernote family, so the first thing that comes to mind is productivity. Then you discover that you can doodle all over photos and then share them with your friends, a la Snapchat. And that's the beauty of this super helpful app: Skitch is truly a multi-purpose tool that lets you markup virtually any document.
It's more than just a note-taking tool. You can markup a photo for fun, point things out on a map, markup a webpage, annotate a PDF, or use it as a blank canvas for a fresh idea, drawing it out from scratch. It's like Snapchat scribbles, but with a bit of sophisticated flare that proves to be really helpful.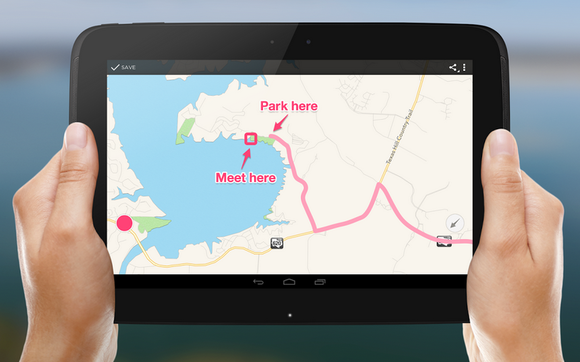 If you're an Evernote user, you can automatically sync your Skitches with an Evernote notebook; if you don't use Evernote, Skitch works just as well as a standalone app for modifying documents on your phone. It's been around for a little while, but a recent redesign made it an even better tool than before.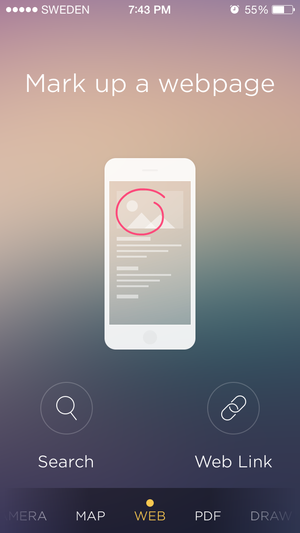 When you first launch Skitch, you'll find your editing options at the bottom of the screen in a horizontal list. Just scroll through it to select what type of document you'll be working with, and Skitch will guide you through the rest.
Each document type has the same markup tools to work with. You can add an arrow to point something out, or add text, a shape, a stamp, or an emoticon. And, of course, Skitch gives you a drawing tool, too, or you can add pixilation to a spot of the document you'd like to hide.
What you do with these tools is entirely up to you. I've used Skitch to point out hidden photo-bombers in pics I've shared with friends, and have used the map tool to highlight the best parking spots in my neighborhood when friends come over to visit. For work tasks, I've used it to mark up webpages to make notes of article layouts, or to markup documents I'm editing. Some of my fellow editors love using Skitch as a doodling tool. Of course, because I'm an Evernote user, I integrate all of these into my work-related notebooks to keep my workflow organized.
Regardless of whether or not you're an Evernote power user, Skitch is a handy app to have in your toolbox. This multi-purpose app will prove itself worthy of a spot on your smartphone's screen more than you'll realize.
Plus, you know, you can draw mustaches on your friends' photos and then post them across your social channels. So that's a plus.
Skitch is a free app available now in the iOS App Store and the Google Play Store.