For me, summer isn't complete without a road trip—even if it's just over a long weekend. There's something iconic about hitting the open road, just you, a car, and maybe a friend or two. Just ask Jack Kerouac. (Or Britney Spears. But let's forget I just said that and move on.)
Point being: Road trips are classic memory makers, and the perfect music playlist can really set the mood and make it that much better. Wondering where to start? Use Roadtrip Mixtape for a little inspiration.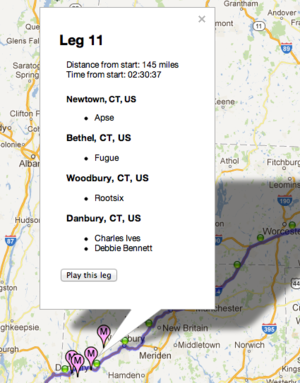 Roadtrip Mixtape is a new project by Echo Nest and Spotify, and its entire goal is to make you the best playlists for your journey. It curates playlists based on your starting point and final destination, and Roadtrip Mixtape builds its sets based on local artists.
This project is actually a Web app, so launch Roadtrip Mixtape in your smartphone's browser and enter your starting and ending points. As you type, an on-screen map shows you a route suggestion. Press play to start your mixtape. Songs from your mixtape are represented as green dots along the map, and tap any dot to see what tracks will play during certain parts of your journey.
Because Roadtrip Mixtape is powered by Spotify, you have access to Spotify's massive collection, but you can skip any song you're not really feeling. For whatever reason, it insists on recommending a Chris Brown song when you're driving out of San Francisco, and keeps recommending it even though I've skipped it numerous times. One feature I'd love to see is the ability to block artists, or if it could remember which artists you've skipped and will cease to recommend songs by those artists.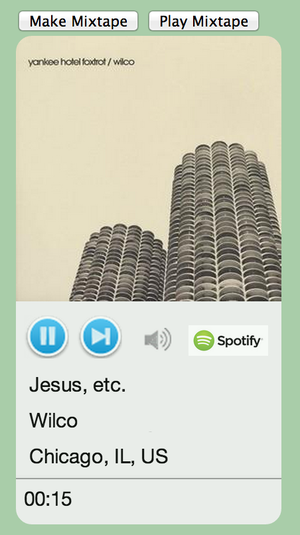 The downside is that this project is just for playlist building: It gives you clips of the songs to stream, but you'll have to launch Spotify or another music app to listen to the playlist in full. Roadtrip Mixtape gives you the discovery tool; Spotify will give you the actual tunes. Its interface is pretty bare boned and pretty limited with what it does, but it's improving, and its data is interesting enough that it outweighs these faults.
Want more apps? Visit our App Invasion video page to see past picks.
I'm always on the hunt for new music to listen to, and I love that Roadtrip Mixtape selects its songs based on what cities you'll be visiting. It introduces new, local artists to a wider audience, and you might even discover a band that you didn't know was based in your own hometown. Who knows? Maybe you could sneak a show or two into your road trip, thanks to Roadtrip Mixtape. It's a unique way to learn something new about a town that otherwise might just be another snack break.