Our music comes from a variety of local and streaming sources these days, and having a single, consistent interface to control them all makes listening on a Mac that much more enjoyable. Equilibrium is menu-bar item that can control iTunes, Spotify, Rdio, and Vox (as well as connect with your Last.fm account to scrobble tracks). It displays album art, artist, song title, and album name as a popover when you click on the icon. There you can control playback—including turning shuffle or repeat modes on or off—and access AirPlay options for sending the audio to other speakers in the house. Finally, when controlling iTunes, there's an equalizer option that selects the corresponding setting within iTunes (when used with other apps the EQ button vanishes).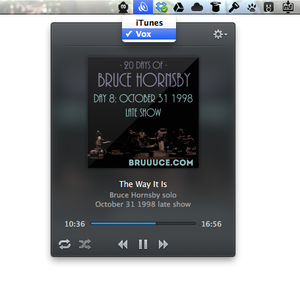 Additionally, you can enable a desktop controller that displays album art for the track currently playing. When you mouse over it, the controller changes to show song, artist, and album, along with controls for play/pause and previous and next track. It's a nice thing to have, but potentially distracting to some users. Thankfully, it's entirely optional.
To keep the mousing to a minimum, however, Equilibrium offers customizable keyboard shortcuts to control playback and volume, toggle the menu-bar window, and love a track on Last.fm.
If you have more than one app running, you choose which music source to play via a pop-up menu at the top of the menu-bar item window (if you only have one supported player open, it just shows the name of the application you're controlling). If you listen to music on your Mac—and use some or all of the supported players—you owe it to yourself to check out Equilibrium.

This review is part of Macworld's GemFest 2014. Every weekday from July until September, the Macworld staff will use the Mac Gems blog to briefly cover a standout free, low-cost, or great-value program. You can view a list of this year's apps, updated daily, on our handy GemFest chart, and you can visit the Mac Gems homepage for past Mac Gems reviews.
Want to stay up to date with the latest Gems? You can follow Mac Gems on Twitter or on App.net. You can also subscribe to the Mac Gems RSS feed.