One of OS X's strengths has always been that it combines a great graphical user interface with the underlying power of UNIX—a power that extends to making dozens of scripting languages like PHP, Python, and Ruby available to all users.
App Factory 1.2 allows you to harness the power of these scripting languages and use them to create apps that can be launched directly from the Finder, without having to write a single line of OS X-specific code.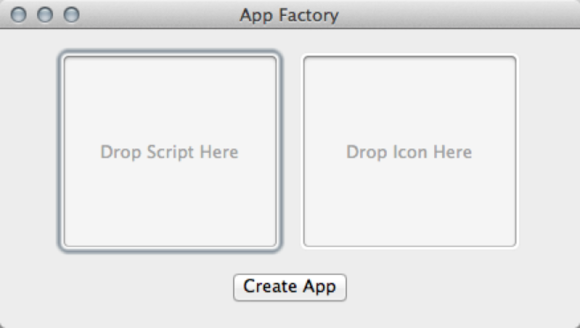 The app's functionality is extremely simple: All you need to do is take an existing script that has been flagged as executable and contains a properly-formatted shebang, and drop it on the appropriate target in App Factory's window alongside an optional icon file. Once you're happy with the end result, the click of a button allows you to save the resulting app to a location of your choice.
App Factory's only major flaw is that it doesn't automatically sign the apps it creates with a digital identity. On Macs running recent versions of OS X, this may cause a security warning to appear, preventing the app from running at all. Luckily, this is an easy problem to solve, and only requires acquiring a bit of free software from Apple, signing up for a complimentary Developer ID, and then running a single command-line program. Still, it would be handy for the developer to have included a bit of help on how this can be accomplished.
Despite this, App Factory is still a very handy tool, particularly if you want to make your scripts easily executable by non-technical friends and colleagues without having to bother with building a full-fledged OS X app.

This review is part of Macworld's GemFest 2014. Every weekday from July until September, the Macworld staff will use the Mac Gems blog to briefly cover a standout free, low-cost, or great-value program. You can view a list of this year's apps, updated daily, on our handy GemFest chart, and you can visit the Mac Gems homepage for past Mac Gems reviews.
Want to stay up to date with the latest Gems? You can follow Mac Gems on Twitter or on App.net. You can also subscribe to the Mac Gems RSS feed.