We rely on sequences of characters to tell us where our packages are and when they're slated to arrive, but what do you do when you need to track the tracking numbers? Digging them up in email and frequently hitting the carriers' websites is a pain—and that's exactly the inconvenience that Parcel ( Mac App Store link) attempts to solve. It provides a centralized location to keep tabs on your various tracking numbers with automatic updating, push notifications, and the ability to sync to the iOS version of the app.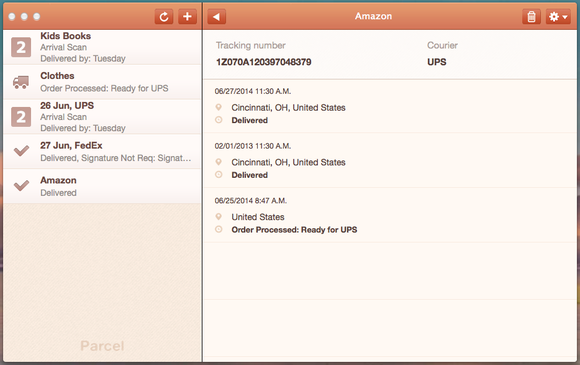 Focused on doing one thing and doing it well, Parcel makes it very easy to input a tracking code from one of more than 230 carriers, including mainstays like USPS, FedEx, and UPS, along with numerous international options. In fact, copying a number to the clipboard from an email or website automatically fills it into the input field when adding a package within the app, and you can custom-name each listing (like "New iPhone") so you know what's what at a glance.
The user interface is utilitarian for sure, but it's effective at getting you the basic info you need and quick—especially if you tick the days until delivery or days after postage option that puts a large number from either in the sidebar. Push notifications allow you to get a quick heads-up on status changes or final delivery, plus you can opt for email notifications if desired.
However, notifications are one of the features of a premium subscription, priced at $2 per year. That also allows you to track more than three packages at once and access your data on the Web, but being rather straightforward, unlocked features, a one-time fee seems like it'd be a better fit. Still, that's a fair price to pay to access the full capabilities of this very helpful app.

This review is part of Macworld's GemFest 2014. Every weekday from July until September, the Macworld staff will use the Mac Gems blog to briefly cover a standout free, low-cost, or great-value program. You can view a list of this year's apps, updated daily, on our handy GemFest chart, and you can visit the Mac Gems homepage for past Mac Gems reviews.
Want to stay up to date with the latest Gems? You can follow Mac Gems on Twitter or on App.net. You can also subscribe to the Mac Gems RSS feed.