Briefly ( Mac App Store link) is a one-trick pony with a limited use case, but the trick it performs is pretty slick and if it suits your needs there may be nothing else you need. Simply put, Briefly takes a set of photographs and sews them into a single stop-motion video.
With that in mind, in order for the app to work best you need have a rather large collection of sequential photos: Think claymation, hand-drawn animations, or a long series of photos taken in continuous shutter mode using your DSLR.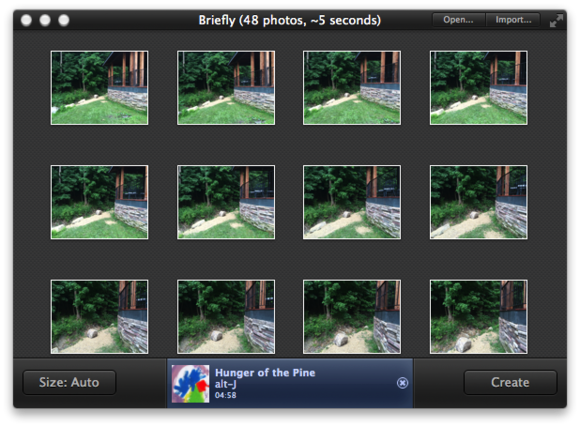 Once you have your collection of photos you can drag them from the Finder or directly from your favorite photo app to Breifly's main window, import from Flickr or Instagram, or import images from a folder. Once your photos are in place you can choose music to accompany the video, adjust the image resolution (ranging from 240p to 1080p) and, using the app's Preference, adjust the speed at which you want each photo to change. (You adjust this using a slider and can make changes in fixed increments from 0.1 seconds to 4 seconds.)
After you've adjusted your settings, click the app's Create button to build a movie from your selection of images and, voilà! You have a fresh new stop-motion movie, complete with soundtrack.
Bottom line
You can make similar videos in iMovie, which also has more features to let you add polish to your final output. But Briefly works if you want an easy and straightforward app. A 15-day demo is available if you want to try before you buy.