Cloud storage is a great way to sync up content to access on multiple devices and platforms, and provides an offsite backup for important files. But if you're like me, you've got numerous cloud accounts, with files scattered among them. Cloud Commander ( Mac App Store link) decreases the insanity by letting you connect to your Dropbox, Box, Microsoft OneDrive, Google Drive, SugarSync, Copy.com, Bitcasa, Picasa, and Flickr accounts in one place. It can also act as a WebDAV or FTP client.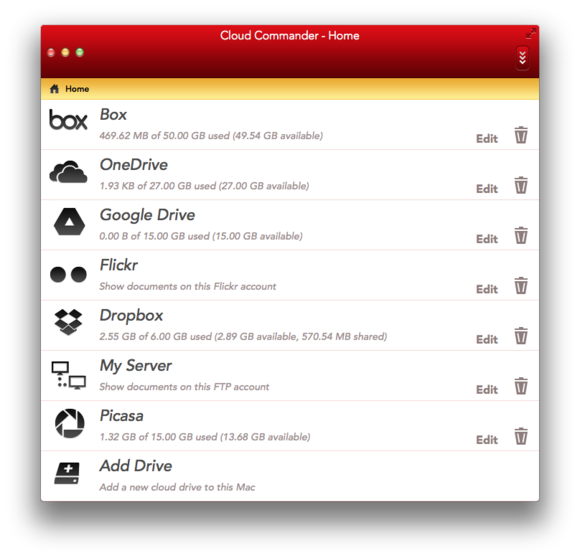 Once you've connected your accounts, double-click one to open it in the Cloud Commander window. From there you can drag and drop files and folders to and from that service, either moving or copying the items, depending on how you've configured Cloud Commander's preferences. Control- or right-click on a file or folder to rename, delete, or (for most services) get a sharable link for it. You can select an item and press the spacebar for a QuickLook preview. You can even open multiple Cloud Commander windows to, say, copy files from your Dropbox account to your OneDrive account.
There are some limitations. For example, for Flickr an Picasa it shows images within each set or album, but doesn't let you copy pictures—just view them or open them with another app on your Mac. Google Drive only shows your content, not items shared with you. And although I was able to connect to two different FTP servers, all Cloud Commander showed was a bunch of nameless files and empty folders. (The company says it's tested Cloud Commander successfully with several FTP servers.)
But for its core function of letting you connect to multiple cloud storage services from a single, simple interface, Cloud Commander does the trick.

This review is part of Macworld's GemFest 2014. Every weekday from July until September, the Macworld staff will use the Mac Gems blog to briefly cover a standout free, low-cost, or great-value program. You can view a list of this year's apps, updated daily, on our handy GemFest chart, and you can visit the Mac Gems homepage for past Mac Gems reviews.
Want to stay up to date with the latest Gems? You can follow Mac Gems on Twitter or on App.net. You can also subscribe to the Mac Gems RSS feed.