If there's one constant across every Mac we've ever used, it's the calculator. From System 1 to Yosemite, there's always been a basic number cruncher baked right into the operating system, but for the most part, the calculators on our desktops still aren't much smarter than the ones in our desk drawers.
Numi ( Mac App Store link) breaks that mold. A calculator built for the iOS generation, the minimal utility eschews the traditional keypad in favor of casual, text-based equations that let you see exactly what's been added and subtracted.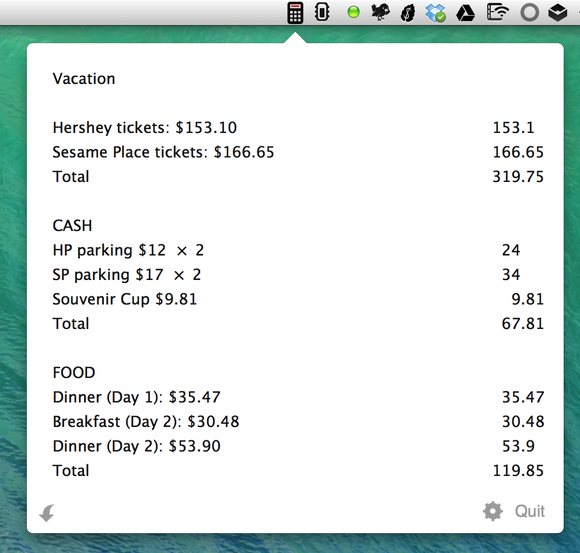 There's not much about Numi that resembles a traditional calculator. There are no buttons or symbols, and quite frankly, it looks more like a text editor than an adding machine. But as you type, Numi scans for any numbers and nearby arithmetic functions and quickly solves anything you throw at it.
It's not quite as simple as tapping five times four on a familiar keypad, but Numi is more powerful and versatile than any traditional calculator app I've ever used. It's lightweight enough to rest in the menu bar or dock, but it feels somewhat like a freeform version of Numbers. For example, I was able to track my expenses for a recent family vacation and visualize not just how much I had spent, but what I bought and whether my available cash had been depleted. I can only imagine how helpful it would have been in my college calculus course.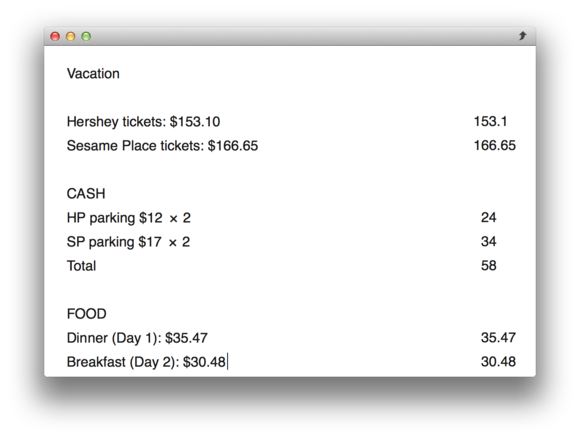 Since it's text based, Numi lets you easily edit and explain your numbers, and while there's no print or export option, it always remembers your last state. Quotients and sums are recorded as instantly as when using a regular calculator, but things can get tricky, especially when dealing with multi-step problems. But once you master its unique language, you'll never want to launch Calculator again.

This review is part of Macworld's GemFest 2014. Every weekday from July until September, the Macworld staff will use the Mac Gems blog to briefly cover a standout free, low-cost, or great-value program. You can view a list of this year's apps, updated daily, on our handy GemFest chart, and you can visit the Mac Gems homepage for past Mac Gems reviews.
Want to stay up to date with the latest Gems? You can follow Mac Gems on Twitter or on App.net. You can also subscribe to the Mac Gems RSS feed.