A (very lightly) edited transcript of Tim Cook's comments from Apple's Q3 earnings call:
Highlights of the June quarter
It's been a very busy and exciting time at Apple, and I'd like to review some of the highlights of our June quarter. We hosted our best-ever Worldwide Developers Conference last month, with over 20 million people from around the world watching our keynote session, which is a new record. We've had overwhelming response from customers and developers to the new features we previewed in OS X Yosemite and iOS 8. Yosemite has been redesigned with a fresh look and powerful new apps, and iOS 8 is the biggest release since the launch of the App Store. With powerful Continuity features, these upcoming releases will allow Macs and iOS devices to work together in even smarter ways. Customers can start an activity like writing an email on one device and pass it to another, picking up where they left off without missing a beat. They'll even be able to make and receive iPhone calls on their Mac with just a click. These are features that only Apple can deliver.
With iOS 8, we've opened over 4000 APIs, providing more flexibility and opportunity for developers than ever before. iOS 8 provides developers with amazing new frameworks, enables wider use of Touch ID to securely authenticate users within apps, and lets developers further customize the user experience with major extensibility features such as third-party keyboards.
We've also introduced Swift, an innovative new programming language for both iOS and OS X. Swift is the result of the latest research on programming languages combined with decades of experience within Apple building platforms. It makes writing code interactive and fun, eliminates entire classes of unsafe code, and generates apps that run lightning fast. It's easy to learn, allowing even more people to dream big and create whole new categories of apps.
We believe our new OS releases, combined with Swift, will result in a huge leap forward for the Apple ecosystem, and we can't wait to see what developers will create with Yosemite, iOS 8, and Swift.
When we introduced iOS years ago, it was a revolutionary operating system for iPhone. Over the years, we've extended it to the iPod family with iPod touch, and later to a tablet form factor with iPad. An explosion of apps, accessories, and services for these devices has created an incredibly vibrant ecosystem.
We're extending iOS in even more dimensions as customers around the world make iPhones and iPads an essential part of their lives at home, at school, at work, and on the go. We're putting a huge effort into delivering the best experience for our customers wherever they use iOS. That includes a safe and intuitive user interface while driving, called CarPlay, which is being integrated by 29 major car brands including Audi, BMW, Ford, General Motors, Honda, Hyundai, Mercedes, Toyota, and Volvo, and aftermarket systems like Pioneer and Alpine.
We've created a new tool for developers, called HealthKit, which lets health and fitness apps work together and empowers customers to choose what health data they share. We're taking the first steps in this area in collaboration with the Mayo Clinic, whose new app can automatically receive data from a blood pressure app, for example, and share it with a physician. Or a nutrition app can inform fitness apps how many calories are being consumed each day. Our own Health app will provide an easy-to-read dashboard of all health and fitness data.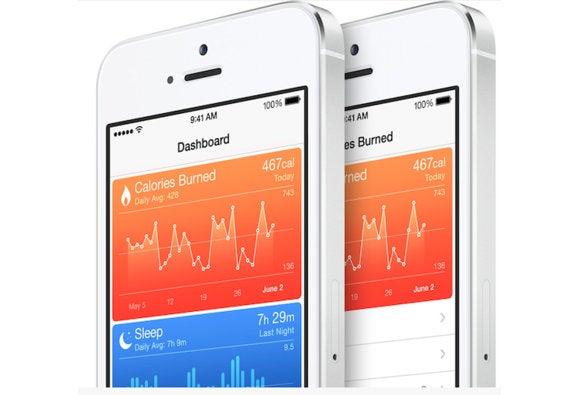 We're enabling new ways to control lights, and doors, and thermostats, and other connected devices around the house using Siri, with the HomeKit feature of iOS 8.
And in the Enterprise, we're including new security, productivity, and device management features in iOS 8. We've forged a relationship with IBM to deliver a new class of mobile business solutions to Enterprise customers around the world. We're working together to provide companies access to the power of big-data analytics right on every employee's iPhone or iPad.
Using Swift, we'll collaborate to bring over 100 mobile-first apps to Enterprise clients, each addressing a specific industry need or opportunity. This is a radical step for Enterprise, and opens up a large market opportunity for Apple. But more importantly, it's great for productivity and creativity of our Enterprise customers.
From the pocket, to the car, to the workplace, home, and gym, we have a very large vision of what iOS can be, and we're incredibly excited about our plans.
The numbers
Turning to our financial results, today we're reporting record June quarter revenue thanks to the very strong performance of iPhone, Mac, and the continued growth of revenue from the Apple ecosystem. Our teams executed brilliantly during the quarter with earnings per share up 20 percent year-over-year, our highest growth rate in seven quarters. We sold over 35 million iPhones, setting a new third-quarter record. We generated healthy growth in our entry-priced, mid-tier, and lead iPhone categories. I'm especially happy about our progress in the BRIC countries, where iPhone sales were up a very strong 55 percent year over year.
We also had a record June quarter for Mac sales, with growth of 18 percent year over year in a market that is shrinking by 2 percent according to IDC's latest estimate. Demand has been very strong for our portables in particular, and we've had a great customer response to the new higher-performance, lower-priced MacBook Air.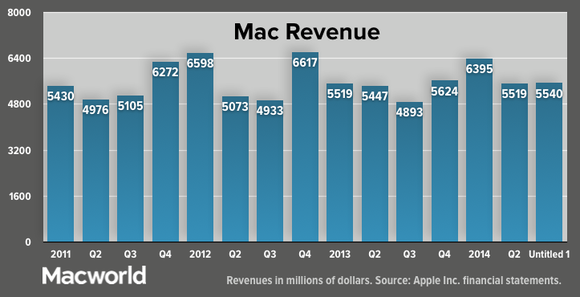 It was another strong performance for the App Store, and the other services contributing to the thriving Apple ecosytem. In fact, for the first nine months of this fiscal year, the line item that we call iTunes software and services has been the fastest-growing part of our business. iTunes billings grew 25 percent year-over-year in the June quarter and reached an all-time quarterly high, thanks to the very strong results from the App Store. We're continuing to invest in our incredible ecosystem, which is a huge asset for Apple, and a very important differentiator of our customer experience.
The iPad
iPad sales met our expectations, but we realize they didn't meet many of yours. Our sales were gated in part by a reduction in channel inventory, and in part by market softness in certain parts of the world. For example, IDC's latest estimate indicates a 5 percent overall decline in the U.S. tablet market as well as a decline in the western European tablet market in the June quarter.
But what's most important to us is that customers are enjoying their iPads and using them heavily. In a survey conducted in May by Changewave, iPad Air registered a 98 percent customer satisfaction rate, while iPad mini with Retina display received an astonishing 100 percent customer satisfaction rate. The survey also found that among people planning to purchase a tablet within 90 days, 63 percent planned to buy an iPad, and our own data indicates that more than half of customers purchasing an iPad are buying their very first iPad.
Another recent study, by Custora found that iPad accounts for 80 percent of all U.S. tablet-based e-commerce purchases. We're very bullish about the future of the tablet market, and we're confident that we can continue to bring significant innovation to this category through hardware, software, and services.
We think our partnership with IBM, providing a new generation of mobile Enterprise applications, designed with iPad's legendary ease of use and backed by IBM's cloud services and data analytics, will be one such catalyst for further iPad growth.
Other partnerships and opportunities
Looking ahead, we are very excited about our agreement to purchase Beats Electronics and Beats Music. Music is part of Apple's DNA, and we think the addition of the Beats team will be great for music lovers. Beats provides Apple with a fantastic subscription music service, access to rare talent, and a fast-growing lineup of products that we can build upon.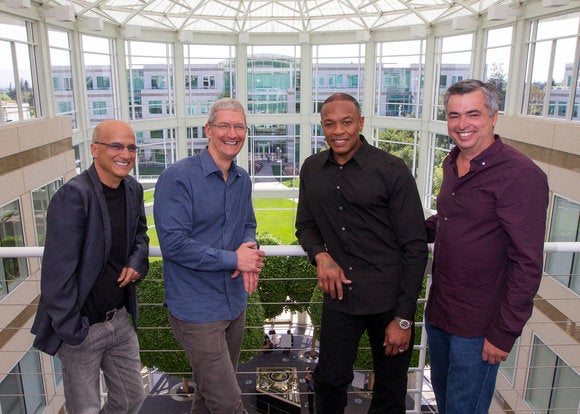 Not counting Beats, we've completed 29 acquisitions since the beginning of fiscal year 2013, including five since the end of the March quarter, and we've brought some incredible technology, and more importantly some incredible talent, into Apple in the process.
We're hard at work and investing heavily on exciting opportunities across our business, and we have an incredible pipeline of new products and services that we can't wait to show you.
On the iPad decline
If you sort of back up from this, the category that we created, which has been in a little over four years, we've now sold 225 million iPads. Which is, I think, probably a larger number than anyone would have predicted at the time, including ourselves, quite frankly. We still feel the category as a whole is in its early days, and that there's also significant innovation that can be brought to the iPad, and we plan on doing that.
When I look at the top-level numbers, I get really excited when I see that more than 50 percent of the iPads we're selling are going to someone who's a first-time tablet buyer. I get excited when I see that the retail share according to NPD for the month of June was 59 percent in units, and over 70 percent in terms of dollars.
And of course, [CFO] Luca [Maestri] had mentioned in his preamble that our education share is 85 percent. We also are in virtually all Fortune 500 companies—99 percent of them to be exact—and 93 percent of the Global 500. However, when we dig into the business market deeper, though our market share in the U.S. in the commercial sector is good—it's 76 percent, according to IDC—the penetration in business is low, it's only 20. And to put that in some kind of context, if you looked at penetration of notebooks in business, it would be over 60.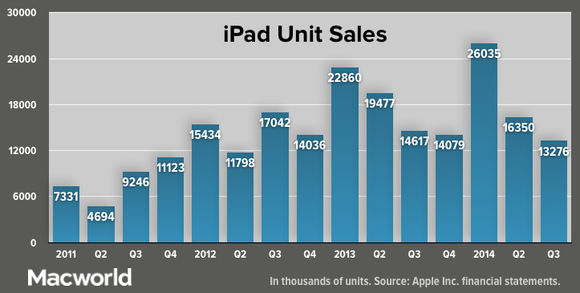 So we think that there's a substantial upside in business, and this was one of the things behind the partnership with IBM that we announced last week. We think that the core thing that unleashes this is a better go-to-market, which IBM clearly brings to the table, but even more importantly, apps that are written with mobile-first in mind. Many of the—not all, but many of the Enterprise apps that have been written for iPad have been essentially ports from a desktop arrangement and haven't taken full advantage of mobile. And so we're excited about bringing that to business along with partnering with IBM which we think is a first-class company, and seeing what that can do to sales of business, which I honestly believe the opportunity is here.
The market is still predicted in 2018—I think these are Gartner numbers—to be about 350 million in size, and to put that in some context, I think the PC market right now is about 315. And so I think our theory that has been there, honestly, since the first time we shipped iPad—that the tablet market would eventually surpass the PC market—that theory is still intact. I just think we have to do some more things to get the business side of it moving in a faster trajectory, and I think we're now on to something that can really do that.
So as I look at it, and back up from the 90-day clock kind of thing, I'm incredibly excited, excited about the plans we have on the product side, and also on the go-to-market side, in particular the IBM announcement.
One other point I might add on this, because I think this is interesting and I don't think it came out in our commentary so far is the market's very bifurcated on iPad. In the BRIC countries, iPad did extremely well. The growth was very high. Like in China, it was in the 50s, the Middle East it was in the 60s; in the developed countries, like the U.S., the market is clearly weaker there. It's interesting to note, however, that those—the U.S. as an example—we had a very, very strong Macintosh market in the U.S.
And so there's probably a bit of higher-ed kind of stuff beginning to play out too, where higher-ed is clearly still very much notebook-oriented; K-12, on the other hand, we sell 2.5 iPads for every Mac into K-12. And so we're headed, we're clearly headed into that season now, and it typically starts in graduation time-frame in fiscal Q3 for us, and that's probably another thing that we're seeing.
On China
China, honestly, was surprising to us. We thought it would be strong, but it well went past what we thought. We came in at 26 percent revenue growth, including at retail. And if you look at the units, the unit growth was really off the charts across the board. iPhone 48 percent off; that compares to a market estimate of 24, so growing at 2x the market. iPad was up as well, as I've mentioned before. The Mac was up 39 percent, and that's versus a market in China that's also contracting along with markets in those parts of the world; in China it was projected to contract by five percent.
And so we're seeing some substantial strength there, and the thing that's actually growing the most is the iTunes software and services category, which has the App Store in it, and that area is almost doubling year over year. And so it's very very exciting what we're seeing there.
We are still in the process of rolling out, along with our partner China Mobile, the TD-LTE, into more cities, and so we're still in the early going on that, that just started in January, as you know. And my understanding is that later this year, there will be a license for the other operators to begin shipping FTD-LTE, which I think is another big opportunity in China.
On trade-in programs for the iPhone
What I think is happening in the aggregate as you look across the world is that trade-ins are actually hugely beneficial for our ecosystem because people wind up…we have more people that are able to join the party when we have a trade-in, because in essence it winds up being used by…the prime example is someone else within the family, or in the example that has become more common in the last year, someone trades it in, and that goes to either somebody else in that country that is very price-sensitive, or somebody in a different country.
And I see all of this as good. In looking at how much of it cannibalizes, it is very hard to answer that question with any degree of preciseness, but my gut is that the cannibalization factor is low. Because you wind up attracting people who are much more price-sensitive than there. The great thing is, our products command a much higher resale value than others do, and so that leads to a larger trade-in, and from my perspective, that means a larger ecosystem, more people that wind up getting on iPhone, and as you know from following us for quite some time, if we get somebody to try an Apple product, and then buy an Apple product, the likelihood that they begin buying other Apple products that may be in different categories, or upgrading to one in that category in the future is very high. And so, net, I view it to be positive; it's very difficult to quantify with certainty.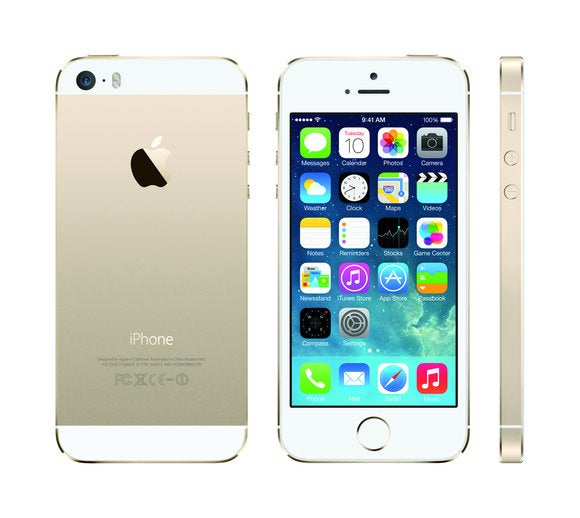 On the iPhone 5c
I can tell you this: that if you look at the growth rates—we don't divide out each one, but if you look at the year over year growth rate—and so this would be comparing the 5c to last year, it would be comparing the 4s, which was in the mid-tier—the growth in that sector was the highest growth during the quarter we just finished, of the three tiers. And so we're extremely happy with how it performed last quarter.
On component costs and gross margin
What we saw in the June quarter was that NAND, mobile DRAM, and LCD, the pricing on all of those declined, while PCDRAM increased despite the market for PCs contracting. In the September quarter, what is factored in our guidance is that LCDs and mobile DRAM continue to decline, that NAND pricing remains essentially flat from last quarter, and that PC DRAM has a slight price increase.
And in terms of other commodities that I didn't talk about, we've assumed that they would decline at historical rates. And so that's factored in the gross margin guidance.
On upgrading
In terms of the installment plans that you mentioned in the U.S. relative to iPhone, there's a lot of different models that are being tried in the U.S. and throughout the world. And actually, last quarter, as we estimated, and this is subject to estimating error, but we estimated less than one out of four iPhones were sold on a traditional subsidy plan. That number is markedly different than it would have been two years ago. The installment plans that you're speaking about, which gives a customer the right to upgrade fast or faster than a usual two-year cycle, we think that plays to our customer base in a large way.
And so that makes us incredibly bullish that customers on those plans would be very likely to upgrade when we announce a new product.
On acquisitions and partnerships
We have a lot of really great people and I think we have the capability to acquire a sizeable company and manage it, and relative to IBM, I feel the same way. I think you can only do so many partnerships well, and it's unusual that we enter into a partnership. But in this particular case, I think arguably the companies are so complimentary. And I've gotten to know Ginni [Rometty, CEO of IBM] fairly well over the last couple of years, and I think we see the importance of the customer a lot of the same way and both feel that mobile and enterprise is just an enormous opportunity.
We're not competing with each other, and so I think a partnership in that case is particularly great.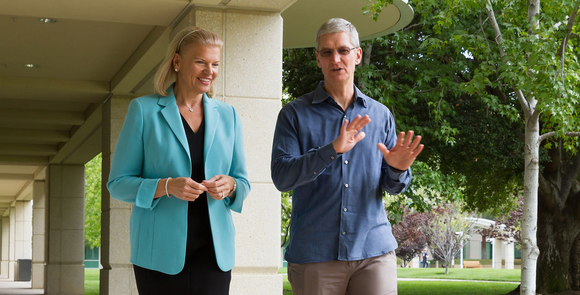 Would we do more of either of the things we did? We're always looking in the acquisitions space, but we don't let our money burn a hole in our pocket and we don't do things that aren't strategic. With Beats, we felt we were getting an incredible subscription service, a very rare set of talent that we think can do great things at Apple, and access to a very fast-growing business in their headphone and earphone space. And so culturally, we felt there was a match and music has been deeply embedded in Apple's DNA for many many years.
And so it was a great marriage, and I think the partnership with IBM is a great marriage as well. If more like that presented themselves, then I think that we can manage more things. I think we have a very, very strong executive team, and can do that. But it's not my goal to acquire a certain number of companies or spend a certain amount of money. We want to do things that help us make great products and are great for our customers, and so forth.
On IBM and analytics
We didn't talk about how the business model is going to work, but generally speaking I think that each of us have revenue streams in the Enterprise, and each of us win from having those revenue streams. And so that's our look at that. We win if we can drive that penetration number I spoke about from 20 to 60, that would be incredibly exciting here. The walls would shake! And so that's what I hope for.
Direct app sales to enterprise
We have no plans to change the rules with Enterprise. Some enterprises write proprietary apps that they do not want to offer to others, and so we obviously have a way for them to distribute those into their enterprise on just the employees that they want to, and so I'm not worried about changing that.
We're all for taking friction out of the system and not adding it. Again, the big thing for us is getting the penetration number up and getting our products, iPhones and iPads and Macs, in more people's hands, and we think there's a huge opportunity in Enterprise to do that.