As the saying goes, a picture is worth a thousand words—and that's why creative professionals of all stripes like to communicate their ideas in the form of an image. As it turns out, however, a thousand words can be a few too many when you're trying to draw attention to a small detail.
Light Up 1.0.3 solves this problem by allowing you to load up an image from a file and blocking it out with a mask whose darkness you can customize to your heart's content. You can then selectively "carve" sections out of the mask, allowing specific portions of the underlying image to be highlighted. The carving tool supports three different shapes: rectangles, rounded rects, and ovals; you can have as many as you like in your image, and are free to resize and move them around.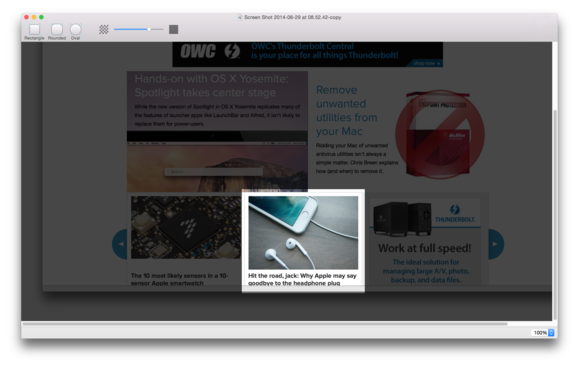 The app is incredibly simple to use and supports several common image formats like PNG and JPEG. It does not, unfortunately, support Photoshop files (although you can always convert those down to a supported format, I would imagine that a tool like LightUp would be most useful to customers who receive proofs in PSD format from a designer and don't own any Adobe software), nor does it allow you to capture an image directly from a Web page, which would have been another neat addition.
Nonetheless, Light Up is a great app whose main advantage is focusing on a single task and a simple, intuitive user interface that allows users to quickly grasp the way it works and get to work on their images.

This review is part of Macworld's GemFest 2014. Every weekday from July until September, the Macworld staff will use the Mac Gems blog to briefly cover a standout free, low-cost, or great-value program. You can view a list of this year's apps, updated daily, on our handy GemFest chart, and you can visit the Mac Gems homepage for past Mac Gems reviews.
Want to stay up to date with the latest Gems? You can follow Mac Gems on Twitter or on App.net. You can also subscribe to the Mac Gems RSS feed.