Diagnosing a computer problem can be a daunting task even when you're standing right in front of a Mac. When you're doing it remotely—perhaps to help someone of less-than-stellar technical skill—gathering all the information required to figure out what's not working can be a downright miserable experience for everyone involved.
EtreCheck attempts to alleviate this problem by automatically collecting a full set of statistics about the Mac on which it runs, from its hardware components, to installed apps and kernel extensions—going as far as quickly sampling your system to determine which programs are taking up the most RAM and CPU time.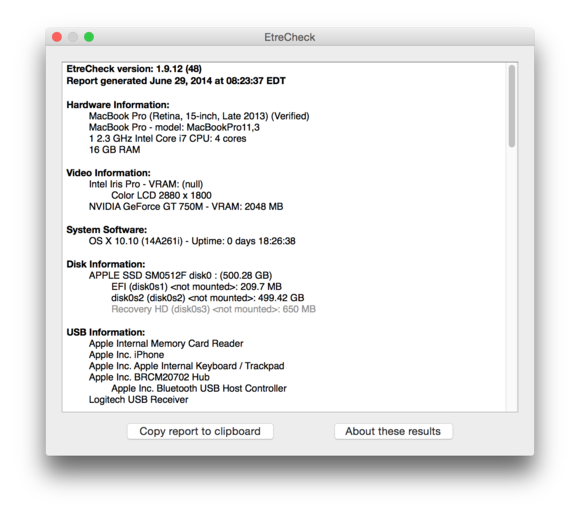 Once it collects all this information, EtreCheck produces a text-based report, neatly organized by category, that you can copy to your clipboard and then paste in an email, or perhaps in a public forum to assist others in providing a solution to your particular problem. (Incidentally, the app was originally built to help users of Apple's Support Communities provide peer support without causing every thread to devolve into a lengthy discussion on how to pull a particular piece of information out of OS X's clutches.)
EtreCheck offers a barebones interface that is unlikely to win any design awards, but it performs its job really well, producing a clear report that contains practically every last bit of data you are likely to need to identify a problem. Even if you are in front of the Mac that needs fixing, EtreCheck quickly gathers information that would normally require poking around a dozen or so sources on the machine, allowing you to focus on a solution to anything from hardware faults to misbehaving software.

This review is part of Macworld's GemFest 2014. Every weekday from July until September, the Macworld staff will use the Mac Gems blog to briefly cover a standout free, low-cost, or great-value program. You can view a list of this year's apps, updated daily, on our handy GemFest chart, and you can visit the Mac Gems homepage for past Mac Gems reviews.
Want to stay up to date with the latest Gems? You can follow Mac Gems on Twitter or on App.net. You can also subscribe to the Mac Gems RSS feed.