It's that time again: iPhone interregnum. The week-plus period between the day Apple announces new iPhones and the day those phones are actually available. (In this case, the new phones will go on sale September 19.) In the meantime, you probably have a lot of questions. Fortunately, Apple has provided a good amount of information about the upcoming iPhone 6 and iPhone 6 Plus, and we've had some hands-on time with both versions. Here's what we've learned so far.
The basics
When can I get the new iPhone models? If you're in the U.S., Australia, Canada, France, Germany, Hong Kong, Japan, Puerto Rico, Singapore, or the U.K., you'll be able to pre-order both the iPhone 6 and the iPhone 6 Plus starting Friday, September 12. Both models will actually be available in these countries beginning Friday, September 19. Apple said it hopes to have both new iPhones available in 115 countries around the world by the end of the year.
How much do the phones cost? Assuming you purchase your phone on a two-year carrier contract in the U.S., the iPhone 6 will cost $199 for 16GB of storage, $299 for 64GB, or $399 for 128GB. The iPhone 6 Plus will cost $100 more at each storage level: $299 for 16GB, $399 for 64GB, and $499 for 128GB.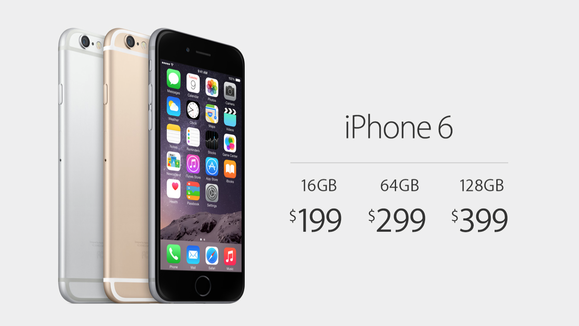 The unsubsidized prices for the iPhone 6 are $649 for 16GB, $749 for 64GB, and $849 for 128GB. Unsubsidized prices for the iPhone 6 Plus are $749 for 16GB, $849 for 64GB, and $949 for 128GB. Unlocked phones work only with GSM networks. (Apple currently lists unlocked versions as "T-Mobile Contract-free".)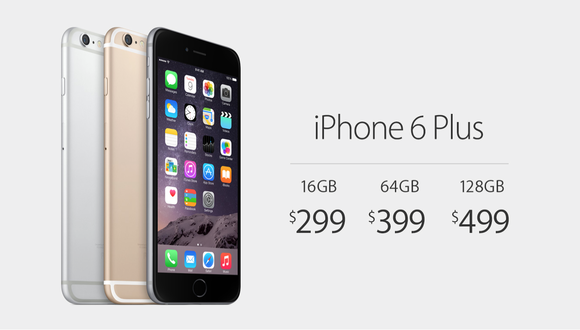 With the release of the new iPhones, the iPhone 5s starts at $99 on contract, and the 8GB 5C is free on contract.
Wait, there's no 32GB model? Alas, while Apple has bumped the storage capacity of the top two models from 32GB and 64GB to 64GB and 128GB, respectively, the least-capacious iPhone 6 and 6 Plus models continue to offer just 16GB.
Which carriers are offering the iPhone 6 and 6 Plus? In the U.S., your contract-carrier choices are AT&T, Sprint, T-Mobile, and Verizon for subsidized purchases. As mentioned above, no-contract versions are available for use on any GSM network.
What colors can I get? As with the iPhone 5s, you'll be able to get both iPhone 6 models in Space Gray (dark gray with a black screen bezel), silver (with a white screen bezel), or gold (also with a white screen bezel—and some white trim on the back).
How much will it cost me to upgrade from my existing iPhone? As with previous iPhone models, that depends on your carrier and the type of contract you have. You can check your upgrade eligibility via Apple's website.
When exactly can I pre-order one? While pre-orders kick off on September 12, what time you can order depends on where you want to buy. Apple hasn't yet said when phones will go on sale at its online store, but AT&T is starting things off at 12:00 a.m. Pacific on Friday, September 12 with Verizon following a minute later, at 12:01 a.m Pacific. Sprint has picked 2 a.m. Central (so, again 12:00 a.m. Pacific) on September 12 to start taking pre-orders, and T-Mobile is only offering to email you when pre-orders start.
How they compare
How do the new models compare to the iPhone 5s? They are, to put a not-so-subtle point on it, very different phones—at least in terms of design and size.
To start with the most obvious difference, the screens on the new phones are bigger: 4.7 inches diagonally for the iPhone 6 and 5.5 inches for the 6 Plus, compared to 4 inches for the 5s. But bigger sizes mean more pixels, too, and Apple calls these new displays Retina HD. The screen on the 4.7-inch iPhone 6 has a resolution of 1334 by 750, with a pixel-density of 326 pixels per inch (ppi); the 5.5-inch 6 Plus offers a whopping 1920 by 1080 pixels at a density of 401 ppi. These compare to a resolution of 1136 by 640 pixels for the the iPhone 5s's screen, at the same 326 ppi density as the iPhone 6.
But Retina HD means more than just resolution and pixel density. According to Apple, the new screens are sRGB-accurate, and include an improved polarizer, photo-aligned IPS liquid crystal, and dual-domain pixels that provide a broader angle of view.
One thing that had been rumored but didn't appear in reality: The new iPhone screens are not made of sapphire. Apple does say they're made from an "ion-strengthened glass" that's more resistant to scratching and shattering than the previous generation's displays.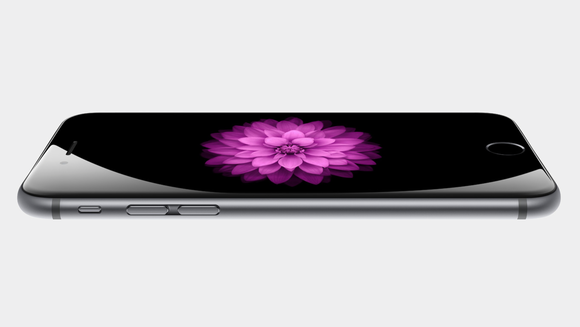 Screen aside, the new models also sport a new physical design compared to the iPhone 5s. Gone are the flat sides and chamfered edges. Instead, the new, thinner models feature smoothly rounded edges and a Unibody appearance—while the iPhone 4, 4s, 5, and 5s models always struck us as being somewhat industrial, thanks to the sharp edges and flat sides, the 6 and 6 Plus look sleek. The rounded edges also make the iPhone 6 and 6 Plus feel more comfortable to hold, despite its being larger than the iPhone 5, and they bring to mind the rounded edges of the original iPhone model.
Despite the bigger screens, the 6 and 6 Plus are both thinner than the 5s: 6.9mm and 7.1mm, respectively, versus 7.6mm. That thinness somewhat mitigates the fact that bigger screens mean taller-and-wider phones, which could make them (particularly the 6 Plus) harder to fit into some pockets. Not surprisingly, given their largers screens and batteries, the 6 and 6 Plus do weigh more (4.55 and 6.07 ounces, respectively) than the 5s (3.95 ounces).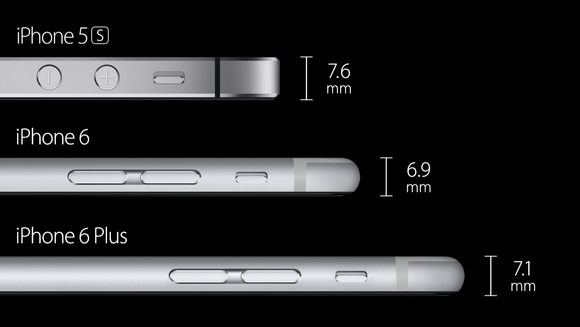 Oh, and one minor tidbit: The Sleep/Wake button on the iPhone 6 and 6 Plus is located along the right-hand edge of the phone, rather than on top.
What about the insides? The new iPhones also get significant internal upgrades. For starters, both feature Apple's new A8 processor. Like the A7 used in the iPhone 5s, the A8 is a powerful, 64-bit processor, but the A8 sports roughly twice as many transistors (2 billion compared to 1 billion), even though it's 13 percent smaller than the A7. The result is (Apple says) 25 percent higher CPU performance, 50 percent higher graphics performance, and 50 percent better energy efficiency. That increased efficiency means (in theory) that Apple doesn't need to throttle performance, as some other smartphone vendors do, in order to conserve battery life and prevent overheating.
The iPhone 6 models also get some new wireless capabilities. Both support 802.11ac Wi-Fi, which is up to three times faster than the Wi-Fi in the iPhone 5s. The new phones' implementation of LTE for cellular data is faster, as well, with speeds of up to 150mbps, compared to 100mbps in the 5s; and the new models support 20 LTE bands (compared to 13 previously), which Apple says is more than in any other smartphone.
Also in the wireless-hardware category: The 6 and 6 Plus include near-field communication (NFC) circuitry. Among other things, this will allow you to use these models to purchase items using Apple's new Apple Pay technology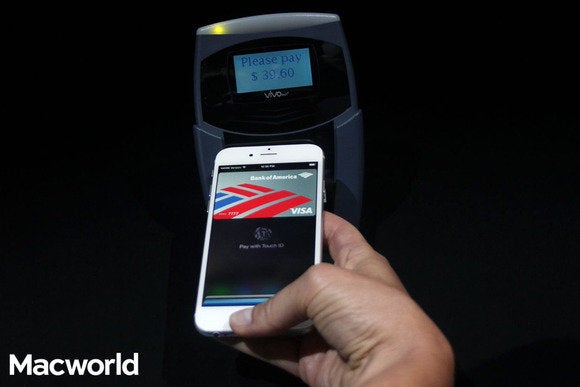 Speaking of wireless: Anything new in the way the new phones handle data and voice? Thanks in part to iOS 8, the new iPhones can also do Voice over LTE (VoLTE), which uses your Internet connection, rather than cellular voice, for voice calls. Apple says VoLTE offers clearer-sounding phone calls, and it still allows you to use voice and data simultaneously. And VoLTE works seamlessly with voice calls over Wi-Fi: You can make standard phone calls using your home or office Wi-Fi connection, and if you leave during a call, the call will switch seamlessly to VoLTE. Initially, VoLTE will be supported only by T-Mobile in the U.S. (and by EE in the U.K.), but Apple expects more carriers to offer the feature in the future.
Of course, the newest iPhone models also include new camera hardware—more on that below.
How is the M8 better than the M7? With the iPhone 5s, Apple introduced its motion coprocessor—a chip that complements the main processor by handling data from the device's many sensors, including the accelerometer, gyroscope, and compass. This chip—called the M7 in the iPhone 5s—can log data from those sources without waking the main processor, so fitness-tracking apps can more easily run in the background, as well as use less battery power. The M7 also allows third-party apps to use real-time location and motion information—like, say, whether you're walking or riding in a car—to determine how the app behaves, without dramatically affecting battery life.
With the iPhone 6 and 6 Plus, Apple has introduced the successor to the M7, called, logically enough, the M8. The company hasn't yet offered many details about the difference between the M7 and M8, but Apple has said that the M8 takes advantage of a new barometer sensor in these models to determine changes in altitude by measuring changes in air pressure. So, for example, the iPhone 6 and 6 Plus can now track elevation and stairs ascended and descended.
How does the 6 compare with the 6 Plus? The most obvious difference is screen size. As mentioned above, at 1920 by 1080 pixels and 401 ppi, the iPhone 6 Plus's 5.5-inch display has roughly twice as many pixels as the iPhone 6's 4.7-inch display (at 1334 by 750 pixels and 326 ppi). Of course, that means that the iPhone 6 Plus is also physically larger than the iPhone 6: 6.22 by 3.06 by 0.28 inches versus 5.44 by 2.64 by 0.27 inches, and 6.07 ounces versus 4.55 ounces.
But close behind the differences in the way the phones look is the way each fits in your hand: The 6 Plus is really, really big. Those with small hands could have a hard using it single-handedly. (Fortunately, iOS 8 introduces a feature Apple is calling Reachability: double-tap the Home button, and the whole display slides down so you can reach the top without moving your hand up. More on that below.)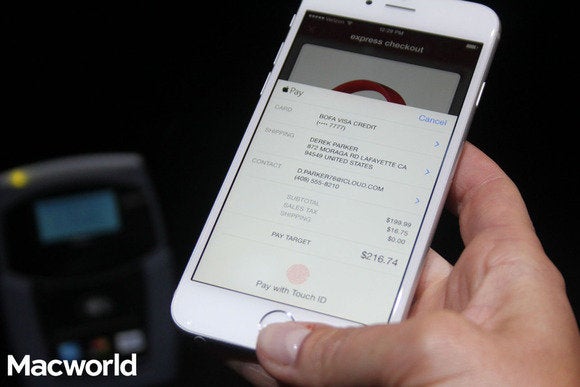 By default, the iPhone 6 Plus takes advantage of its extra screen space to put more information on screen. Apps that previously featured only one pane of information can now offer two in landscape orientation, making the device almost feel like a tiny iPad. However, users with vision issues who were hoping that the iPhone 6 Plus would be a "large-print edition" of the iPhone needn't fret: You can set the iPhone 6 Plus to use the display like a regular iPhone 6, at which point everything on the screen is just bigger. You choose which you prefer: larger or more.
Though the iPhone 6's screen is smaller, Apple's tech specs also state that its contrast ratio (1400:1) is slightly better than that of the iPhone 6 Plus screen (1300:1). We suspect, however, that this difference will be slight enough that most people won't notice, even in a side-by-side comparison.
One other difference Apple has pointed out is that while the iPhone 6 Plus offers optical image stabilization on its iSight (back) camera, the iPhone 6 uses digital image stabilization (see below).
Internally, both the iPhone 6 and 6 Plus include the same A8 processor, the same M8 motion coprocessor, and such—Apple says that in terms of performance, the two are identical. (We do wonder whether, as with the iPad Air versus the iPad mini, Apple has underclocked the A8 in the iPhone 6 to reduce heat and to extend usage time of the 6's smaller battery.)
What about the cameras? Are they better now, too? What would a new iPhone be without a new camera or two? The iSight (rear) camera is still 8 megapixels, with a True Tone flash, 1.5-micron pixels, and an f/2.2 aperture, but Apple says it uses a new sensor that takes better photos. The new "Focus Pixels" and new image signal processor built into the A8 chip allow phase-detection auto focus—a technology you'll find in many SLRs that, claims Apple, allows the iSight camera to focus almost twice as fast as its iPhone 5s counterpart. The new camera also features better tone mapping and noise reduction, as well as a dedicated hardware block that provides better, faster face detection and faster burst photo mode.
The iPhone 6 improves on the iPhone 5s's digital image-stabilization feature by taking four photos, each with a short exposure time and then automatically combining the best parts of each into a single image. This feature should reduce blur and noise significantly, as well as improve low-light shots. The iPhone 6 Plus adds another level of image stabilization by including optical-hardware stabilization. Based on motion data from the A8 chip and the phone's gyroscope, the lens itself actually moves to automatically adjust and stabilize images.
The new iSight camera offers better video performance, as well. You can now opt to record 1080p HD video at 60 frames per second (fps) instead of 30 for smoother video. Both new iPhones also take advantage of Focus Pixels to autofocus continually as you shoot—you no longer need to tap the screen to update the focus if your subjects move—and to refocus more quickly than on previous iPhones. And you can now do slow-motion video up to 240fps with image stabilization (again, with optical stabilization on the 6 Plus).
On the software side, a new time-lapse feature in iOS 8 can automatically take photos at the interval you specify and then combine them into a movie. (This feature will be available to older phones, too.) The FaceTime HD (front) camera gets some updates, as well. A new sensor with a larger, f/2.2 aperture captures 81 percent more light, according to Apple, and offers better face detection. The FaceTime camera also inherits the iSight camera's burst mode, capable of capturing up to 10 photos per second, and it can take single-shot HDR photos, as well as HDR videos.
Is Touch ID on both models? Yes, Touch ID is present on both iPhone 6 models. It functions identically to the way it does on the iPhone 5s, although thanks to iOS 8, both phones—along with the iPhone 5s—gain Apple Pay functionality.
What about battery life? With these huge screens, more-powerful processors, and everything else, won't the battery life be worse than that of the iPhone 5s? You might think that, but Apple's battery technology seems to keep pace with the added power needs of its devices. Plus, thanks to the larger size of the iPhone 6 and 6 Plus, each phone has a larger battery than you'll find in the iPhone 5s. Apple says the iPhone 6 has slightly better battery life than the iPhone 5s; the iPhone 6 Plus, while it has an even larger high-resolution screen that consumes even more power, also has an even larger battery. As a result, Apple's new big phone can actually eke out a few more hours of use than the iPhone 6. If you're looking for the iPhone with the longest battery life without an external battery pack, Apple's estimates suggest that the iPhone 6 Plus is what you'll want.
Apps and accessories
The screens on the new iPhones are much bigger than the screen on the iPhone 5s, 5c, and 5. Will my current apps work with the new phones, or will I need to wait until developers rewrite those apps for the new devices? Current apps will work, and in our brief hands-on time with the new iPhones, they'll look pretty good. The graphics horsepower of the A8 processor and the high resolution of the Retina HD screens combine to scale most apps up without many visible artifacts (although the apps we saw were the ones Apple vetted and pre-loaded on the devices, so not all may look as good).
Developers, of course, will also be able to modify their apps to more specifically support the new screen sizes. In fact, Apple has been talking to app developers since the 2013 Worldwide Developer Conference about adopting new techniques to fluidly resize app contents—the new sizes shouldn't really take app developers by surprise.
In addition, as we mentioned above, the iPhone 6 Plus's screen is so big that app developers can opt to show additional content or columns in landscape orientation, making those apps reminiscent of the rich, multi-paned apps found on iPads. App developers can decide if they want to take advantage of that space, and many will.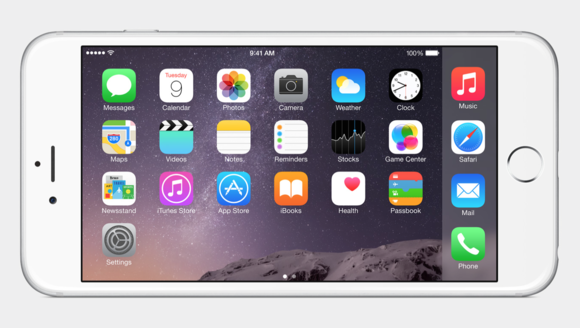 Are there any other ways Apple is taking advantage of the larger screens on these iPhones? A surprising and intriguing one is the keyboard. In landscape orientation, the iOS onscreen keyboard gains extra buttons along the left and right edges, featuring shortcuts, for example, for styling text and copying and pasting. (Both models gain this tweak, though the iPhone 6 Plus gets more of these extra keys.) In portrait mode, the iPhone 6 keyboard looks quite familiar—but every single key is a little bit bigger, making typing accuracy that much better, in our quick hands-on.
All that extra screen space also means you get an extra row of icons on each Home screen, and on the iPhone 6 Plus, you—finally—get a landscape-orientation Home screen.
Will my current accessories still work with the new iPhone models? Obviously, cases for current and previous iPhone models won't work with the iPhone 6 or 6 Plus, due to the new, larger sizes. Similarly, any accessories that fit current or previous models precisely—for example, custom-fit camera accessories and model-specific docks and cradles— are unlikely to be compatible with the new phones. Some vendors may be able to add compatibility with existing accessories by providing adapters, but others will require new accessories.
Many other accessories should work just fine with the new phones. Both use Apple's Lightning-connector port for charging, as well as Lightning, Bluetooth, and Wi-Fi for other connectivity. Despite the models' thin profiles, they continue to include a standard headphone jack, despite rumors to the contrary.
We'll be testing many accessories once we get our hands on the iPhone 6 and 6 Plus, and we'll publish our findings here on Macworld.com.
I hear Apple also makes cases for the new phones? Yep, just as with most recent iPhone models, Apple's also making a collection of official Apple iPhone cases. These cases are available in both silicone and leather models, featuring multiple colors (five for the leather editions, six for the silicone models). They're available for both iPhone 6 and iPhone 6 Plus.
iPhone 6
Price When Reviewed:
$199