I've sat through countless dull PowerPoint and Keynote presentations. And I'll admit that some of my own have been snoozers, too. Based on my observations of presentations by others, and on feedback I've received about my own, I'd like to share one simple tip for making your presentations better: Don't focus on your presentation software.
You read that right: In some of the most successful presentations I've seen, I barely noticed what was on the screen. If your audience leaves feeling informed, inspired, or entertained, you've done a better job than if they leave talking about your fancy 3D effects.
Start with the message
Nobody watches an Apple keynote to see the slides. They watch to see Tim Cook and other executives in action and learn about new products. Sure, there'll be some interesting photos, charts, and statistics. But those are there only to supplement and reinforce what the speakers say. Or consider politicians, preachers, comedians, and TED presenters, all of whom convey the bulk of their messages with speech alone. The essence of your talk is the words you say, not what you put on the screen.
So focus on those words first. Figure out the message or facts you want your audience to leave with, and map out a talk that accomplishes your goal. Practice until you can deliver it with little or no reliance on notes. Then—and only then—start looking for ways to add supporting visuals with presentation software.
Fight the presentation-as-handout meme
How many times have you seen a presentation in which the speaker does little more than read what's on the slides? My feeling is that if all the essential text from my presentation is on my slides, I might as well just distribute a PDF and stay home. I want my audience to pay attention, to be surprised, to smile and nod and laugh at the right places. I want to be able to use intonation and body language to convey feelings that text alone would miss.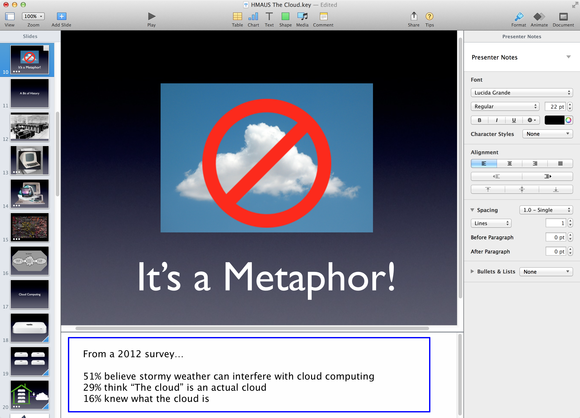 As a result, I never put everything I say (or anywhere close to it) on my slides. I politely decline to provide attendees a copy of my presentation (which wouldn't be very useful, after all), and instead I often prepare separate PDF or printed handouts to be distributed after my talk, that include all the main points, URLs, and other details, in a more-readable form.
Embrace simplicity
All things being equal, simple text and images are the way to go. Text-heavy slides, complex images, cutesy animations, flashy transitions, and other such embellishments are more of a distraction than an aid. You don't want your audience to say, "Wow, what great Keynote skills that presenter had!" You want them to remember what you said.
So I recommend choosing an uncluttered, high-contrast theme (such as Gradient or Showroom in Keynote, or Twilight or Clarity in PowerPoint) and, where practical, limiting each slide to a single element (such as an image, graph, quote, or question). Select visuals that support, explain, or clarify what you say. They're on the screen to help your audience understand and remember your talk, not to serve as cues or reminders of what you want to say—that's what Presenter Notes are for in Keynote or PowerPoint. (In Keynote, you may need to choose View > Show Presenter Notes to see the area at the bottom of the window where you can enter them. In either app, these notes appear on your Mac's screen during a presentation only when your presentation is on a secondary display.)
Consider your audience and purpose
That said, every audience and presentation is different, and sometimes the sort of minimalism that's great for a motivational talk is not what you need. So keep listeners' expectations in mind as you prepare your presentation.
For example, if your audience is made up of corporate VPs and your topic is last quarter's sales figures, everyone will be expecting to see the facts and numbers—not just hear about them. If you're teaching a programming class, your students need to see sample code on the screen. If you're introducing a new product, your customers want to see photos and feature lists. In these and many other cases, the stuff you put on screen is far more than window dressing, and it may sometimes require showing lots of text. There's no shame in that, but still: keep that text as brief, readable, and relevant as you can.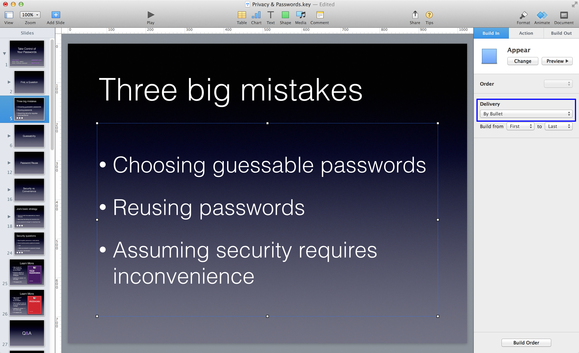 Speaking of text: Bulleted lists may be boring, but there's nothing inherently wrong with them, and sometimes they're exactly what a fact-heavy presentation needs. If you do use bullets on slides, make sure the text is large enough that people in the back of the room can read it and be as concise as possible. I nearly always set up builds to display just one bullet at a time so that the audience isn't tempted to read rather than listen.
To do this in Keynote, select your bulleted list, click Animate on the toolbar, click Build In, click Add an Effect, and then select one of the Appear & Move effects. From the Delivery pop-up menu, choose By Bullet. In PowerPoint, select your bulleted list, click the Animations tab, and click an entrance effect. Then, from the Effect Options pop-up menu, choose By Paragraph (the default).
These tips might seem to minimize all the effort you expended learning how to use your presentation software of choice. But, as I say, the software isn't the point: the presentation is.