Sharing your pictures is always a risky proposition: Regardless of whether you just email them to a friend or post them on a social network, you never know when someone is going to reuse them, without your permission, in a way that you do not approve of.
Watermarker 1.3 ( Mac App Store link) gives you a way to solve this problem by superimposing a mark of your choosing to an existing picture, thus "stamping" with your particular imprint. The app supports three different types of watermarks: text, an image, and strike-through (a set of diagonal lines that cross the image from opposite corners, thus making it unusable in a production scenario).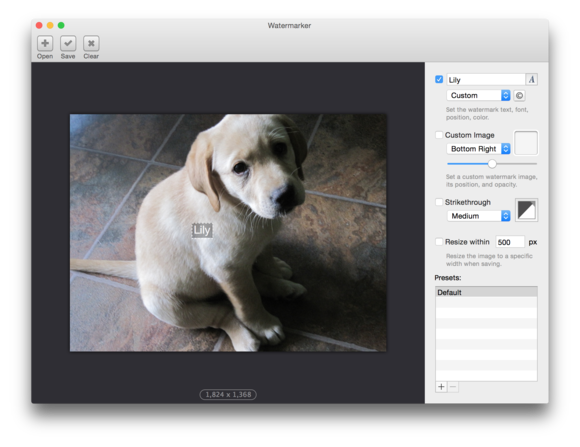 The user interface allows you to control most of the aspects of your watermark, including its position, which can either be customized by dragging the watermark to a location of your choosing or automatically set to one of the corners or the center of the image, font family and size (though not, curiously, the style), and even its opacity.
The app makes allowances for the fact that you may want to apply watermarks to multiple images at the same time: You simply drag multiple files into the app, tweak your settings until you're happy, and drag the same images out to a Finder window. Watermarked will even rename the images for you, so that you do not accidentally overwrite the originals. If you find yourself doing this often enough, you can even create a number of preset watermarking rules that can be easily loaded from a menu. Despite a few very minor quirks, Watermarker offers an excellent balance between features and ease of use that easily fits the needs of photographers and designers, regardless of the amount of images they need to process.

This review is part of Macworld's GemFest 2014. Every weekday from July until September, the Macworld staff will use the Mac Gems blog to briefly cover a standout free, low-cost, or great-value program. You can view a list of this year's apps, updated daily, on our handy GemFest chart, and you can visit the Mac Gems homepage for past Mac Gems reviews.
Want to stay up to date with the latest Gems? You can follow Mac Gems on Twitter or on App.net. You can also subscribe to the Mac Gems RSS feed.