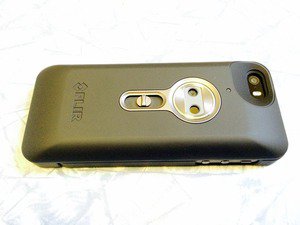 Some cool gear arrived at the office on Tuesday: new MacBook Pros and the new Flir One ($349) thermal imaging camera for the iPhone 5s. Macworld Lab set up the laptops for benchmark testing, so I took a few pictures of the new $2499 15-inch MacBook Pro as it churned through Speedmark 9.
I originally posted these pictures to Twitter, but I collected them here as a point of reference and for folks who don't follow me on Twitter.
Short background on the Flir One
The Flir One (which won a Best of Show award at the 2014 Macworld/iWorld) is built like an external iPhone battery. You slide the iPhone 5s into the Flir One's Lightning dock, and you use the Flir One apps to shoot photos. (The apps are final, but Flir is waiting for Apple approval for the iTunes Store.)
The Flir One doesn't rely on the iPhone camera at all, and it has its own battery to power the thermal imaging camera—the battery doesn't provide a charge for the iPhone.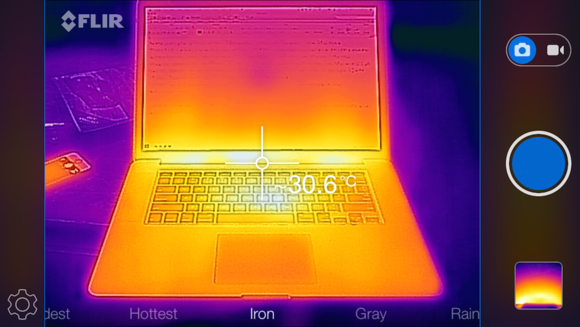 The app provides different shading schemes that you can switch by simply swiping across the app. You can change the scheme while you're framing the shot or after the shot has been taken.
Shooting the new MacBook Pro
While the $2499 MacBook Pro was running a graphics test, I took a picture and posted it to Twitter. I used the Flir One's "Rainbow" color scheme.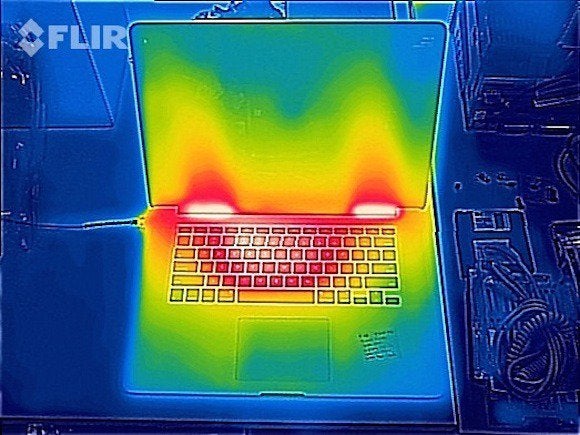 I also took this picture, which used the Flir One's "Hottest" color scheme.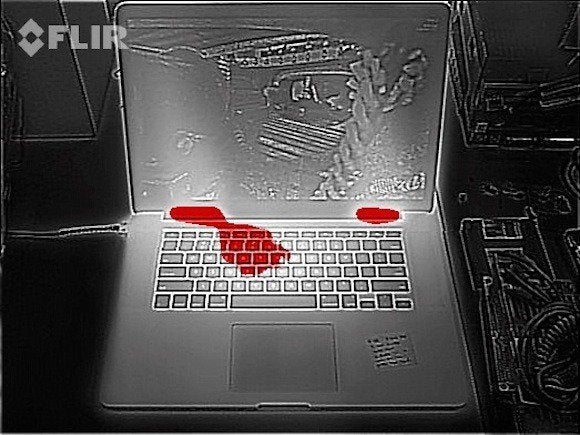 @albertmarini then asked the following:
| | |
| --- | --- |
| | albertmarini @pinatubo2000 @macworld @FLIR_ONE first impressions? Temperatures? 7/29/14, 2:44 PM |
Which reminded me of the Flir One's spot meter. When you point the Flir One's hashmarks at an object, the object's surface temperature appears on screen. The spot meter isn't on by default; you flip it on in the app settings.
After I turned on the spot meter, I took this pic.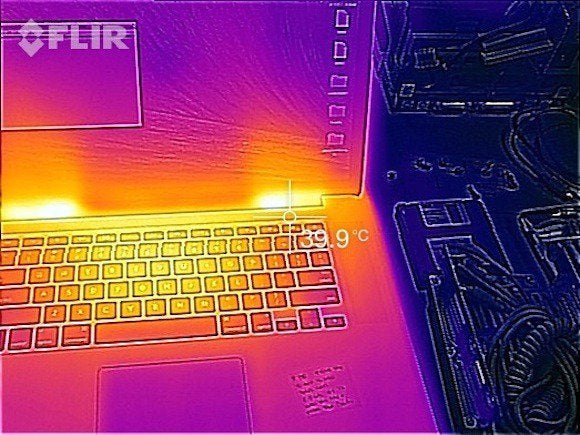 According to Flir One, the spot meter has a plus/minus rating of three degrees Fahrenheit, and the most accurate readings come when an object is within a meter of the camera.
@gtcaz replied via Twitter:
| | |
| --- | --- |
| | gtcaz @pinatubo2000 @macworld @FLIR_ONE @jsnell Would be interesting to see the other side, the side that roasts your bits when playing Flash. 7/29/14, 4:49 PM |
So I took this picture of the bottom of the MacBook Pro while it was running a benchmark test (but not a graphics test).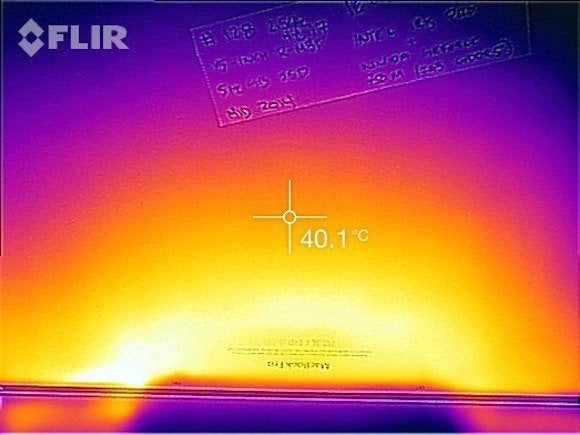 Reviews in the works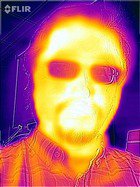 Macworld Lab is also testing the 13-inch $1299 MacBook Pro and the 13-inch $1799 MacBook Pro Look for a full review coming soon.
I'm performing more tests with the Flir One, including some in-the-field tests while camping next week. Check back for more details on the Flir One and a full review.
Flir One
Price When Reviewed:
$349
15-inch Retina MacBook Pro/2.5GHz (Mid 2014)
Price When Reviewed:
$2499