As you may have heard, Shazam's music recognition technology will be incorporated into Siri in iOS 8. Having the ability to identify a song playing in the background (and then purchase it via the iTunes Store) is powerful for mobile devices. But what about those of us sitting in front of our Macs?
The answer comes today in the form of the free Shazam for Mac app. Available from the Mac App Store, you simply download, double-click to install, and Shazam keeps an ear out via your Mac's built-in mic or a microphone plugged into the computer's microphone port (USB mics are not currently supported). I've had a couple of days to play with it and here's what I've seen.
Shazam makes itself known by appearing in your Mac's menu bar and starts listening right away. You can click on its icon and flip its switch to Off if you'd like to disable it. Otherwise it will stop listening if it hasn't done anything for four hours.
When it hears a song it can identify, a notification appears listing the track title and artist. After a couple of seconds that notification vanishes and the track entry appears not only in Notification Center but also in the Shazam menu. There it's represented by album artwork, title, artist, and a link for purchasing the track from the iTunes Store. This is useful for those times when you want to revisit tracks that played in the background when you had other things to do.
Click on a track in the notification or the Shazam menu and your default web browser launches, takes you to the Shazam website, and provides more information about the track. That information includes the host album and its tracks, related videos, recommended tracks based on other people's purchase of the track, and a USA Top 100. You can also purchase the track or album from this page as well as share the page via Twitter, Facebook, or Google+. If, at a later date, you can't recall what the track sounds like, you can click a Preview This Track button to hear a portion of it. (You can preview other tracks on the album as well.)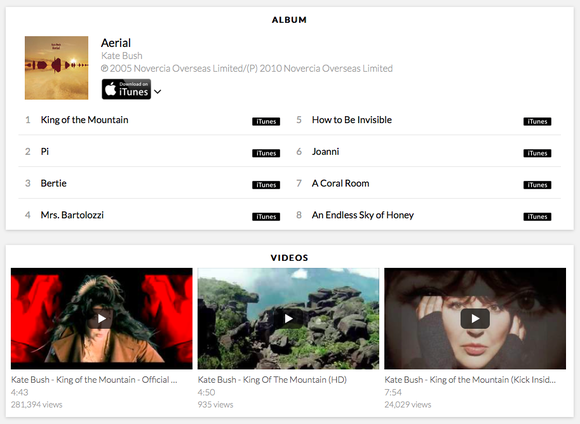 Why would you want a copy of Shazam on your computer when using it with a mobile device seems to make more sense? The coffeeshop scenario is an obvious idea. As you consume caffeine and answer the day's email on your laptop, Shazam will create a list of tunes playing behind you. But it can also be useful with a housebound computer. For example, I left my laptop open while watching The Amazing Spiderman. When Emma Stone first appeared on screen Shazam told me that it was to the accompaniment of The Shins' "No Way Down."
In my brief tests Shazam performed reasonably well. It shrugged its virtual shoulders at a couple of tracks I played via Beats Music (David Starobin's instrumental piece, "Synchronisms No. 10" and Yes's "Siberian Khatru," for example) and it misidentified Roxy Music's "Prairie Rose" as the group's "If It Takes All Night." And there were cases where tracks were identified but lyrics not available. However, if I played reasonably well known tracks chances were good that it would recognize them in a couple of seconds and associated lyrics would be available from the site.
Again, Shazam for Mac is free (because the company makes its money from music sales rather than song identification). It's unobtrusive and handy for when you and your Mac are surrounded by music. I can't imagine why you wouldn't download a copy.