Earlier this summer, I took a glorious three-week vacation to Scandinavia, trekking across three countries and trying to swim in as many fjords (and other bodies of water) as humanly possible. Apps were an essential part of planning my trip and organizing my exhausting itinerary (bless you, TripIt), but I wanted to use something else to document my experiences. And because I'm a sucker for journaling (maybe—just maybe—it has something to do with my profession), I was instantly drawn to Bonjournal.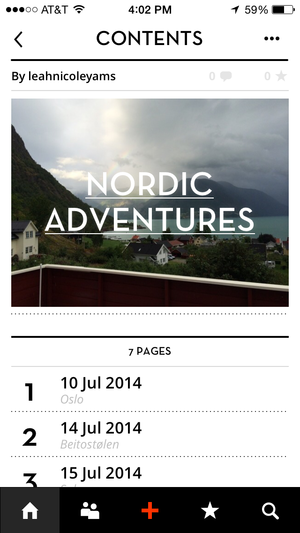 Bonjournal is a travel journal app that offers a blank canvas for you to document your trip however you want. The result is a narrative that makes a beautiful digital keepsake when your trip wraps up.
Your journal starts with a title page and cover photo, which is easy to configure once you scroll through your Camera Roll and decide which of your approximately 6028 vacation photos you'd like to use. Luckily, you can change this at any time, if you happen to take a better shot later. As you add pages, your entries are listed on this title page, so you can jump directly to any of your journal entries.
The pages themselves are blank—it is a diary, after all. Each page includes room for a title and a limitless text box, along with date and location stamps and an optional privacy lock if you'd like to mark one of your entries for your eyes only. You can also categorize your entries with tags, like "things to do," "food and drink," and "transportation."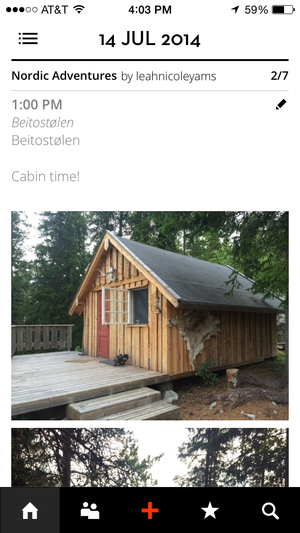 Bonjournal is as much about your photos as it is about the text. The app syncs to your Camera Roll, so you can import individual photos. You can also take a new photo while editing an entry. You're only allowed three photos per entry, but that didn't bother me at all: I'd just create a new journal entry and focus the writing around that photo. This helps pages from getting a little too cluttered.
Speaking of entries, how you organize them is up to you. Perhaps you'd like to make one entry per day (which is mostly what I did), with your daily itinerary and a sampling of photos. Or, if you'd like to make a more detailed entry, you can dedicate a page to a single experience.
Updating your journal on the fly is easy, but I really don't like typing out long blocks of text on my iPhone—it's a chore, and I can't type nearly as quickly as I can on a full-sized keyboard. I bounce between using the app and Bonjournal's website, typically taking notes and uploading photos using the app, then fleshing out my entries with more detail on my laptop.
You can share your entire journal with anyone by sending them your journal's URL, or encourage your friends to join the Bonjournal community so they can follow you directly. Journals are optimized for both the web and for the app, and look gorgeous on both platforms.
Simply put, Bonjournal is a lovely app for journaling of all kind, but works especially well for traveling due to its on-the-go, no Wi-Fi necessary nature. The only hard part? Carving a bit of time out of your vacation to actually do some journaling.
Bonjournal is available in the App Store for iOS devices, and also as a website.