These days, keeping up with games can be a full-time job. So how do you separate the signal from the noise, the wheat from the chaff, the Temple Runs from the Temple Jumps? Allow us to help by regularly selecting a game You Should Play.
Even if Broken Age wasn't a great game, it would still be notable for a couple of big reasons. Not only was it was the first huge Kickstarter sensation in the gaming space a couple of years back, raising more than $3.3 million on a goal of just $400,000, but it's also the first traditional, point-and-click style adventure game from eccentric designer Tim Schafer since the '90s.
Luckily, Broken Age really is a delightfully charming affair, spotlighting a pair of disparate (yet seemingly connected) tales about teenagers in precarious situations. Shay has spent his entire life guarded inside a spaceship, following the same daily routine under the protection of an overbearing, motherly computer. Meanwhile, a world away, Vella is about to be sacrificed to a giant sea monster to protect her family's village—something she's not terribly keen on.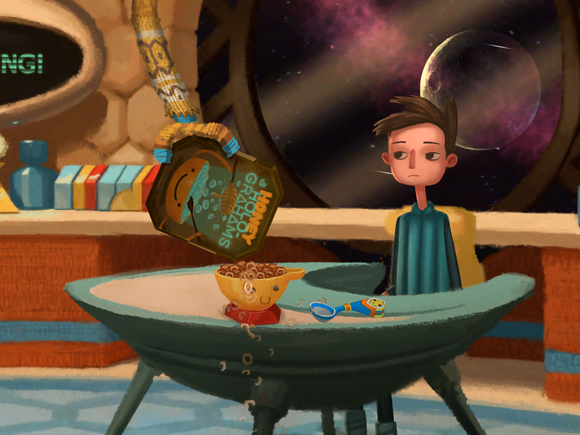 Across the span of a few hours, the first episode of Broken Age proves a warm and wondrous experience that's also devastatingly handsome and quite often hilarious. And these kinds of adventure games often translate exceptionally well to a large touch display like the iPad's. Curious about these oddly paired tales? Here are three reasons to dig into this absorbing tale:
The story and dialogue are great: Broken Age hails from Double Fine, which made its name on whimsical and wacky affairs like Psychonauts and Costume Quest, so the silly tone and quality execution aren't terribly surprising. Even so, the first Schafer-directed adventure in ages lives up to tough expectations, with a really fun and oddball tale with split scenarios that you can jump between at any time. Shay's lifelong daily routine in a spaceship designed for a small child is well conveyed, and you get a real sense of his boredom and desperate need for adventure. And Vella's quest to circumvent an expected fate and question the blindly followed beliefs of her community really resonates, even with the fantastical sights. What makes it all click is the amusing, lively dialogue, which adds a comedic richness to every interaction.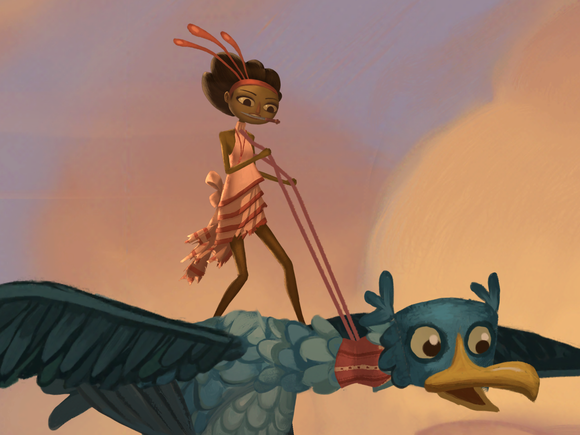 It's totally stunning: The hand-painted backdrops and characters are gorgeously presented throughout, whether it's the bright colors of Shay's toddler-centric space vessel or the pastel clouds and seaside villages that Vella wanders through. Not only is the artwork itself spectacular, but so is the character and world design, especially the great little robot creatures on the spaceship and some of the locales that Vella explores later on. Aside from the occasional odd low-resolution item in a scene, Broken Age dazzles at every turn, and it comes across like a fantasy storybook that's not necessarily for kids. Stellar voice acting from the likes of Elijah Wood and Jack Black only helps to add even more presentational sheen.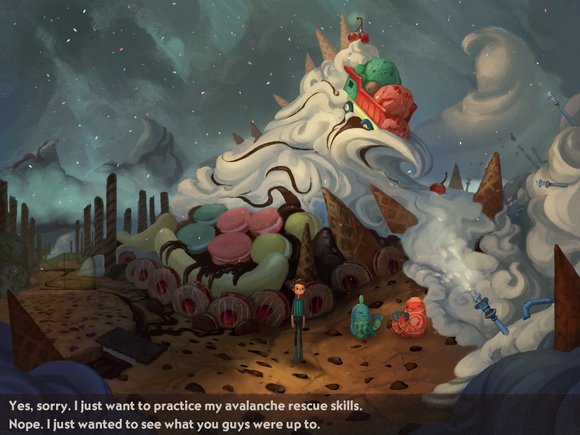 It'll scratch that point-and-click itch: Broken Age might be the prettiest game the genre has ever seen, but while it sets a new high mark for visual style, it doesn't do anything dramatic to shake up the usual investigate-everything approach—whether it's in conversation or by looking at any curious items in view. And that's fine. As a throwback to the genre's best, it does a great job of delivering interesting scenarios without feeling overlong or too obtuse in its solutions. I tend to get exhausted by adventure games' convoluted puzzles long before the conclusion, but at less than four hours in length and with enough variety in locations and premises, Broken Age kept my interest right up until the end.
Or rather, right up until the cliffhanger—which is a rather effective one. The second half of the game is due out later this year as an in-app purchase, and considering the sudden twist at the end, I'm excited to reconnect with Shay and Vella and see how this imaginative tale is capped off.
Developer: Double Fine Platform: iPad Price: $10