As I've traveled around the world giving presentations, I've seen Murphy's Law in action, up close, many times. Much as I might prepare ahead of time, things still go wrong all the time. And every time something does go wrong, I add another item or two to my emergency toolkit, the better to be prepared for next time.
Here are some of the things that have ended up in that toolkit. If you have a big presentation—especially if it's out of town, where you won't have access to your usual resources—consider putting together a similar toolkit of your own.
Gadgets and software
First, let's talk about the gadgets and software in your toolkit.
Adapters (Mac) I usually present from my MacBook Pro, and more often than not, it's connected to a projector with a VGA input. So I always carry my Apple Mini DisplayPort to VGA Adapter ($29). Sometimes I'm lucky enough to use a projector with an HDMI input, for which my laptop requires no adapter; occasionally I also need DVI output, via the less-common Apple Mini DisplayPort to DVI Adapter (also $29).
Adapters (iOS) If, instead, you're presenting from an iOS device—or at least want the option to do so if you have problems with your Mac—you can hook up an iOS device directly to an external display with Apple's Lightning to VGA Adapter ($49) or, for HDMI, the Lightning Digital AV Adapter ($49). If you bring along an Apple TV ($99), you can connect that to an HDMI-capable display and use AirPlay to stream your presentation.
Software Another way to show what's on your iOS device is to run Squirrels' Reflector ($13) or App Dynamics' AirServer ($15) on a Mac or Windows PC (which is then, in turn, connected to a projector). I suggest loading the app of your choice on your Mac and also bringing the installer (and your license code) on a USB thumb drive in case you need to install it on another computer.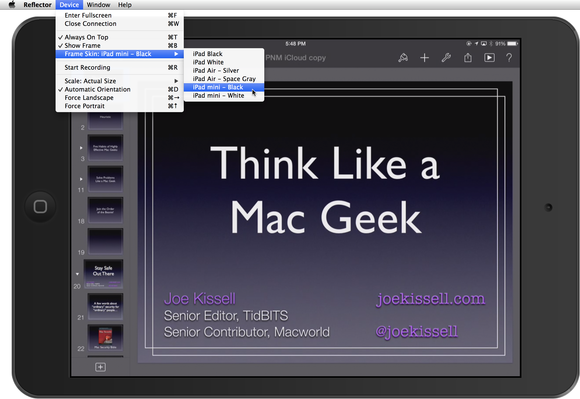 Audio If your presentation includes sound, bring along a 3.5mm mini stereo cable, as well as a 1/4-inch headphone adapter.
Extension cord Sometimes the spot where I need to place my Mac isn't close to an outlet, and an AC extension cord comes in handy.
Remote control If you use a wireless remote control, be sure to pack it (and a spare set of batteries). I use a Kensington Presenter Expert Green, which has a pop-out dongle that not only provides the wireless connection but also contains enough storage for my presentations and other files.
Your own Wi-Fi If you need Wi-Fi and aren't sure the venue's connection will be adequate, consider bringing your own Wi-Fi router. Although an Apple AirPort Express ($99) is fine for getting your devices to talk to each other, it provides Internet access only if the venue has an ethernet connection. If you don't want to take any chances, pack a mobile hotspot such as the Verizon Jetpack, which provides 4G LTE access to up to 10 Wi-Fi devices, or any of numerous similar products available from other carriers.
Throat aids Conventions can be brutal on one's voice, and I hate being hoarse on stage. So I've started packing a little throat first-aid kit, which includes lozenges, honey packets, and chamomile tea bags.
Your presentation
As I wrote recently, the most important thing a speaker can do to prepare for a presentation is to practice. Ideally, if push comes to shove, you should be able to give your whole talk without any slides at all. Even so, if you've put a lot of effort into crafting your slides, you want to do everything possible to make sure they're ready when you are. So here's what I suggest:
Multiple backups You'll have a copy of your presentation on your Mac or iOS device, but you should also have a copy in your pocket (on a USB thumb drive or SD card) and another in the cloud (using Dropbox or another service of your choice; I've found iCloud's Documents in the Cloud to be too unreliable, alas). If you're using your Mac to present your slides, you can have a copy of the file on your iPhone and/or iPad too (and vice-versa).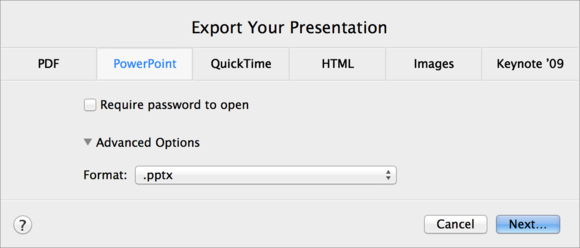 Multiple platforms Since Keynote and PowerPoint are available on both OS X and iOS, I suggest testing your presentation on both platforms. I've switched platforms a couple of times at the last minute due to hardware problems of one sort or another, and I like being able to recover gracefully when one of my devices won't cooperate.
Multiple formats Occasionally, when I'm giving a big presentation and can leave nothing to chance, I carry with me both Keynote and PowerPoint versions of my slides. Although it's extra work (Keynote can import and export PowerPoint files, but they'll typically need some cleanup before they're usable in the other app), I like knowing that if all else fails, I can use someone else's computer, which (again, by Murphy's Law) will only have the other app installed.
With all that set up ahead of time, I can leave for my presentations secure that, even if the worse should happen (and it all too often does), the show can still go on.