When I'm searching for flights, I typically use the same tools in the same order. If I'm using my phone, I check Hipmunk first; if I'm on my laptop or desktop, I use Kayak, but then I always compare the two to see if the results are the same. I rarely ever buy my ticket right away—I use these deal sites to keep an eye on price changes as I adjust my preferences to find the flight with the best value for the dates I can travel. Then, when I'm finally ready, I book my flight directly through the airline, making sure to take advantage of any eligible reward miles or programs.
But, this method only works if I'm planning at least a few weeks in advance. For more immediate situations—like needing to leave that same day—this would just waste time. That's what's so unique about Flight Tonight, an app from travel deal site Hopper that finds last-minute flights from your home airport.
Watch previous App Invasion videos to see our past picks.
When you launch Flight Tonight, it finds the closest airport to your current location, but it also gives you backup options for other nearby airports. Tap on an airport to take a look at flights departing that same day that still have seats available. Flights are priced from low to high, and are paired with different return flight options.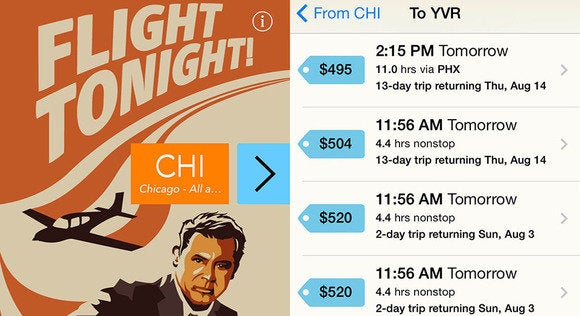 If you see a flight that works with your schedule, Flight Tonight directs you to one of its partners—either Orbitz or Travelocity—to complete your booking.
I've never been lucky enough to take a last-minute vacation just for funsies, which is what Flight Tonight presents itself as: A spur of the moment trip-planning tool for spontaneous getaways. My guess is that most super last-minute flights are booked due to something more pressing—like a family emergency, an 11th-hour trip for work, or a sudden change of plans.
I don't know about you, but the last thing I'd want to spend time on in an emergency is making travel plans. Flight Tonight lets you book a trip in as few steps as possible, eliminating the need to enter each individual criteria for your flight. You can instead just quickly check what time the next available flight to Boston departs from San Francisco. In about five taps and just as many minutes, you could have your itinerary secured, leaving more time to pack and get to the airport.
For me, that's huge: Knowing that I can quickly book a trip to Cleveland to visit my aging grandparents at a minute's notice really puts me at ease. That's why I consider Flight Tonight more of a "just in case" app. And, although Flight Tonight shows you the cheapest flight options available, they are still not cheap for the most part. If I wanted to fly from San Francisco to Los Angeles later today, Flight Tonight tells me it will be about $400. When booked in advance, that same flight could be around $100. You might be able to score a fantastic last-minute deal during a slow season, however.
We all have the occasional moment when we have to get away, and that's what Flight Tonight is for: No fuss, no frills reservations, made as quickly and simply as possible. That's why this app will remain on my phone, and is worth a spot on yours, too.
Flight Tonight is a free app for iOS, available now in the App Store.