Guardians of the Galaxy is a certified smash, delivering the biggest August box office opening of all time, garnering fantastic reviews from critics, and generating enthusiastic word of mouth almost on par with that of The Avengers. And that's frankly surprising, considering how obscure the comic source material is compared to other recent Marvel flicks—but the film really delivers.
If you saw the movie recently and can't wait until the 2017 sequel to see more of these characters and their adventures, a handful of mobile apps and games can help you geek out on Guardians of the Galaxy—with a couple more set to arrive next month. Snag these downloads on your phone or tablet to learn more about the ragtag bunch of heroes and enjoy their antics, and then go see the movie again with your enhanced knowledge.
Marvel Unlimited
If you're eager to read the comics that influenced the big-budget film, there's no better way to do so than via Marvel Unlimited (free; iOS and Android). It's the comic juggernaut's subscription service, which allows access to more than 13,000 digital comics for $10 a month or $70 a year. You can access books from the past 70-plus years while online (and save a dozen issues for offline reading), with more comics added each week—but nothing from the past six months.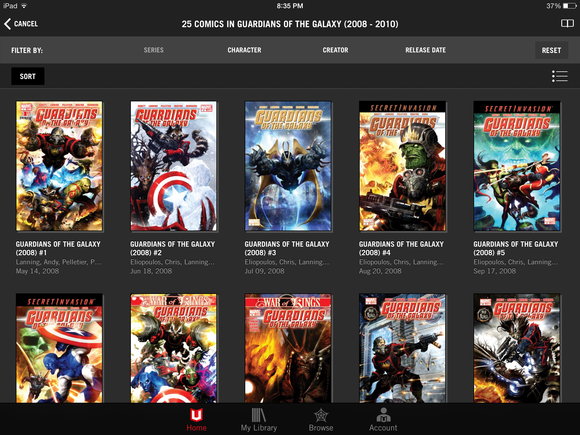 With Unlimited, you can read the entire 25-issue run of Guardians of the Galaxy from 2008 to 2010 that defined the modern squad, and also dig into about a dozen issues of the current edition that began last year. And if you're really ambitious, there's a load of other essential books that define the wider Cosmic Marvel universe, such as Annihilation and Infinity Gauntlet. The Marvel Unlimited reading experience is much better than when it launched, though be warned—the app itself remains buggy.
Marvel Comics
If you get all caught up on the older stuff—or you simply want to dive into the current run without worrying about monthly fees—then you can purchase individual books and collections via the official Marvel Comics app (free; iOS and Android).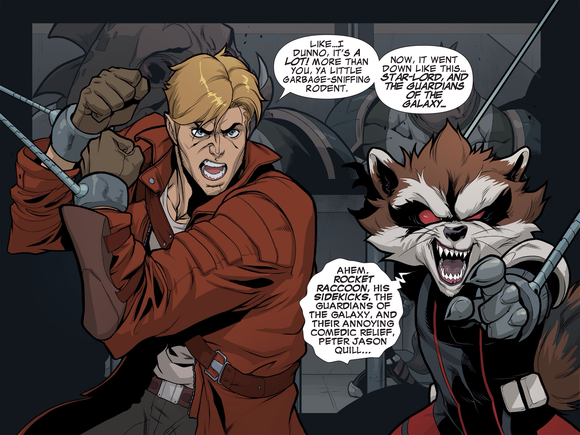 It's powered by the same tech as Comixology, but unlike that app, Marvel Comics hasn't killed its in-app store for iOS devices, so you can browse freely and then buy books with your Apple ID or Google Play info (depending on which platform you're using, of course). Beyond being able to grab the latest Guardians of the Galaxy issue in high-resolution glory the same day it hits stores, the store also features movie tie-ins and character-centric mini-series that really let you immerse yourself in the comic universe.
Guardians of the Galaxy: The Universal Weapon
Released a couple of weeks back, Guardians of the Galaxy: The Universal Weapon ($5; iOS and Android) is the official movie game, and it features a cartoonish style that pairs well with the eccentric source material. Lively dialogue and entertaining comic cut-scenes prove to be a good match for the film's comical sensibilities.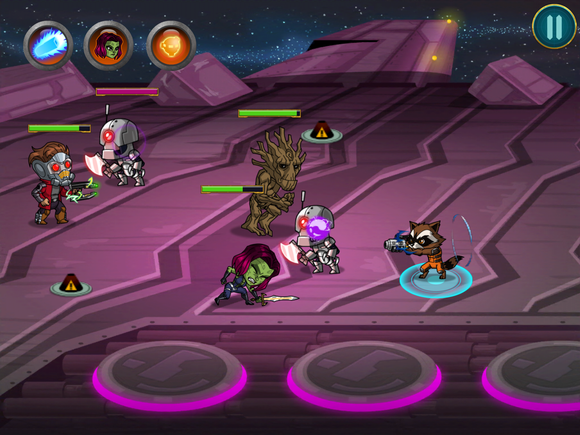 What doesn't pair as well is the combat-focused gameplay, which is so simple and streamlined that it doesn't rouse much excitement. You can build a team of characters and equip each with various bits of gear, but the battles themselves require little more than dragging a hero's attention to an enemy and watching them fire or attack on their own. For those who really dig the enjoyable presentation and humor, though, the app's a fair short-term diversion.
Marvel Pinball
As you might have guessed from the title, Marvel Pinball (free; iOS and Android) delivers virtual tables based on comic heroes, and the fresh update last week unveiled a brand new Guardians of the Galaxy table (sold as an in-app purchase for $2).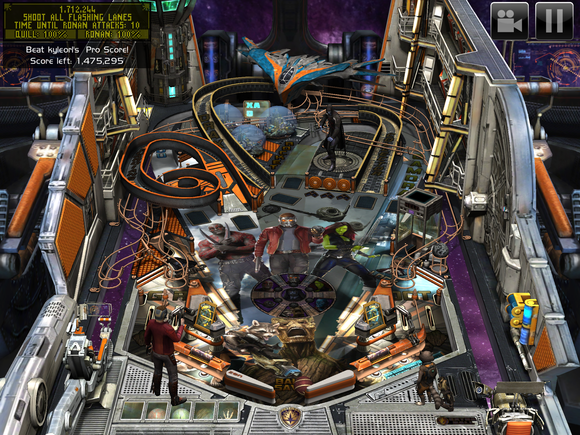 It's based on the movie rather than the comics, and effectively walks you through some of the events of the film via playable pinball events—and the animated heroes and villains on the table interact accordingly. The voice acting doesn't come from the movie actors, however, and the tone feels a little off. But as a digital pinball experience, it's another fun one from Zen Studios. You can grab the very same table in the Zen Pinball app (free; iOS and Android), if you prefer.
Coming Soon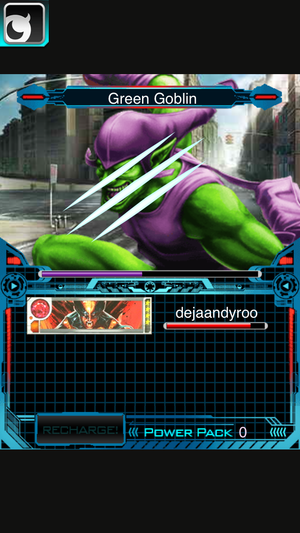 Marvel: War of Heroes (free; iOS and Android) delivers collectible card-based showdowns featuring a huge selection of Marvel favorites, albeit with a pretty strong freemium tilt.
Still, come September, the game will be updated with a special raid boss event based on Guardians of the Galaxy, and will spotlight new playable characters from that universe.
Next month, the plastic toy-centric Disney Infinity returns with Disney Infinity: Marvel Super Heroes, which like its predecessor will have an iOS component—so you'll be able to bring your heroes into the game and tinker in the virtual Toy Box on the go.
There's a Guardians of the Galaxy play set launching at the same time as the game, and you can use the included code cards to import all of the characters and start creating your own cosmic escapades.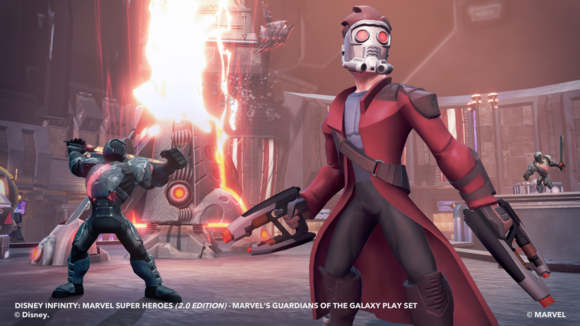 Note: When you purchase something after clicking links in our articles, we may earn a small commission. Read our affiliate link policy for more details.