Reader Patty Hamilton is in the mood for travel but would like to remain connected. She writes:
My family and I are renting a house for a week's vacation. I've been told that wireless Internet is provided but I've found some of these "free" connections can be so slow that they're almost unusable. Any hints for using broadband on vacation?
The good news is that broadband speeds tend to be better for home and condo rentals than some motels and hotels because they're plumbed with connections typical of the surrounding neighborhood rather than offering a shared, bulk connection. Hotels often use such a shared connection for dozens-to-hundreds of rooms with the result being slow going.
My first suggestion would be to find out exactly how fast your new home's broadband is. I carry Speedtest.net's Mobile Speed Test app on my iPhone. To discover what speeds are available to me I stand as close as I can to the wireless modem, log onto the network, and run the app (see the image above). It provides you with information about download and upload speeds. (If you're carrying a laptop instead, turn to the Speedtest.net website.) I'll then wander around the place and keep an eye on the Wi-Fi bar to look for weak or dead spots.
If you find that the connection is really slow or that it's wildly inconsistent during the test, unplug the modem, let it sit for about 30 seconds, and then plug it back in. Some of these modems can sit for weeks or months without being reset and provide a lousy connection in the meantime. Briefly depriving them of power can often result in a much faster connection.
If the connection remains slow it's possible that it's that way by intent or circumstance—someone's paying very little for the connection or you're out in the boonies with a DSL connection over ancient copper. (Or, worst of all, relegated to a satellite connection.) It's now time to take a gander at your phone's cellular connection. Turn off Wi-Fi and run Speedtest again. If you discover that the cellular connection is umpteen times faster than the rental's free Wi-Fi, that may be the better avenue.
Whether or not it is will depend on the kind of calling plan you have. If you've paid for a limited amount of data—250MB a month, for example—you'll want to keep your connections few and far between (and use that data for light-duty jobs such as email, web browsing, and texting). You can be quite a bit more liberal in your use if you have a multi-gigabyte cap. And with such a cap you can also think about sharing your phone's data connection with other devices by setting it up as a mobile hotspot.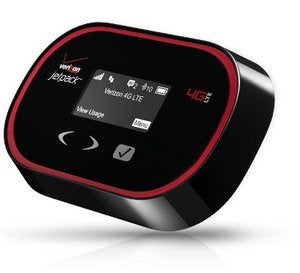 Speaking of mobile hotspots, that's an option as well. If your mobile plan doesn't support sharing a data connection you can purchase a prepaid mobile hotspot from any of the major carriers. The hotspot device can be had for well under $100 and then on top of that you pay for the data you intend to use—from a couple of hundred megabytes to many gigabytes. These devices allow you to share the connection among five to ten computers and mobile devices (depending on the model). Before you commit to a prepaid plan check coverage maps for these devices to be sure that the hotspot will work where you are. (You might also want to call ahead and ask someone in the area how good their reception is given that coverage maps can be inaccurate.)
Have a question of your own? Send it along to mac911@macworld.com