These days, keeping up with games can be a full-time job. So how do you separate the signal from the noise, the wheat from the chaff, the Temple Runs from the Temple Jumps? Allow us to help by regularly selecting a game You Should Play.
The Total War series is an exceptionally popular strategy series that combines real-time tactics with turn-based strategy. Eschewing cartoonish violence and gimmicks for complex strategy and patient gameplay, the Total War series is revered as much as it is many ways the opposite of what you'd expect from an iOS game. While most iOS games favor quick play sessions and dumbed-down gameplay, Total War Battles: Shogun, developed by Sega and the Creative Assembly, requires patience, a mature understanding of tactics, and a deft hand.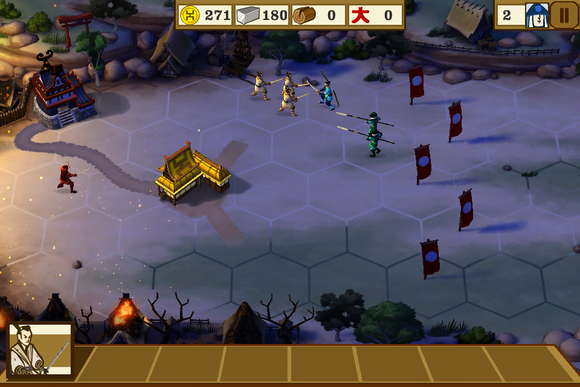 TWB throws out our pre-conceived notions of what an iOS strategy game should be, and succeeds by giving players a chess-like battlefield and a rich, deep experience. If that's not enough of a sell, perhaps these features will convince you that this game is worth your time:
The art of war: Most of the successful strategy games on iOS utilize cartoon graphics (like Plants Versus Zombies and Mushroom Wars, for instance), while many 3D-based games struggle to differentiate units and clutter the player's screen. TWB makes every unit distinctive—from the cloaked monks to the sword-wielding ronin—so you know what you're looking at. You can also zoom in and see the individual soldiers as they fight and die for you. Though you have plenty to manage, it's worth the time to watch individual samurai fight. Soldiers will clash swords and stab without clipping.
Meanwhile, the animations are varied and the metrics of who wins the encounter is thankfully left under the hood. Even the menus of the game speak to a developer that really crafted a title rather than launched a cheap spinoff: Each mission begins with a voice over a letter from one character to another. For an iOS game, they really try to make it an immersive experience.
Those cherry blossoms aren't just for show: Visuals aside, the really commendable aspect of TWB is its complex battle mechanic. The game does a great job of holding your hand as it introduces the various aspects of the game—resources management, troop recruitment, and combat—but it never feels easy. This is by design: The game introduces several rules that can frustrate the player at times, but these rules end up increasing the challenge.
First, the game utilizes a terrific grid system. Each unit occupies a hexagonal space and the battlefield is made up of a grid of interlocking hexagons. You can move your units forward, stop them, or ask them to turn—but this last order requires a certain amount of "focus" that needs to recharge. Your units cannot move backwards, so it's exceptionally important to make sure you cover your flanks and have all of your defensive lanes protected. In practice, the game feels and behaves like a chessboard. You'll still be able to build units, but the emphasis on tactics is refreshing and at times demanding. Knowing that your monks are best deployed adjacent to allies while archers can have a longer range can ultimately win you the battle.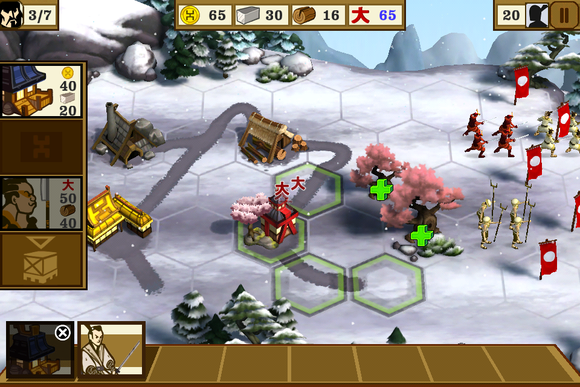 Secondly, TWB uses four different resources that must be kept track of: Gold, wood, ore, and honor. Buildings will generate these, but knowing how to deploy your buildings that best takes advantage of the terrain will make a huge difference.
The biggest issue I have with TWB is that the different buildings occupy cumbersome grid spaces and don't link up except according to certain rules. It's the only time I feel like the game limits you to make you strategize more that I didn't care for—just let me build my marketplace so I can get back to fighting!
Gameplay as long as the Shogunate's reign: TWB offers multiplayer and skirmish modes, but also an enthralling campaign. The main campaign slowly unlocks units, further complicating and rounding out your arsenal. The story isn't terrible either—your father has been betrayed, you must avenge him, blah blah blah—though the voice acting work is a bit hammy. The main missions can take as little as ten minutes or a full hour to complete. You'll also have the option to take on side quests that are surprisingly varied (and at times, brutally hard) that will get you experience. This experience will give you great buffs for your army or special units or reduce resource costs. Towards the later missions, having such advantages is a must.
Total War Battles: Shogun isn't just a worthy successor to the popular Total War strategy games, it's easily one of the most beautiful, detailed, and fun strategy games on iOS.
Developer: Sega Platform: iOS (Universal), Android (Universal), Amazon Fire OS (Universal) Price: $2