I've kept paper journals in the past, but never stuck with them. Filling those blank pages felt too much like a chore. Bloom Built's superb Day One ( Mac App Store link) makes keeping a journal easier than ever, thanks to smart features and a beautiful, welcoming interface.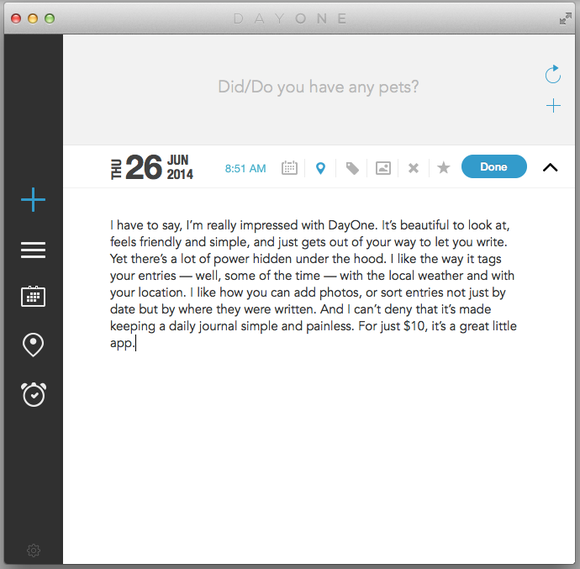 At every turn, Day One does its best to get out of your way and let you write. The app offers helpful (if generic) prompts like "Do you have any favorite pets?" above each new entry window to get you going. These little nudges take away some of the pressure of the empty space below them. You can also fire off quick entries straight from an icon on your menubar, if opening the app itself is too much of a hassle. Day One can even gently remind you to write something; just tell it what time of day, and how often you wish it to prod you.
You can add photos to entries, and tag them with keywords and your current location (though that part's strictly optional). Day One even records your local weather at the time you're writing—though it occasionally, inexplicably forgot to do so in a few of my entries. You can sift through what you've written not only by list or date views, but also via a map for geotagged entries.
Day One lets you back up your journal to iCloud, Dropbox, or the location of your choice; in my tests, synching worked well after a few initial hiccups (Dropbox's fault, not Day One's). You can also share a journal across Day One's Mac and iOS versions. And like any good journal, this one can be password-locked against prying eyes.
I liked everything about Day One, especially its light and graceful design. This app deserves its many awards, and feels well worth its $10 cost.

This review is part of Macworld's GemFest 2014. Every weekday from July until September, the Macworld staff will use the Mac Gems blog to briefly cover a standout free, low-cost, or great-value program. You can view a list of this year's apps, updated daily, on our handy GemFest chart, and you can visit the Mac Gems homepage for past Mac Gems reviews.
Want to stay up to date with the latest Gems? You can follow Mac Gems on Twitter or on App.net. You can also subscribe to the Mac Gems RSS feed.