I've done it, you know you've done it and that's because it's such an easy thing to do, but iBetterCharge has got your back. Your iPhone or iPad sits in your bag or on your desk, unplugged and not charging. Not a big deal, until you realize late in the day and right before you head out for the night, that you've got less that 20 percent of battery life left and and several hours ahead before you can charge your phone.
iBetterCharge uses iTunes Wi-Fi syncing to keep its finger on the pulse of your iOS device's battery. You have four options for setting notification thresholds for the app. When your battery reaches 50, 20, 10, or 5 percent of its capacity you'll receive a notification reminding you to plug your device in for a charge.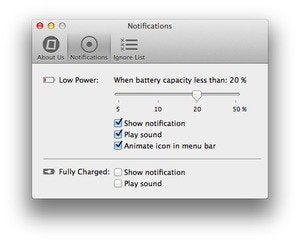 iBetterCharge offers a number of notification options, including animation of the app's menubar icon and and standard system alerts, all of which are sure to keep your battery where it needs to be so you can use your iOS device all night. (Not a Mac user? There's a Windows version too.)
Simple, well designed, and oh so easy to use, iBetterCharge keeps tabs on your battery so you don't have to.

This review is part of Macworld's GemFest 2014. Every weekday from July until September, the Macworld staff will use the Mac Gems blog to briefly cover a standout free, low-cost, or great-value program. You can view a list of this year's apps, updated daily, on our handy GemFest chart, and you can visit the Mac Gems homepage for past Mac Gems reviews.
Want to stay up to date with the latest Gems? You can follow Mac Gems on Twitter or on App.net. You can also subscribe to the Mac Gems RSS feed.