There's nothing sexy about font management. Designers often have hundreds of typesets to sort through, and keeping track of them all can be a big pain, especially when a deadline is looming. With an elegant WYSIWYG interface that focuses on organization rather than activation, Fonts opens up your suitcase wide enough to show you everything inside, and just might eliminate the pesky trial-and-error method.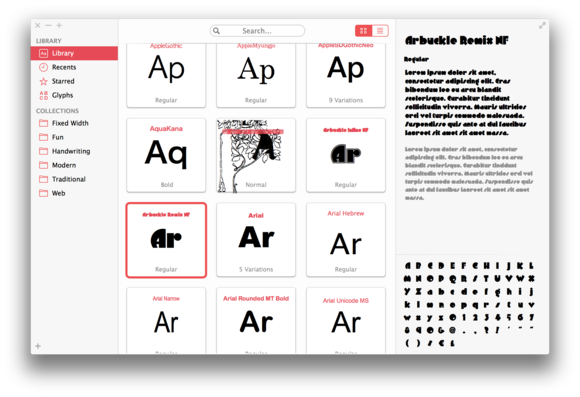 If you're looking for a replacement for Apple's Font Book, however, you're bound to be disappointed; in actuality, Fonts is more of a browser than a manager, but what it lacks in professional features it makes up for in usefulness. Each time it's launched, the app quickly scans your designated folders for any new fonts, filling up its iOS-styled window with an alphabetical list of every typeface it finds.
Giant letter previews let you zip through dozens of fonts until you find one that strikes your fancy. Clicking it bring up the usual list of styled letters, numbers and symbols, but the sample paragraphs are a nice touch, especially when comparing spacing and weight. Also handy is the ability to skim any variations by running your cursor across the square. I stumbled across a few random display issues, but for the most part, I was able to browse my sizable collection with ease.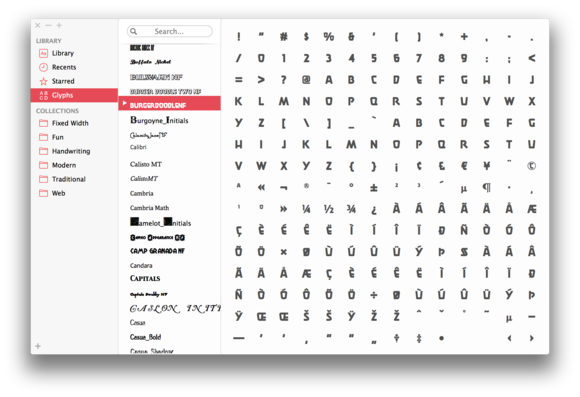 Fonts provides a few automatic smart folders that keep track of your favorites, but the ones you make will have to be created the old-fashioned way. It's easy enough to drag and drop, but it's rather time-consuming; an effortless way to sort serifs or group specific font families would help make up for the lack of pro features. Ultimately, though, Fonts' beautiful display window made it well worth the price, even if you don't understand what all the fuss is over Comic Sans.

This review is part of Macworld's GemFest 2014. Every weekday from July until September, the Macworld staff will use the Mac Gems blog to briefly cover a standout free, low-cost, or great-value program. You can view a list of this year's apps, updated daily, on our handy GemFest chart, and you can visit the Mac Gems homepage for past Mac Gems reviews.
Want to stay up to date with the latest Gems? You can follow Mac Gems on Twitter or on App.net. You can also subscribe to the Mac Gems RSS feed.