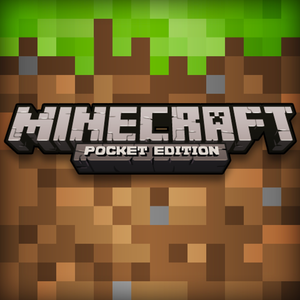 Minecraft is an absolute sensation of a game, having sold more than 54 million copies across platforms and spawning all sorts of officially licensed doodads—like branded LEGO sets, foam swords, and a seemingly endless array of t-shirts. Leading the pack in sales isn't the original PC version, nor any of the home console ports, which have collectively moved past the computer edition in total copies sold.
Instead, it's Minecraft: Pocket Edition for iOS and Android—the bite-sized, touch-centric take on the building block sensation, which had sold more than 21 million copies as of April. It makes sense on the surface: Pocket Edition is the lowest-priced version, and there are hundreds of millions of active devices that can run the game. But this is the same game that was critically shrugged off upon release less than three years ago, derided for being a hollow shell of the PC experience.
However, the Pocket Edition of today is significantly larger and more in-depth, and the recent Version 0.9 update added long-desired features like infinite worlds and explorable caves. Swedish indie studio Mojang continues to expand the game to make it bigger and better, and continue spreading the gospel of Minecraft to more and more players—and the developers aren't finished yet.
A quaint start
Minecraft: Pocket Edition first debuted in 2011 on Sony's Android-powered Xperia Play—a "PlayStation Certified" device with physical controls that looked much like the company's PSPgo handheld. But within a few months, the game made the leap to more traditional Android handsets, followed by an iOS edition, and Minecraft had officially joined the world of touch screen gaming.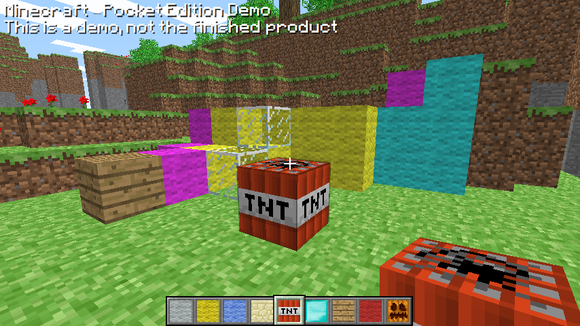 Initial reviews were surprisingly middling, with Metacritic reporting a 53 out of 100 average score from critics—much lower than other versions of the game. With only the Creative mode, plus small worlds, a lack of enemies, no day/night cycle, and no way to actually mine or even craft quite yet, initial reviews pegged the game as too compromised to be worthwhile. "Minecraft: Pocket Edition doesn't feel like Minecraft," asserted the original 2011 review from iOS game enthusiast site, Touch Arcade.
As developer Johan Bernhardsson—one of two Mojang employees working full-time on Pocket Edition these days—points out, the initial release of the phone and tablet version was labeled an alpha release. Even today's version is still considered an alpha, about three years later, although he concedes that such a tag probably means less to smartphone users than savvy PC players: "The first version was very limited, and people didn't care about an alpha label inside a mobile game as much as they would on PC," Bernhadrsson said in an interview with TechHive.
Simply getting Minecraft up and running on mobile devices wasn't as simple as quickly porting to new platforms—Pocket Edition had to be rewritten from scratch in the C++ programming language, as iOS doesn't support Java. From that point on, the team approached expansion much like it did with PC: Start small, and add new elements gradually over time. The difference was that Minecraft was already a cultural sensation by the time Pocket Edition came around, which invited scrutiny.
Expanding universe
While the initial impression may have been mixed, Minecraft: Pocket Edition grew significantly with each major version update. In February 2012, Mojang added Survival Mode with its mobs (enemies) and tools, along with the day/night cycle. A couple of months later came crafting via the new Minecraft Advanced Touch Technology Interface System (MATTIS), which was designed specifically to make item crafting feasible on smaller smartphone and tablet displays.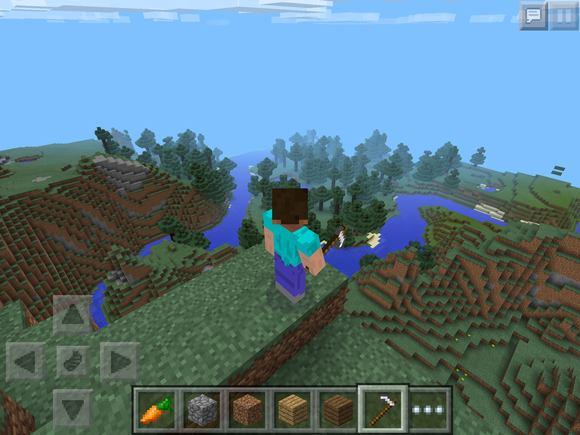 Subsequent updates brought a litany of additional changes large and small. New blocks, enemy types, animations, items, and features made the world feel fuller. The addition of Minecraft Realms support allowed users to purchase premium access to shareable private servers, the graphics improved as devices became more powerful, and the controls and interface became more manageable.
Released in July 2014, version 0.9.0 is arguably the largest to date—and the list of features is extensive. The ability to generate infinite-sized worlds means there's always something to explore off in the distance, and the update adds a wider array of terrain types from the PC version. Caves are also added to the world, which not only adds richness to the environments, but also offers fresh opportunities for finding resources and adventure.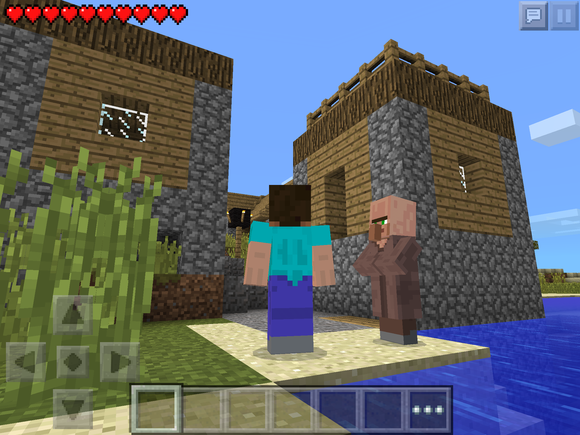 And bucking a previous decision to have the entirety of Pocket Edition be playable on all supported devices, infinite worlds and caves are only intended for more recent tablets and phones that have the processing power to keep up with the computing demands.
"Minecraft has always had many ways to play it, however the exploration aspect was severely limited. Pocket Edition was mostly appealing to the subset of those who like to build for the sake of it," says Mojang developer Tommaso Checchi. "I play Minecraft in a more 'adventurous' way, with more exploring, functional building, and gathering resources from natural caves without strip mining… needless to say, it was nice to work on this update as it made Pocket Edition more fun to myself as a player."
Premium rush
While the tact of gradual enhancement may not have resonated with all players at first, that hasn't stopped Pocket Edition from becoming a massive mobile hit. It continuously hovers near the top of the paid charts on all platforms, and while many top iOS and Android games feature extensive in-app purchases and other frustrating tactics, Minecraft remains an undiluted premium experience that's well supported and isn't constantly fluctuating in price. Pay $7 and you'll get the full game, made better and better every few months or so.
"I think players know by now that they can trust us to add more content to the game, over time; plus, they also know the price will not go down, and that once you have the game, you get all of it. Probably this allows players to make a 'premium' investment in the first place, because hey, what would be the point of waiting?" notes Checchi. "I would say our strategy is that you pay money and get Minecraft. Simple as that!"
And they've found that the people paying for Pocket Edition might not be who you think they are. Namely, most players aren't PC version owners seeking an on-the-go version of Minecraft for a mobile fix away from home. "For most of our players, Pocket Edition is not the PC's plan B," says Checchi.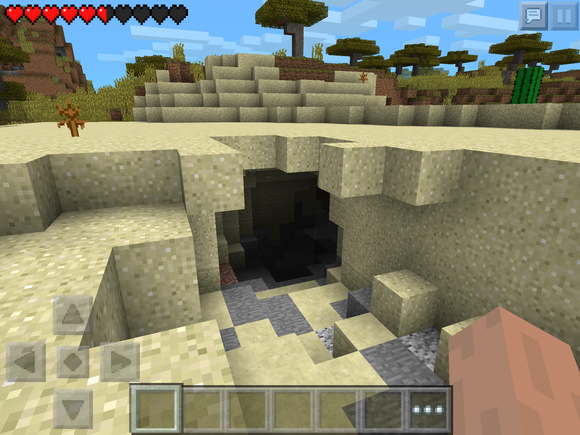 Pocket Edition players also skew younger than on other platforms—something I've seen with my own teenage and pre-teen nephews, who are crazy about it—and large numbers come from countries like Korea and Japan that increasingly prefer mobile devices to traditional computers. "Being on a platform so accessible and intuitive for kids is pretty great to cement the 'LEGO of our generation' reputation that the game has," adds Checchi, "removing all of the (admittedly not so much) complex setup and care that playing on a PC still requires."
And that initial decision to start small on mobile and expand over time has clearly panned out in the sales numbers. "It was fun seeing Pocket Edition surpass the PC version. We have put a lot of effort into making Pocket Edition as good as possible, but I think it is a bit unfair to compare it with the PC and console versions," asserts Bernhardsson. "We are just happy that so many people are having fun playing the game, and are now also starting to build up a community around the Pocket Edition. I [always thought] that Minecraft is Minecraft, but all the versions have different ways of playing, which makes it a lot more fun."
A bigger Pocket
Even with the huge recent update, Pocket Edition isn't done growing—but the way that enhancements arrive is changing. It took seven months for 0.9.0 to launch with its big heap of additions, but the planned 0.10, 0.11, and 0.12 updates will likely come faster and with just one big feature anchoring each set of tweaks. Checchi couldn't specify the order at which features will be added, but says he wants to redo the touch controls to add sprinting and crouching, as well as add boats for improved exploration. Bernhardsson has also mentioned on Twitter that 0.10 will add player skins, a much-requested perk.
And with a massive community of passionate players, there's a collective wish list put forth by vocal fans on message boards and over Twitter. Beyond what Checchi mentioned, fans are eager for physical controller support, maps, and the addition of the haunting soundtrack from the larger versions, among other tweaks.
Most of those features seem like reasonable expectations—but Mojang will continue to get there on its own terms. "When we feel that the game is 'complete' enough, we'll have a 1.0 [version] and we will drop the 'alpha' tag (which nobody cared about anyway)," notes Checchi. "But we'll get there at an incremental pace."