Woah, dudes. Woah. Have you ever had one of those nights where you're just too tired, stressed, or, um, indisposed to figure out how to feed yourself? Like, you know you want food, but you don't want to go through the hassle of making that food happen. There's a solution for that, man: Push for Pizza. It's, like, the next technological breakthrough. It's magic.
…Yeah, it's not quite magic. It's a pizza delivery service that takes a completely uncomplicated task and somehow makes it even easier. Because that's what the world really needs.
Push for Pizza launched for the iPhone last week, and we're still talking about it because it's the ultimate food app for the lazy crowd. You don't have to find a pizzeria. You don't have to look up a phone number. You don't even have to select your toppings. Push for Pizza is so simple it's almost puzzling that it even exists.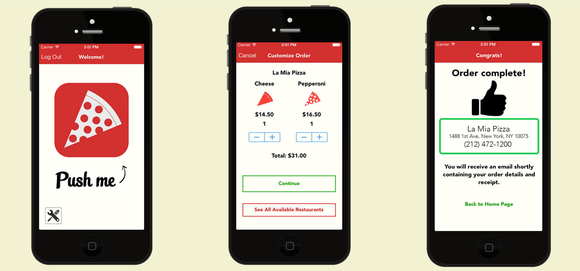 For first time users, you have to create a profile (which connects to the app via Delivery.com) and enter your delivery address. Then, you push the big pizza button, and Push for Pizza finds the closest pizzeria using order.in's API. You're then directed to checkout, but instead of getting a full menu, you only get the classic: Cheese, with pepperoni coming soon. (The gentleman behind Push for Pizza said that they plan on offering more menu items down the road.) Finally, select how many pies you want, enter your credit card info, and pizza will be on its way. The app even adds the tip in for you, so you can take care of the whole transaction from your phone.
Fittingly, Push for Pizza was built by a group of bored college kids. It's been called the Yo for pizza, or the Uber for pizza. I wouldn't call it quite that, but it's not a surprising comparison. Push for Pizza follows Yo's model of only having one main button that only serves one purpose. Once you've stored your address and credit card info with Push for Pizza, the entire ordering process can be done in three taps. And if you already know what you're doing, you don't even have to really look at the screen, so this process can be done in seconds.
To get such a quick and easy experience, the app takes away choice (hence the limit of one, possibly two, pizza toppings). But it does let you store multiple delivery addresses, and will show you all of the participating pizza joints in your area if you don't like the one it selected for you.
It's not revolutionary by any means, but it's the first single-tap concept we've seen that's kind of useful. Yo is still a bit too ambiguous, and most users have yet to take it seriously.
But pizza? We can all get behind pizza.
Push for Pizza is a free app for iOS.