Maybe you're going out of town for a while; maybe you live in a rough neighborhood; maybe you just wonder what your pets are up to all day. No matter the reason, the $50 Periscope Pro ( Mac App Store link) from ZipZapMac can help you keep an eye on your domicile.
Periscope Pro's a surveillance app that regularly takes video from your Mac's camera, a connected webcam, or a third party IP-enabled camera—which doesn't even have to be within your home. What triggers the recording is up to you: Periscope Pro can record continuously, or only when motion, sound, or some combination of both is detected. The video, in a frame rate and resolution of your choice, is stored on your computer's drive, and it's watchable either via the app itself, or simply by opening up the folder you choose.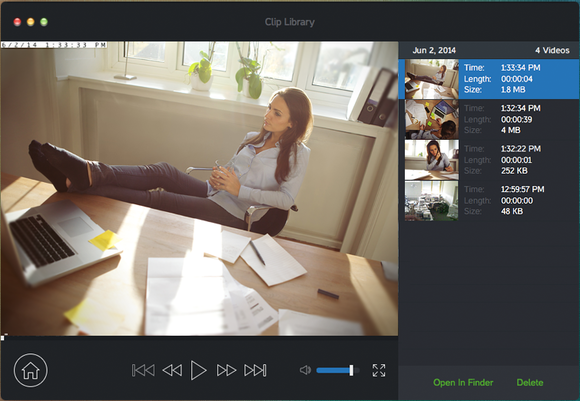 The motion sensor part is what makes Periscope Pro particularly attractive, since it means that it only records at those time when something is actually going on. And since you can choose the level of audio or motion that triggers a recording, you can hopefully avoid sorting through inconsequential false positives.
Periscope Pro also offers several optional niceties, such as a Candid Camera mode where it hides while active (though note, of course, that the green light next to your FaceTime camera will still light up), password protection, launching (and hiding) at boot, and built-in support for saving clips to Dropbox.
All in all, Periscope Pro may not be super cheap, but it'll still probably run you less than a professional security system, and it offers plenty of features for that price.

This review is part of Macworld's GemFest 2014. Every weekday from July until September, the Macworld staff will use the Mac Gems blog to briefly cover a standout free, low-cost, or great-value program. You can view a list of this year's apps, updated daily, on our handy GemFest chart, and you can visit the Mac Gems homepage for past Mac Gems reviews.
Want to stay up to date with the latest Gems? You can follow Mac Gems on Twitter or on App.net. You can also subscribe to the Mac Gems RSS feed.