As I stepped off the shuttle in Red Hook, Brooklyn and looked up at the blue-and-yellow behemoth on the waterfront that is my local Ikea store, my phone buzzed. "In Red Hook? Check out Ikea Brooklyn!" the notification read. Thanks for the tip, Foursquare.
Not all of Foursquare's push notifications were as useless as that Ikea one in my week-long hands-on experience with the New York-based company's new iOS and Android app. Recommendations are at the core of Foursquare's new mission, which is to beat Yelp at being your guide to any city. To do that, the new app hums along in the background of your device, sensing where you go so it's always ready to tell you what to do next. If you walk into a restaurant, Foursquare will push you tips from friends and experts about which dishes to order. When you're near a neighborhood restaurant the app's algorithms think you'll like, Foursquare will prompt you to check it out.
With all this hype about recommendations, I was excited to see what kind of notifications Foursquare would send my way.
Starting from scratch
Over the last five years, Foursquare has drawn 50 million fans who adored the app's gamified check-ins. I wasn't one of those active users. So when I installed the new app, I had to start from scratch. Foursquare didn't know my tastes, my most frequently visited spots, even my location—when I installed its companion app Swarm, it thought I still lived in San Francisco. (I moved to New York a year ago.) Yeah, it had been a while since I opened Foursquare.
The new app requires you to enable location-tracking so it can learn your habits, like how often you frequent fancy cocktail bars or steakhouses. That way, the app can shoot you a recommendation for a new place as you walk by it. Because I lacked any sort of Foursquare history beyond a check-in last spring at San Francisco's Lands End park, I knew it would take a few days for the app to figure out what I like.
The app also prompts you to select some tastes to start, so I picked several interests: ramen, iced coffee, and good date spots. Then I enabled location-tracking and push notifications, and waited for the recommendations to roll in.
Until Foursquare started pushing recommendations to me, I contented myself with opening the app when I was bored or wandering around the neighborhood, just to see what was nearby. I followed a few food outlets so I would see expert tips, and added more tastes. Lobster rolls, rooftop bars, blueberry pie…I fell down a rabbit hole of incredibly specific culinary experiences—25,000 of them, to be exact—and wasn't even mad about it. Foursquare started showing me places that were highly rated and had lobster or ramen—keywords it highlighted in a watermelon pink.
The 55 million tips my fellow Foursquare users have left are admittedly way more useful than Yelp reviews, which can often ramble on for paragraphs on end without mentioning anything about what to order. Foursquare tips are concise and actionable: "The cheddar-and-avocado sandwich is amazing," or, "Check out the secret alcove." That's information you can use.
Meanwhile, my phone buzzed with a recommendation from Foursquare just three times in the week I've been using it. Aside from Ikea, Foursquare knew I was running around to various home interior stores in Manhattan and recommended I check out a nearby housewares shop. After work yesterday, Foursquare told me to check out a great little bar in Bryant Park, based on its proximity to my office and my preference for outdoor happy hours. Both recommendations weresolid, but not worth the risk letting a tech company know where I am at all hours of the day—especially since Foursquare might sell that information to advertisers.
The pros and cons of being tracked
Two useful recommendations and one week later, I've decided to disable Foursquare's location-tracking, despite the fact that the app was never quite able to place me. My office is across the street from a Starbucks, and Foursquare showed me camped out at the coffee chain all day. No wonder I never got push notifications about new cold brews to try—the app probably assumed I needed to be cut off from caffeine, not encouraged.
I spend a lot of time exploring Brooklyn, and Foursquare never once pinged me with a recommendation of a new place to try (except for Ikea). I had hoped the app would learn my habits and suggest new places to go, but I don't want Foursquare monitoring my location at all times. Not only does it drain my battery even more than my usual Spotify/Facebook/messaging habits do, but it's creepy. And when the push notifications aren't that great…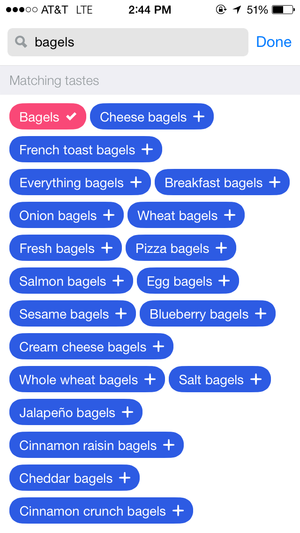 I love the new Foursquare. The design is on point, the tips are helpful, and I could spend hours adding tastes to my profile. An app that you want to spend a lot of time with comes around rarely these days. But every time I looked at my iPhone, I was reminded that I was being tracked. The location services icon seemed permanently anchored to the top of the screen. I just wanted it to go away.
Foursquare wanted to shed its reputation as "the check-in app," but the company should rethink Swarm, the 3-month-old app it created to banish check-ins.The separation confuses users, many of whom are enraged at the change, and removes a useful feature. Foursquare could use your check-ins to push you notifications about nearby places, like a cocktail bar on the same street as the restaurant you're dining at. Or the app could deduce that if you check in to spots all around Williamsburg, you probably live or work there and want to see recommendations in the neighborhood. It doesn't really need to track you all the time.
Foursquare still has an option to check in, but tapping that icon sends you off to Swarm if you have it installed, or to the app store if you don't. I tried to check in at a restaurant once during the week, but Swarm wasn't working. After that failed attempt, I didn't open Swarm again.