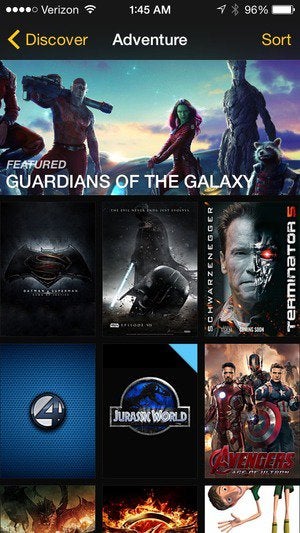 Our iPhones have turned us into task managing masters. All day long a steady stream of beeps, buzzes and bongs keep us abreast of what we need to do, constantly prodding us to get things done. TodoMovies ( iTunes Store link) sends you reminders you'll look forward to receiving—rather than keeping track of the tedious things you need to do, it monitors what movies you want to watch, notifying you when new films are being released, and helping you discover classics you might have missed. Taphive introduced a fresh new interface when it released the third version of TodoMovies earlier this year, and with the recent 3.1 update it's become one of the premier movie apps on the iPhone.
When you launch TodoMovies' gorgeous gallery of movie posters, it might seem a bit like a pro version of Apple's iTunes Movie Trailers app. You can find a specific movie by typing it into the speedy predictive search field, but it's far more enjoyable to let the Discover screen lead you on a cinematic journey. A number of genres are available to choose from, and while there is a fair degree of overlap, each is as distinct as it can be. Individual categories are adorned by screenshots from a "featured" film, and as you scroll through the dozen or so of them, a neat parallax-style effect moves the images subtly with your finger, giving the menu a sort of elevator feel. Animations and transitions like these are apparent all throughout TodoMovies, and it's this attention to detail that really sets it apart.
But as its name suggests, the crux of the app is its lists and reminders. When you find a movie that interests you, you can select its poster to bring up an array of details, including trailers, photos, and full cast and crew information. Tapping the checkmark at the center of the tab bar adds the flick to your To Watch list, where it can be sorted by title or release date. A built-in genre-aware search bar and the use of simple gestures makes it easy to navigate lengthy lists, but I would have liked a way to reorganize titles a la my Netflix queue.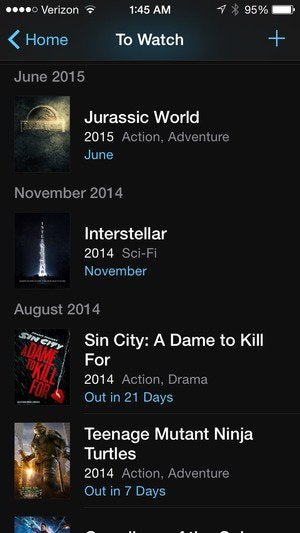 In addition to the Discover screen, TodoMovies also includes a Hollywood news feed that collects articles about the silver screen from all over the Web. There's no customization of the sources, and without a search or filters you're at the mercy of the aggregator, but it's still good for a casual perusal of the day's entertainment news.
TodoMovies will automatically send you a notification when a new movie on your To Watch list is about to be released, though sadly you can't set alerts for older movies you plan on watching. Once you've seen something on your list, another tap on the check sends it to Watched, which acts as an archive of everything you've seen. Movies can be given their own star ratings, which are combined with the rest of the surprisingly expansive TodoMovies community to create a universal score that ranges from "sucks" to "masterpiece." And if you don't trust your peers, you can check out what Rotten Tomatoes and The Movie Database have to say, too.
Bottom line
TodoMovies is definitely created by and for movie lovers, but you don't have to be a film buff to appreciate its clever concept and excellent execution. The addition of Netflix or Fandango integration would make it absolutely indispensable, but TodoMovies is no bit player in the crowded entertainment category. It's a star.