Skeuomorphism is a funny thing. On the one hand, there's the pre-iOS 7 faux stitching and wooden shelves we all hated, garish replications that served little or no purpose in the digital world. But on the other are things that actually help us, dials and switches that mimic their real-world counterparts to help users navigate through unfamiliar interfaces.
Full-featured digital notebooks generally fall into the former category, imitating objects such as three-ring binders and folded paper to create a sense of nostalgia and comfort. There are plenty of minimal note-takers available for our Macs, but serious organizers don't stray too far from the paper world, going so far as to design things like staples and paper clips that can actually muddle the overall experience.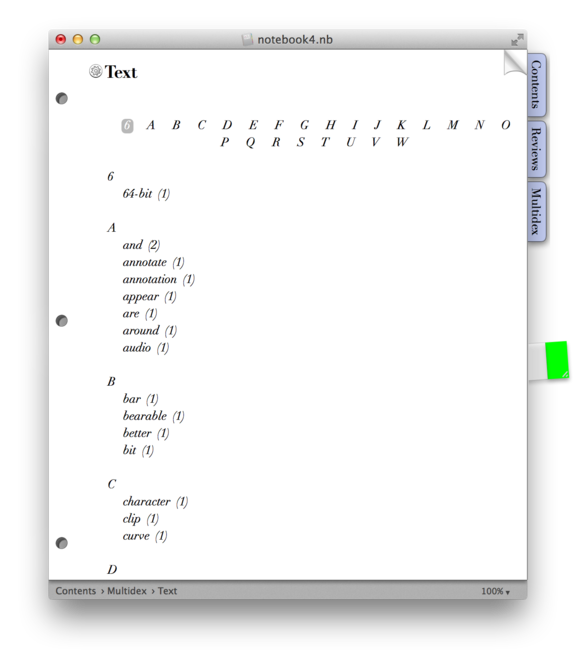 Circus Ponies has struck a delicate balance with the fourth version of Notebook ( Mac App Store link; the Mac App Store version is $60 for a single user, while the price is $50 if you buy directly from Circus Ponies). It hasn't completely abandoned its classic skeumorphic interface, but it has streamlined the whole process in wonderful ways, making features new and old seem fresh and modern.
It may have ditched the kitschy spiral binding in favor of smooth edges, but there's nothing minimal about Notebook 4's presentation. When you begin a new project you'll be met with the same set of possible starting points, ranging from specific tasks (preparing for a trial, organizing a film shoot) to more general activities like planning a trip or taking notes. Whichever option you choose will launch a tailor-made notebook, with suggested formatting and outlining, and a vastly improved Multidex search system.
Notebook still believes strongly in its tabbed system, and you'll notice a few of them sticking out of the right side of any new project you start; Contents and Multidex help navigation by creating automatic shortcuts to individual pages, and you can add any number of new ones with colors and fonts of your choosing. If it gets too crowded, you can quickly scroll through your tabs with the standard two-finger gesture on a trackpad, and any of them can be removed without destroying the content inside. But while it does disappear when entering the new full-screen mode, I would have liked the ability to hide the tab bar during longer writing sessions.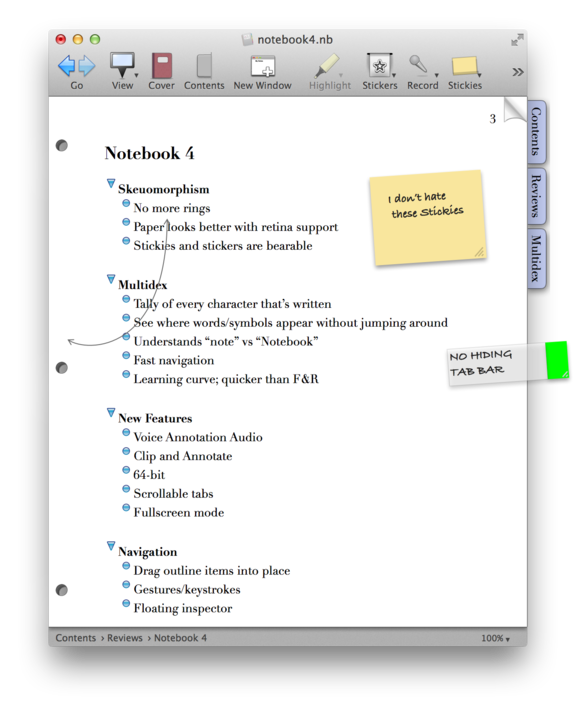 As expected, Notebook offers an array of traditional and specified paper options, from legal and college ruled to steno and engineering. Colors and grids can all be personalized, and the collapsable toolbars and support for the MacBook's Retina displays make the pages pop like never before. Even heavy skeuomorphic elements like post-its and stickers aren't nearly as visually jarring as they are in other apps.
Each section can have its own type of paper, and while the skeumorphism here can help with organization, I had some issues with the formatting; no matter which font I used, the strict alignment to the visible grid felt too rigid and just didn't look right. Like Word or Pages, there's more control over placement when using text boxes—and handwriting mode doesn't present such constraints—but that's more time-consuming and ultimately counterproductive; so if you're bothered by such things, you'll be spending a lot of time using the plain template.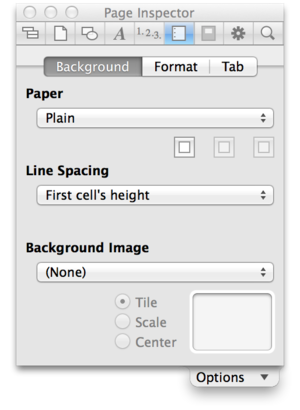 As your notebook fills up, the enhanced power of the Multidex will quickly become apparent. The index keeps a running tally of each character you write, organizing words and symbols by occurrence and allowing you to zip between pages easier than a standard search bar. Clicking on a word shows you a snapshot of where it appears in your document, and it's even smart enough to only show full instances of the word (so you won't see "Notebook" when searching for "note"). It takes some getting used to, but I found it to be a far more efficient tool than the standard find and replace.
Bottom line
What's most striking about Notebook 4 is its versatility. Circus Ponies has spent years crafting a rich, robust experience that's among the most powerful I've ever used. New enhancements like voice annotation audio (which is not available on the Mac App Store version due to Apple's sandboxing limitations) and an updated clipping panel mix nicely with established features like Calendar integration and geometric diagramming to create a digital notebook like no other. Even if you still have nightmares about Corinthian leather.