As students return to school, technology goes with them. That technology—and the data generated by it—is valuable not simply as a means for getting school work done, but also as entertainment for those brief hours between one assignment and the next. It's for this reason that it pays to plan for disaster. With a single massive power burst, storage media that suddenly heads south, or interaction with a light-fingered ne'er-do-well, the technology your student depends on can vanish. Take these five tips to heart, however, and the loss of a device or data need not be catastrophic.
Insure the gear
Parents, if your student lives in school-affiliated housing, it's possible that your homeowners insurance covers their stuff—but not without some cost to you. Should your child's laptop or iPhone be stolen or swept away in a flood, a replacement won't come free. Such policies generally have a deductible of several hundred dollars and the remaining compensation is often limited to around 10 percent of your total coverage. So, if you carry a policy that insures the contents of your home up to $150,000, the yearly limit on a kid's gear is $15,000 when they live in student housing.
If they live outside such housing, they're on their own as far as this kind of insurance goes. However, for a few hundred dollars a year they (or you) can purchase renters insurance, which also covers the contents of their dwelling. Note that not all damage is covered. For example, if their MacBook Pro is drowned in beer or an iPhone smashed to pieces in a hallway rugby game the insurer may deny a claim.
There are also companies that specialize in insurance for college students. College Student Insurance and NSSI insure computers and laptops, mobile phones, music players, furniture, and bicycles. And in addition to providing protection against theft, fire, and flood, they will cover accidental damage.
If you or your student used a credit card to purchase gear just before leaving for school and that gear is stolen or damaged you may have some recourse via the credit card company. Many of these cards offer 90-day purchase protection coverage for between $300 and $500 in loss or damage.
Apple offers its own protection in the form of AppleCare and AppleCare+ for iPhone, iPad, or iPod. AppleCare, which covers Macs and Apple displays, costs between $149 and $349, depending on the Mac model. (Apple displays can be covered for $99.) This takes care of repairs for up to three years, but doesn't cover accidental damage. AppleCare+ is $99 for iPhones or iPads, extends coverage to two years total, and addresses not only repairs but also two instances of accidental damage (each instance will cost an additional $49). You can get similar coverage for the iPod touch or iPod classic for $59.
Save the data
The death of a device can be devastating, but losing a term paper worked on for weeks isn't a much happier occurrence. Students, just like everyone else on earth, should understand that devices can and will crash or break. And when they do, data loss can result. It's for this reason that students must be encouraged to back up their work.
Fortunately, many colleges and universities offer free server storage to students. When a computer is connected to the school's network, this storage appears as a network drive that the students can use to make backups of their files. Information about setting this up is offered to students when they first come to school. If a student has difficulty using it, campus IT services exist to lend a hand.
If a school doesn't offer such storage, students should turn to other means of backing up their data. With a Mac they can simply attach an external hard drive and use it with Time Machine. Should the Bad Thing happen, they can then recover their data from the Time Machine backup. For particularly "hot" data—the term paper that may determine where the student attends medical school—it's not a bad idea to jack a thumb drive into a spare USB port and routinely save backups of work to it. And free cloud services such as Dropbox, Box.com, OneDrive, and Google Drive can be another option—and one that provides access to files from a mobile device.
Speaking of mobile devices, if your student uses an iPhone or iPad (or both), they should obtain an iCloud account and use it to back up compatible data.
Lock down the devices
Devices can disappear. In addition to remembering to take their stuff with them when they leave a classroom or coffee shop there are additional steps students can take to prevent their stuff from vanishing.
In some cases they may wish to physically lock a laptop in place—tether it to a desk in a shared apartment with a lot of strangers drifting in and out, for example. Regrettably, Apple no longer equips its laptops with security slots so you must turn to a third-party solution. One source is Mac Locks. Here you'll find hardware solutions for locking down Apple's iMac, laptops, and iPads.
In addition, they should take steps to prevent others from accessing the data on their devices, as they carry personal information (such as email, contacts, and, in some cases, financial data). On a Mac this means configuring the Security & Privacy system preference. Within this preference's General tab you should enable the Require Password Immediately After Sleep or Screen Saver Begins option. The Disable Automatic Login option should also be checked. In addition, you can click on the FileVault tab and turn on FileVault. This is a security scheme that automatically encrypts the Mac's data.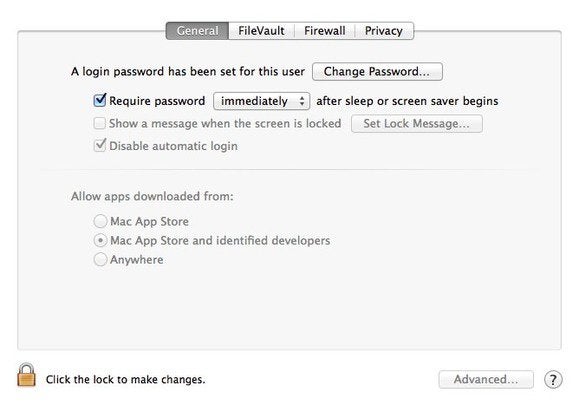 For iOS devices students absolutely should enable a passcode and if they're particularly concerned about their iPhone, iPod, or iPad's data, travel to Settings > Passcode, switch off the Simple Passcode switch, and then configure a difficult-to-guess passcode made up of letters, numbers, and characters. If the device supports Siri, also disable the option to access Siri from the lock screen.
Make allowances
Parents and students understand that obtaining an education can be a costly affair. In addition to all the other ways that parents often pitch in they can set up an iTunes Store allowance for their children. While this may conjure up images of students burning through their monthly stipend with music and movie purchases, allowances can additionally be used for purchasing ebooks and educational apps.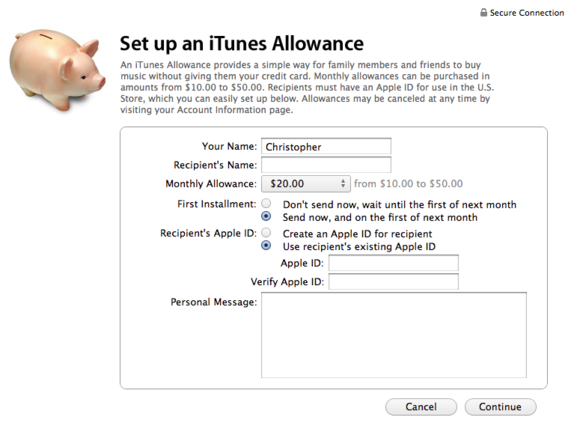 Setting up an allowance is easy. Launch iTunes, navigates to the iTunes Store, click the Send iTunes Gifts link, click Learn More About Gifting in the resulting window, and then click Set Up an Allowance. You'll be prompted for your Apple ID and password. Enter it and click Continue and you're taken to the Set up an iTunes Allowance page. Here you can choose to create an allowance for between $10 and $50 a month (in $10 increments) in iTunes credit. Until you disable the allowance, your student will receive this credit at the beginning of each month.
Order the extras
In your student's early days you stuffed their backpack with more than just books. Pencils, pens, notebooks, erasers, and calculators went along for the ride. Older though your child may be, they're just as needful of necessary add-ons today as they were then.
We've already mentioned an external hard drive and a handful of USB thumb drives for backup and file transfer purposes. There isn't a student alive who couldn't additionally benefit from a couple of power strips, at least one extra iPhone or iPad charger, a spare syncing cable or two, a Bluetooth keyboard, and a protective backpack or bag to carry their gear.
None of these tips will ensure terrific grades, a winning social life, or greater insight into Ulysses, but they are sure to remove impediments that can make an already demanding academic life more challenging.