We spend a lot of time with mobile apps. We know what we like and what we don't—sometimes within the very same app. Our Fix This App series takes a closer look at a mobile offering that's not without some flaws and tries to nudge it a little closer to perfection.
When I first heard that read-it-later mastermind Marco Arment was working on a podcast app, I couldn't wait to try it out. Mind you, I'm not a rabid podcast fan; rather, I would classify myself as more of a casual listener, enjoying occasional episodes of The Alton Browncast, CBC Radio's Q, and the Accidental Tech Podcast during my hour-long commute. Above all I'm a fan of Marco's work, and that was what piqued my interest with Overcast.
The best apps are built to fill specific needs, and Arment's have always done that. Instapaper was famously born when he couldn't find anything to read on the train, but Overcast is a little different, in that it was meant to offer solutions to the problems Arment saw with the podcast apps he already used, namely in interface design and simplicity.
And in that he succeeds admirably. Overcast is a remarkable marriage of form and function and you can feel the meticulous development that went into it—but for my needs, it's missing one feature I just can't live without.
What it gets right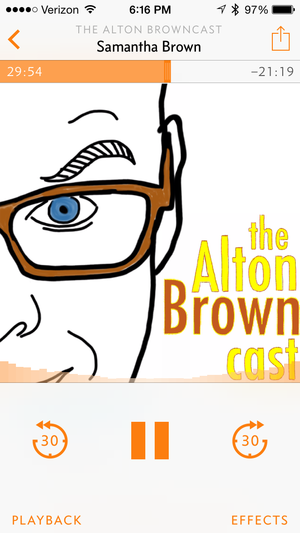 Even without Arment's significant clout in the iOS community, Overcast would have instantly found its spot among the Downcasts and Stitchers of the world. As Jason Snell's glowing review captured, the app is a labor of love with a clear attention to detail that makes it an absolute joy to use. Its interface is minimal without being confusing, and each screen has been designed for optimal viewing and navigation, with small animations and clear buttons that lend an air of playful sophistication.
Finding new podcasts or browsing your subscriptions is quick and logical, but it's playback where Overcast truly shines. A $5 in-app purchase (Overcast is otherwise free to use) unlocks Smart Speed and Voice Boost, a pair of proprietary technologies that give it an edge over every other client I've used. Voice Boost skillfully solves the problem of having to crank the volume on your iPhone because of a particularly low-talking host, and Smart Speed detects any lengthy pauses or moments of dead air and eliminates them, dramatically cutting down on the length of shows without distorting the voices.
What it gets wrong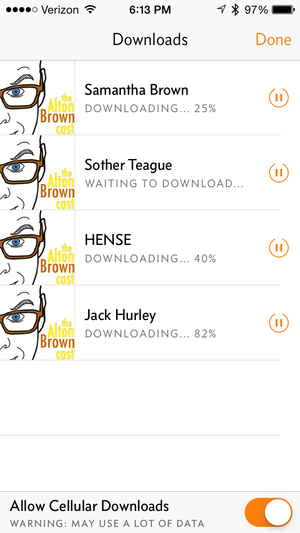 Overcast's playback experience is so great, it's hard to believe it's missing such an important and downright essential feature: streaming. It wasn't a surprise—Arment said in a blog post last September that he had no plans to support streaming in the shipping version of Overcast—but Overcast excels in so many areas, the lack of streaming is a glaring omission, at least for me. I want to use it as a superior version of Apple's Podcasts, but its focus on downloading makes it difficult.
Podcast files aren't small. A typical hour-long show runs between 25MB and 30MB, so if you're not vigilant about deleting downloaded episodes, even casual listeners could easily collect a half-gig of podcasts in a short time. And while serious fans will be happy to digest every second of every show, those who would rather zip through and listen to a few highlights might not be interested in the extra time and space it takes to download.
I rarely remember to plan my playlists for my walks or commutes, and that presents another set of problems. Among the unlockable features in Overcast is a toggle to disable cellular downloads, which smartly prevents you from unwittingly burning through your data plan; however, this also makes it difficult to listen to podcasts on the go that aren't already stored. Not only do I have to download the full podcast (as opposed to, say, streaming a portion of the episode), the toggle requires me to jump back and forth between settings to allow cellular use, while also being mindful to stop any downloads that may be queued up. And if I find myself in an area with a weak connection, downloading just takes too long.
How to fix it
Arment will certainly spend the next several years perfecting Overcast. He's already released a pair of updates that addressed a number of issues, and even considering the $5 in-app purchase for more features, it's easy to recommend this app. But for my particular listening habits (and I suspect lots of others), Overcast isn't quite perfect.
Add the ability to stream: This would obviously solve all of my issues, eliminating the need to download and letting me listen on the go without jumping through any hoops.
Allow auto-delete for all downloads: Overcast already lets you set strict limits on how many unplayed episodes of each podcast are stored, but a better storage solution would be to allow automatic deletion of anything that's downloaded after a specified amount of time, even if it hasn't been fully listened to.
Add alerts for cellular usage: If an alert let you temporarily turn on cellular access for the download of a single podcast, it would still protect against data usage while taking away the need to dig through settings when away from a Wi-Fi signal.