Compared to the best-known RSS feed readers on the market today, News Notifications ( Mac App Store link) is as straightforward and uncomplicated as its drab title implies. You won't find cloud sync to an iOS app, community-driven article recommendations, or a directory of top sites to add. It's simply a Mac app that lets you add feeds from your favorite Web sources and have them appear in your Notification Center—that's really about it. For the Mac user who has no need for social sharing features or the ability to carry his/her reading history over to other computers or an iPhone or iPad, this single-minded reader should do the trick.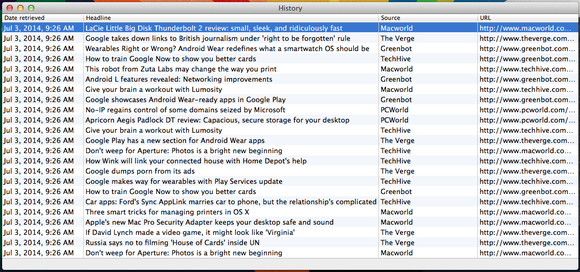 Simply input the URL of a favorite site and News Notifications will seek out the correct feed link, although you can manually point it towards a specific RSS feed for sites with specialized categories or sections. From there, you can choose how many stories you'd like to see from the site at once and how often you want the app to check for updates, and then stories will pop up throughout the day via notifications with the title and posting time listed.
News Notifications is very similar in approach to the decent (and free) Monotony, also on the Mac App Store, but offers a big advantage via a welcome sense of permanence. When you turn on your computer or return from sleep mode after a spell away, it'll show the stories you missed—only so many will appear in Notification Center, but there's also a history window that saves about a week's worth of links and contains any overlap. Multi-device RSS users will want a more robust and comprehensive web option like Feedly to stay in sync everywhere, but News Notifications is a very useful choice for simple, local feed tracking.

This review is part of Macworld's GemFest 2014. Every weekday from July until September, the Macworld staff will use the Mac Gems blog to briefly cover a standout free, low-cost, or great-value program. You can view a list of this year's apps, updated daily, on our handy GemFest chart, and you can visit the Mac Gems homepage for past Mac Gems reviews.
Want to stay up to date with the latest Gems? You can follow Mac Gems on Twitter or on App.net. You can also subscribe to the Mac Gems RSS feed.