I've played hundreds of games of Swing Copters (free; iOS and Android) since it launched late last night. Hundreds. My high score is 2.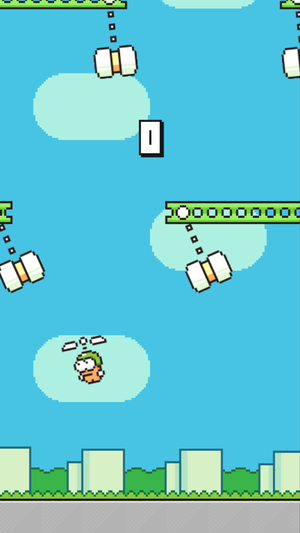 Is context really necessary? That's obviously not a great-sounding score. However, it's about average, considering the message board reactions and tweets I've spotted in the past several hours. And a score of 2 takes only about five seconds of play to achieve. Why bother playing a game so punishing, so almost perversely focused on frustration and failure?
Because it's the latest from Dong Nguyen, the reclusive creator of Flappy Bird who pulled that massive iOS sensation after it exploded in popularity earlier this year—even though it was reportedly netting him $50,000 a day in ad revenue. He claimed that the sudden swell of attention, not to mention the frustration it caused some players, made him want to pull away from the public eye.
But his attitude seems to have shifted in the past several months, because Swing Copters is very much built in the mold of Flappy Bird—only it's much tougher, which might result in even more thrown smartphones and angry tweets sent his way. Problem is, it's not nearly as fun as Flappy Bird, and without any carrot to pull you through the initial moments and generate an addictive streak, playing just feels like being hit repeatedly with the stick.
Out of control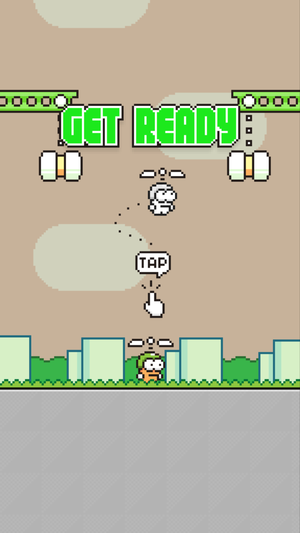 Flappy Bird wasn't exactly a sterling example of precise game design or aesthetic originality, but it did have that hard-to-resist pull—the need to keep flapping further and further between more and more pipes. At its most basic level, Swing Copters takes that model and flips it 90 degrees to the left, challenging you instead to soar upwards through random layouts of girders with small openings. Oh, except each gap has swaying hammers on either side this time around.
Gravity provided a natural directional change in Flappy Bird, allowing you to flap to go up or just do nothing to go down. As a tiny guy with a propeller helmet aimed skyward here, you'll need to turn left and right to dodge the hazards—but instead of providing separate virtual buttons or tap zones for that, the game steadfastly sticks to a one-tap approach and alternates your direction regardless of where you tap.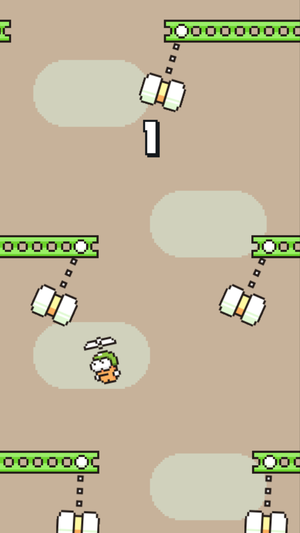 That proves to be its most glaring misstep. It's not possible to, say, tap twice on the left side of the screen to push faster in that direction, or tap multiple times without flipping positions. If you accidentally do tap more than once in a frantic attempt to command the copter-head, you'll more than likely swerve out of control and smash into a wall, hammer, or girder. All of which will end your game.
I ultimately found that playing with two thumbs anyway—and simulating the sensation that a left tap sent the copter to the left and a right tap the opposite—got me further than treating it like the one-hand game it attempts to be. But it's still so easy to get crisscrossed, and in most attempts, I didn't even pass the first opening. Two seconds and out. Game over.
Crash and burn
It's not the controls exclusively that make Swing Copters so wildly frustrating, but also the rapid swings in momentum that come with each tap. Every little touch suddenly shifts you in the opposite direction, and it starts immediately; there's no straight ascent even from the outset, and no chance to get your bearings. The settings are cramped, and simply nearing one of the hammers seems to trigger your demise, even if it doesn't seem like you visibly made contact.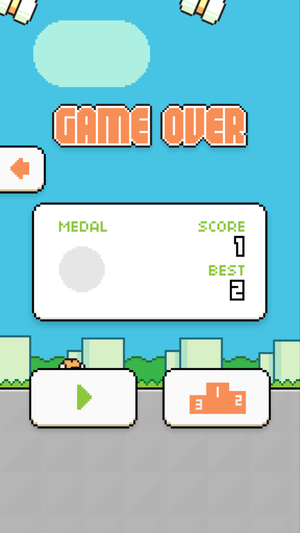 Everything happens so quickly, though, that it's hard to tell. And that's one of the main drawbacks here: there's no easing-in process, no breezy initial gates to whip through to build some confidence and get a feel for the physics and controls. It is just failure upon failure. And while there's novelty to playing the successor to Flappy Bird, it's not a long-lasting sensation.
Scads of clones proved that while Flappy Bird can be mechanically replicated with little trouble, it's impossible to capture lightning in a bottle again and generate the same kind of cultural phenomenon with an uninspired take.
Swing Copters will no doubt be downloaded in droves, considering its heritage, and some super-determined folks will post stunning scores and unbelievable videos. But without nuanced tweaks to make this vertical spin on the formula really feel like its own well-thought-out experience, I'd be shocked if it has anywhere near the same staying power with most players.