These days, keeping up with games can be a full-time job. So how do you separate the signal from the noise, the wheat from the chaff, the Temple Runs from the Temple Jumps? Allow us to help by regularly selecting a game You Should Play.
Max Gentlemen has charted an odd, winding path to the App Store. Its creation was prompted by the subject line of a spam email before the game's makers even had a proper studio formed, then took the form of a dating sim of sorts (that was put on hold), and was later turned into a hat-stacking game for a drinking-themed game jam—which led the game to be hosted in an arcade cabinet in a busy Chicago bar.
And then it was crowdfunded on Kickstarter. Now it's a free iOS, Android, and PC/Mac/Linux release, and thankfully, the game is as endearingly peculiar as its origin story.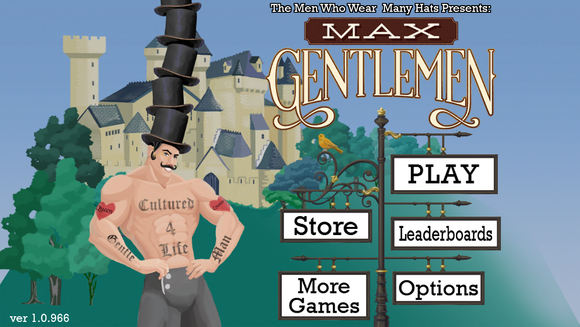 Max Gentlemen hails from The Men Who Wear Many Hats, the Chicago-based team behind 2012's zombie-themed Organ Trail: Director's Cut. While its members never actually opened that fateful spam email ("We knew it was probably for male enhancement of some sort," admits co-founder Ryan Wiemeyer), the phrase "Max Gentlemen" got them thinking about just who such a thing would be.
"A Max Gentleman is the most extreme Victorian era gentleman," recalls Wiemeyer, listing off some of the ideas they dreamed up. "Max Gentlemen open the door for old ladies and rip the door off the hinge. Max Gentlemen flex and their clothes explode off, and they have tattoos all over that read 'Manners.' And so on and so forth."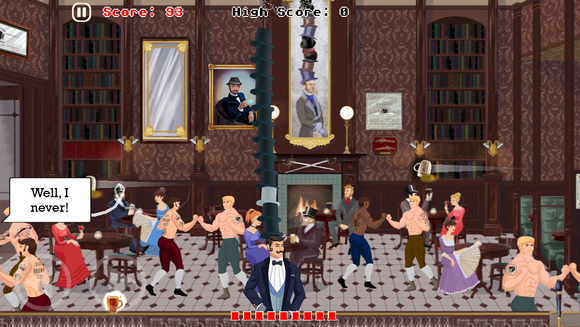 Somehow that formed the basis for the delirious game released this week, which finds you stacking as many hats as possible atop the head of said Victorian-era gentleman. Only you'll gain each new hat by drinking beer—and then you'll need to "jump" the hats to avoid hazards like thrown bottles, boomerangs, and arrows.
Interested in becoming a Max Gentleman (or Gentlewoman) yourself? Here are three key reasons to check it out, complete with some insight on its creation.
It's tricky, but also a lot of fun: Scrolling your character along the counter to grab mugs of beer, while simultaneously choosing which hat to send skyward, is a balancing act for sure. And at first, it can feel really fumbly in a "rubbing your tummy while tapping your head" sort of way. But once you get the hang of it, Max Gentlemen's skill-based design takes over, challenging your timing and hazard management abilities to stack up as many hats as possible and maximize your score.
In the mobile versions, the control scheme uses left and right virtual buttons to move your character, while your right thumb scrolls up and down to select which hat you want to leap (along with all others above it) when released. The biggest challenge was balancing the game across multiple platforms, Wiemeyer says, and while the default control scheme proved the best of the several they tested, he admits that there's still a learning curve: "Unfortunately it's a very unique concept, so teaching it to new players is difficult."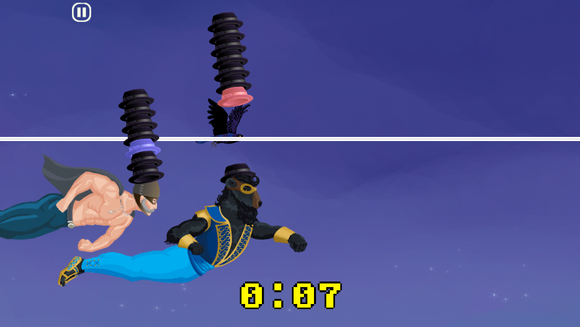 There's more to it than jokes: With bulging, cartoonish men, old-timey saloon music, and the silly game premise, one might assume that Max Gentlemen is just a tossed-off gag—but there's a reasonably robust game here, especially for a free download. The hilarious live-action trailer teases that it's free because they don't understand business, but truthfully, it seemed necessary for the competitive aspect to have value. "We felt that a multiplayer game on mobile needed to be free to have any chance of players getting their friends to download it," says Wiemeyer.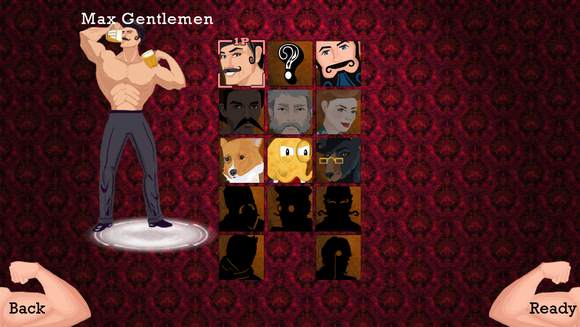 What began as an amusing indie arcade game created quickly to meet a game jam deadline ultimately needed a lot of extra work to stand out in crowded digital storefronts. "This game that took one month to make fun took a year to make into something worth selling," he concedes. Wait, sell? Indeed, this free game includes a handful of in-app purchases, but they're completely optional bonus characters and levels, which are also sold in discounted bundles within.
The central game experience remains totally free and lacks any sort of freemium boosts or other paid meddling. Beyond the original arcade experience, there's a stage in which you'll snag hats from passing carriages while cruising in a classic car, all while dodging birds. And the levels can be played in solo score attack and challenge modes, as well as cross-platform local Wi-Fi multiplayer that works across every version of the game. Android vs. iOS hat-stacking showdowns? You bet.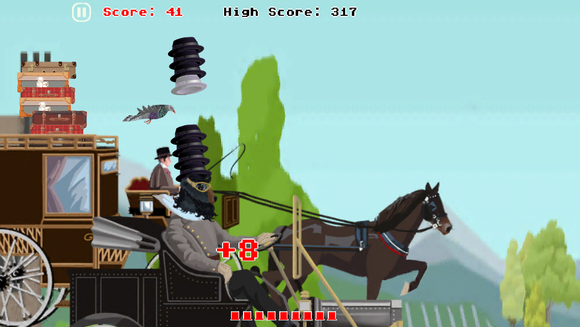 But the jokes are pretty great: Yes, there's a fun game here, but Max Gentlemen thrives because it is so aggressively silly throughout, and thankfully in a way that shows care for the premise. The art design and music both fit the game well, the scenarios are pleasantly ridiculous, and for players tuned into the indie gaming scene, the appearances of Octodad and a bear based on outspoken game maker Rami Ismail from Dutch studio Vlambeer (Ridiculous Fishing) as premium characters ought to bring a grin to your face.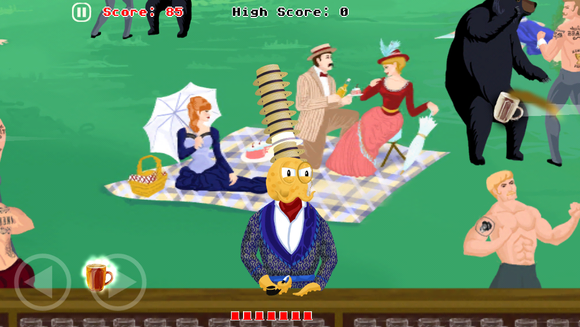 According to Wiemeyer, running the Kickstarter campaign to bring the game to mobile and PC last year was much less about raising funds—the goal was just $500, after all—and more about seeing what kind of stuff got people excited. "We made a lot of jokes and seemingly fake rewards," he notes. "As expected, people loved the absurdity, which gave us the confidence to keep pushing that angle."
Finding the right tone for that absurdity was often a matter of sticking with what amused Wiemeyer and partner Michael Block. "Usually, I say stupid things, and if they make Mike laugh nervously, then I know it's good," says Wiemeyer. One such example: the full body pillow of Max Gentlemen's lead character, which was offered to upper-tier backers of the Kickstarter campaign. "The concept art we kept getting made us giggle and cry a few times," he adds.
And while the gameplay entertains, they recognize that it's the world and humor that really give Max Gentlemen its outward appeal. "Anyone can make a game, but what sets them apart is a mix of quality and marketability. We could have mechanically made Max Gentlemen with cubes and circles, but the art and the world are a huge selling point," Wiemeyer asserts. "It's really fun to play in the world we made, and it makes people laugh. Our players connect to the world we made for them, and that's what breeds fans."
With this fun freebie out now following the success of Organ Trail, surely The Men Who Wear Many Hats will be adding many more such fans in the months ahead.
Developer: The Men Who Wear Many Hats Platform: iOS (Universal), Android (Universal) Price: Free