Making friends is difficult, especially if you've just moved to a brand-new city. And you work from home. And you have strange interests. And you sleep unconventional hours.
Welcome to my life. I recently moved to Los Angeles on a whim, and, as a freelance writer, I'm not exactly the kind of person who has the luxury of meeting people organically (e.g. at work). So, after a few weeks of loneliness and hanging out constantly with my only LA-based friend, I decided to take matters into my own hands—or rather, on my phone.
As it turns out, there are several apps for meeting new people and making new friends, whether you're a newbie in an unfamiliar town or a hermit with no social life. Unfortunately, a lot of these apps don't actually work.
Skout, for example, is an app that connects you with random nearby locals for chatting and meeting up (if you want to). It's great for places with tons of people who are in the same boat as you, like college campuses. However, I tried Skout for a few weeks and the number of people who wanted to meet me in a purely platonic way was zero. (The number of people who wanted to meet me in a not-so-platonic way, on the other hand, was approximately 8422.) Other "friend-making" apps fall into the same trap—stressing online chats and social network-style profiles rather than real-life meet-ups—and are thus useful only as dating apps.
That said, I did find five apps that weren't thinly veiled dating apps—apps that actually helped me make friends! If you're looking to meet some new, cool people, you'll want to check these out.
Meetup
If you're dead set on finding purely platonic relationships based around shared interests, well, welcome to Meetup (free; iOS and Android).
Meetup is a social service that lets you organize and join local, real-life "meetups" for people who share your interests. Meetup groups range from broad ("DTLA Happy Hour Crew") to specific ("The Real Time Lords of Orange County"), so there's a pretty good chance you'll find one tailored to your particular interests. If you're not sure where to start, try looking for Meetups for your demographic ("20-Something Ladies of LA"), workout or activity-based Meetups ("Los Angeles Trail Running Meetup"), or, if you have a dog or a kid, play-date Meetups ("Southern California French Bulldog Crew," "Active Moms With Awesome Kids Club").
The Meetup app shows upcoming Meetups that you've RSVP'd to, notifications, and a quick snapshot of the number of Meetups happening in your groups and nearby. You can also join or leave groups from within the app, and check your pooled meetup calendar to see what events are coming up. Its handy messaging feature lets you send and receive messages from other members of your group, too.
Meetup is one of the most effective apps for meeting friends—where by "friends," I mean people who have no interest in dating you (unless you happen to join a "singles" Meetup group). Because the service focuses on meeting people in real-life, the app itself is more of a handy way to find the group, rather than a social networking app you'll spend hours chatting away on.
Peoplehunt
Meetup is a low-pressure way to meet new friends because you meet in a group setting. But if you're not really a group setting kind of person, Meetup can be stressful, since groups of strangers (even strangers with similar interests) usually cater more to extroverted, outgoing people.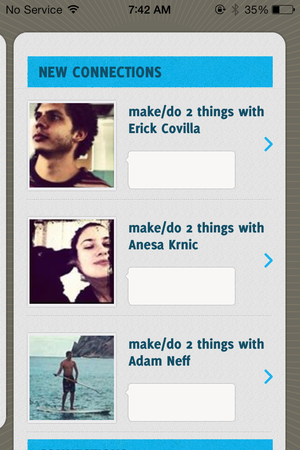 If you prefer to meet people one-on-one, Peoplehunt (free; iOS) is an app that connects individuals with reciprocal—not necessarily shared—interests. For example, Peoplehunt can help you find someone to practice Spanish with, or someone who knows a lot about online marketing, or someone who can teach you how to cook. While Peoplehunt doesn't stress real-life meetings as much as Meetup does, it is activity-based (and many of the activities are activities you can't do via online chat).
Here's how it works: You sign into the app with Facebook (you must have Facebook, to prove you're a "real" person) and pick several interests you have or things you want to do. These include things like "sing in an indie band," "practice Spanish," and "make money easily." You then choose where you want to learn to do these things (you can pick your city, or you can pick another city—for example, if you're traveling to Buenos Aires and you'd like to find someone to practice Spanish with in Argentina).
Next, you choose what you can help people with—things like "write jokes," "build an iOS app," and "get started on the guitar," and tell Peoplehunt what level of expertise you have in each interest you've selected. Then Peoplehunt matches you with people who can teach what you want to learn, who want to learn what you can teach, and who are nearby.
Peoplehunt is a cool idea, but its network is still pretty small. The app has reach—people are using it all over the world—but there are only a handful of people in each city who can help you with any given task. For example, I selected "make an iOS app" and only 18 people in San Francisco popped up as being able to help. Still, once Peoplehunt gets underway, it should be an awesome app for collaborating with and meeting new people.
Foursquare
If you want to meet people who live around you (like…your neighbors, or the cool kids who frequent your corner coffee shop), social networks are the way to go. One of the easiest ways to get inundated into the local social scene is to follow local businesses, restaurants, stores, and heck, even apartment complexes, on Twitter, Instagram, and Facebook. They'll follow you back (local businesses love social media), and then other people in the area will take note of your social presence.
Trust me, this actually works.
But if you're looking for an app that can help you find location-based friends, Foursquare (free; iOS and Android) is where it's at. Although Foursquare used to be primarily a check-in app—used for bragging to your Facebook friends that you're hitting up a trendy hotspot—it recently revamped its mobile app to include Yelp-like features that help you find cool places based on your interests. (If you want to check-in to these cool places, you'll need Foursquare's new spinoff app, Swarm. Both are essential for meeting people nearby.)
Through Foursquare, you can gain a following and social cred based on your participation. You don't have to constantly check-in with Swarm to be seen—you can add reviews and helpful tips to local business' Foursquare pages so other users are in the know. You can also follow (and be followed by) users, check out popular reviews and places, and "like" people's tips and reviews.
Finding friends on Foursquare is a little trickier, but if you use its new recommendation engine to find unique local haunts (such as that gaming shop down the street that hosts Magic: The Gathering nights every Wednesday), you can use it as a way to discover organic meet-ups of people with similar interests.
Or, you can just check-in everywhere with Swarm, and eventually someone will stop you on the street and say "Hey, aren't you the girl who's always checking into that Australian meat pie shop on Los Angeles? Do you just really like pie, or what?" Instant friend!
Nearify
Nearify (free; iOS and Android) is similar to Meetup, but with less of an emphasis on groups. In fact, it's more like a big list of events that are happening near you, whether they're concerts, outdoor movie screenings, live music, festivals, farmer's markets, scavenger hunts, or… Meetups.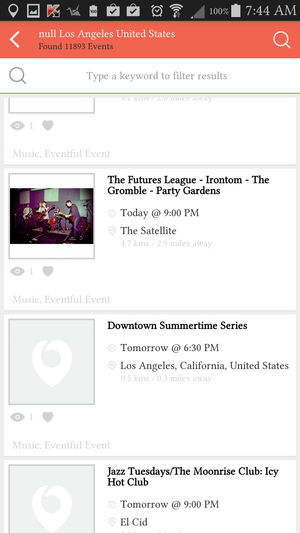 That said, Nearify is a great way to meet friends, since the more events you go to, the more likely you are to meet potential BFFs. The app is simple: It asks you to sign in via Facebook and choose a location to search (or use your device's GPS to determine your current location). It then lists all the events happening nearby (according to the app, there are 11,893 events happening in Los Angeles right now), and you can type in keywords to filter through the search results. Each event listing features a description, start/end dates/times, location, and directions. Nearify is more of an aggregator than anything, however, so you'll still need to go through other websites and apps (such as Meetup) to purchase tickets or get invitations.
Unlike Meetup, Nearify doesn't promise you a group of people who are planning on meeting up at an event—you simply show up and, well, do your thing. So it's not the ideal app for actively making friends, but it's a great way to discover what's happening in your new city (and you'll probably meet some cool people along the way).
Meet My Dog
If you don't have a dog, you should get one, because dogs are a great way to make friends in a new city. But I digress.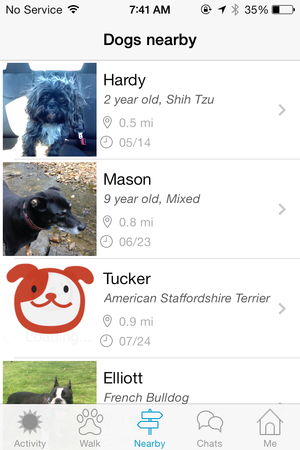 Meet My Dog (free; iOS) is an app for dog owners to connect with other dog owners. And because dogs can't use mobile phones, this app basically requires real-life meet-ups. Meet My Dog is sort of like a social network…for your dog. You add your pup's picture, name, breed (optional), birthday (optional), and a little information about them ("Black brindle Frenchie named after Street Fighter character. Loves chewing on rope toys, Nintendo controllers, and designer shoes").
The app has a walk tracker (use it to track your daily walks on a map), a "nearby dogs" feature, and a chat feature. You can browse nearby dogs and send their owners friend requests if you want to chat with them and eventually meet up.
I admit that a social network for dogs is a little… far-fetched, but this app has actually been great for meeting friends, because dog owners (especially breed-specific dog owners) love to meet up. I have two small dogs, including a French bulldog who thinks he's a pit bull, so it's great to be able to meet up with other Frenchie owners and let our dogs play together.
Sure, some of these methods might sound unconventional, but thanks to these five, I've got some new friends in LA… who can introduce me to even more cool people! Meat pies and doggy playdates all around.