Fantasy football can be a lot of fun, but unless you're already entrenched in statistics and hardcore sports obsession, it can be difficult to survive all the way through to the championship, let alone field a decent team out of the draft. Got a tendency to only draft stars (even fading ones) and pick your kicker early? It might be time to get a little help before the season begins.
Unsurprisingly, there are loads and loads of apps out there that cater to this massively popular pursuit, and many are multi-functional affairs that bundle in everything from cheat sheets to alerts and mock drafts. So which apps are actually worth your time and money? These six are a great place to start.
Footballguys Fantasy Football Draft Dominator 2014
It might seem super nerdy to undergo rounds upon rounds of mock fantasy drafts to devise strategies and contingency plans to use when the real clock is ticking. Yes, it definitely is—but that's fine. Joke all you want about jocks, but fantasy football is a stat geek's dream, and it's a game of planning and tactical decisions. If you're serious about taking your league this season, every tool helps.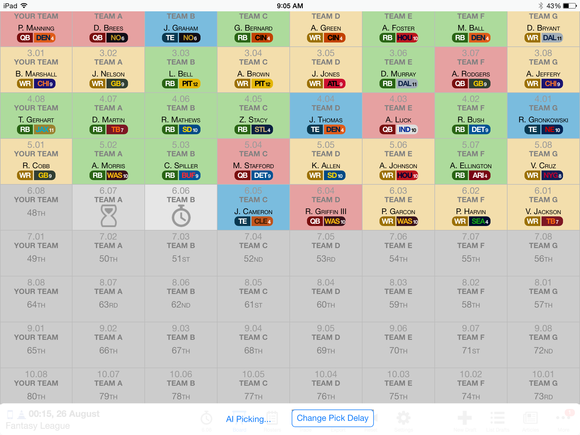 With that in mind, Footballguys Fantasy Football Draft Dominator ($5; iOS and Android) not only delivers a great all-in-one tool for scouting players and finding sleeper picks for later rounds, but its mock draft tools are an especially huge help. You can set the rules of your league and slot yourself into varying draft positions, with randomized computer picks delivering a different faux draft experience every time.
NFL Fantasy Football Cheat Sheet & Draft Kit 2014
Fantasy football started small, but it's so big now that even the NFL has gotten in on it—and they're charging a few bucks for the privilege of helping you master your draft. Luckily, that's money well spent if you're seeking an advantage, as the NFL Fantasy Football Cheat Sheet & Draft Kit 2014 ($5; iOS and Android) delivers useful, at-a-glance information about every potential addition to your squad.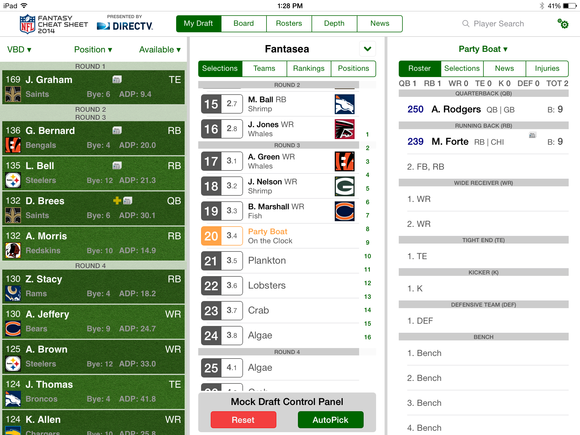 While Yahoo and ESPN leagues also provide lists of players, they're often awkward and cumbersome to navigate, and don't always provide the details you need on player injuries—which can mean making bad picks and being mocked by your better-informed opponents. The NFL Cheat Sheet is not only handy, but it also provides a welcome second opinion on player and position rankings.
RotoWire Fantasy Football Draft Kit 2014
When it's your turn and the precious seconds are ticking down, it can be difficult to consider your remaining needs during a fantasy draft. Worse yet, if you're in a league with atypical scoring settings, trying to do math on the spot can be downright confounding. Luckily, Rotowire Fantasy Football Draft Kit 2014 ($5; iOS and Android) takes all of the guesswork out of the equation.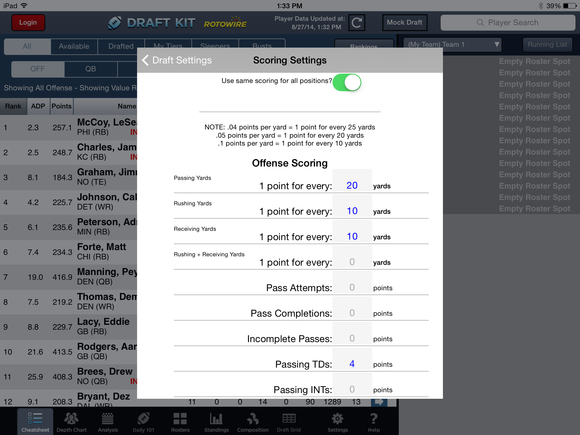 You can simply set your individual scoring needs ahead of time, with plenty of variables for less common league rules, and Rotowire will adjust its points projections accordingly to help you select players ideal for your particular league. You can also mark players as "sleepers" or "busts" for when you need options in late rounds and can't remember all of those under-the-radar rookies' names.
Team Stream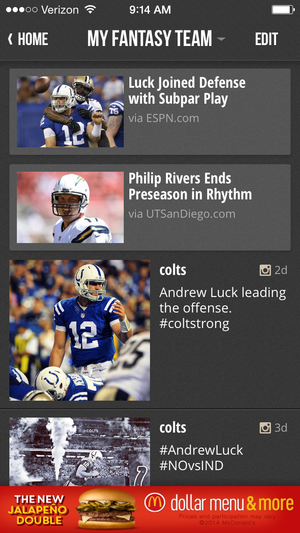 A successful draft can be a huge help, but you'll struggle mightily if you continue to start injured players, or don't make moves to replace unproductive players as the season unfolds. That means staying on top of all of the latest updates and game-time decisions for your particular squad, and thankfully Team Stream (free; iOS and Android) was created for just such a purpose.
Hailing from sports website Bleacher Report, Team Stream is a slick app that's useful enough for the average sports fan, but absolutely essential when you're managing a fantasy team. That's because you can create a custom updates stream based on your owned players, and you'll get specialized alerts when relevant news breaks—it can even import your team from Yahoo, if that's where your league is based. There's no excuse for starting hobbled, run-down players this season.
CBS Sports Fantasy
CBS actually has its own fantasy leagues that you can manage within the app, but CBS Sports Fantasy (free; iOS and Android) has real value for even those who host their leagues elsewhere. Like many fantasy apps, it has player rankings, mock drafts, and quite a bit more bundled in.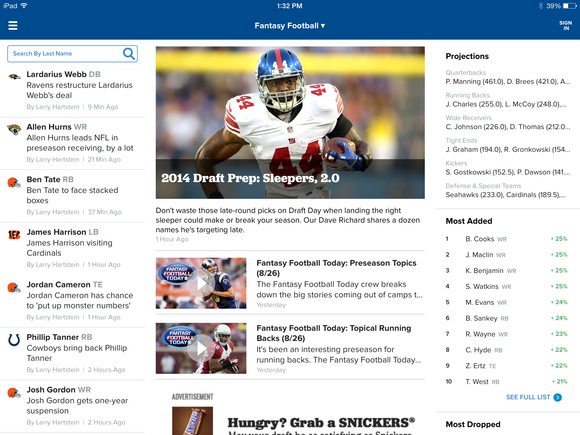 But where it really shines above all others is in its original, insightful coverage, as the app provides deep-dive coverage in both video and written forms. You'll hear expert discussion of players at each position, injury reports, and sleeper picks in daily video segments that are well produced and helpful, plus the columnists really seem to live and breathe fantasy minutiae. Now you can, too.
Instacast 4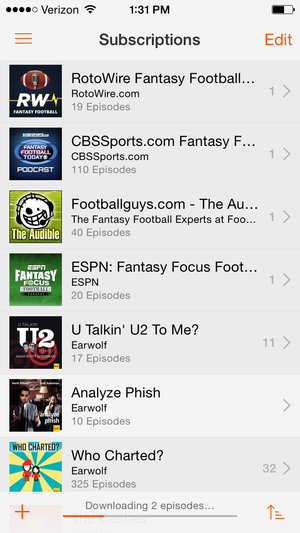 You're welcome to use any podcast app of your choosing, whether it's the great Instacast 4 ($2; iOS) or Pocket Casts, Overcast, or even Apple's Podcasts (maybe not the last one, actually). The point is that listening to fantasy football podcasts—while truly a sign of being a total die-hard, and probably the most competitive person in your league—can really give you a leg up on your opponents.
Anyone can look at lists of stats and pick the players with the highest numbers, but there's so much more to fielding and maintaining a great team that can succeed all season long. ESPN's Fantasy Focus Football podcast is constantly updated with great material, while The Audible from Footballguys is another worthwhile pick. You'll need an app to stay atop the constant flow of episodes—as with your fantasy draft, be sure to choose wisely.