I've been getting lots of questions about lossless music files recently, and in this week's column I answer another one. I also remind you that you can't re-download audiobooks purchased from the iTunes Store, show how you can find songs that aren't in any playlists, and look at a question about offline storage of Netflix videos.
Lost and not found: audiobook library
Q: I had a hard disk problem, and lost my iTunes library. I went to re-download my purchased music and audiobooks, and found that I couldn't download the audiobooks at all. All the music was available, but not the audiobooks. Does this mean I've lost the more than 200 audiobooks I bought from the iTunes Store?
As an audiobook fan myself, I was a bit surprised by this. Apple highlights the fact that you can download purchased content from the iTunes Store, but they exclude audiobooks from this (as well as ringtones and alert tones). As Apple says:
Audiobooks, ringtones, and tones
If you made a backup of these items on your Mac or PC, you can sync the items to your iOS device. You can't download these items again from iTunes in the Cloud.
Really Apple? That's harsh.
I've seen some suggestions in forums that, if you contact iTunes Store support and tell them about your problem, they might add all your audiobooks to your download queue so you can get copies of them. But I find this restriction unconscionable on the part of Apple.

I have recommended Audible over Apple in the past for audiobooks, and I will reiterate that here. It's interesting that Audible provides the audiobooks that Apple sells in the iTunes Store. Could this re-download interdiction have been added after Amazon bought Audible?
In any case, if you do have a library of audiobooks from the iTunes Store, make sure to back them up. And head over to Audible in the future, because they let you re-download anything at any time.
More about lossless files
Q: I've just finished re-ripping my CD collection for the third (and hopefully the last) time. The first time, many years ago, it was to MP3. Then it was to AAC. And now to Apple Lossless (ALAC). My daughter wants some of the music files, but her computer doesn't have a lot of storage, so she requested that I put AAC files on it rather than the larger ALAC files. I know that iTunes can convert ALAC to AAC, but does this conversion process create the same exact AAC file compared to re-ripping the CD directly to AAC on her laptop? I'm an old analog guy, so I know that a copy of a copy is never as good as a copy of an original.
In the analog world, this is true. When you copy an analog file, you slightly degrade the quality. You won't notice this on the first generation copy, but as you make more copies, the sound will lose its crispness. Back in the days when I traded live Grateful Dead tapes, it was important to put the lineage of your tapes on your trading list, to show how many generations of copies they had been through.
In the digital world, this isn't the case. Barring any disk issues—such as bad sectors that arise after copying a file—copies are exactly the same as the originals. So, your ALAC to AAC files are the same as AAC files burned from CDs.
What's not in playlists?
Q: Is there an easy way to compare playlists in my music library? For example, I move most of my rock songs into a Rock playlist, but over time I think I have forgotten to move some songs to that playlist.
If all your rock songs are tagged with the Rock genre, then create a smart playlist. Set it with the condition Genre is Rock, and it will contain all the songs of that genre.
But you may want to put other songs there—ones tagged with other genres. You could make a broader smart playlist, adding genres such as Alternative, Punk, and so on.
If you do put all your music in playlists and want to see which songs are not in any playlists, Doug Adams' $2 (with 10-day free trial) Not in any Playlist AppleScript (donation requested) can show you all the songs in your iTunes library that haven't been assigned to playlists. You can then select tracks and send them to a playlist.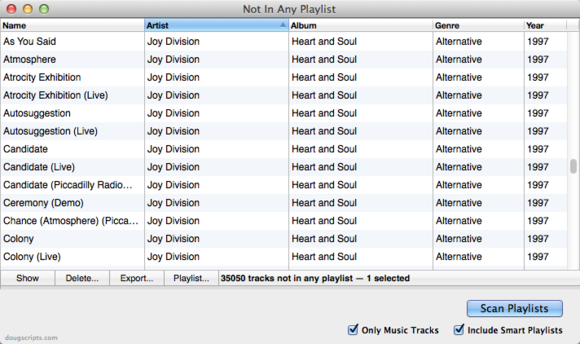 Streaming Netflix and Hulu offline
Q: Is there any way to save TV shows from Hulu or Netflix on my Apple TV instead of streaming them? I have a DSL connection and trying to stream them doesn't always work very well. Any suggestions?
You can't save videos from any of the streaming services because they don't want you to be able to share them. Their licensing agreements forbid downloading.
Here in the UK, the BBC's iPlayer app has a desktop version that lets you download videos and use them for up to 30 days. It would be great if Netflix and others offered that kind of feature. It would be hard to implement on the Apple TV, however, as it only has 8GB of flash storage, and that could fill up quickly.
But here's an idea for a future Apple TV: Allow offline storage in a connected iTunes library. You can do this now for Apple content by downloading it to your iTunes library and then streaming it through the Apple TV. This works for both purchased and rented videos. But if Apple could extend this to other providers, such as Netflix, it would be a boon for those of us who have slow Internet connections.
My personal album art
Q: I have added album art from various 45s to a number of songs by The Rolling Stones, The Beatles, The Dave Clark Five, and others. Would I lose this album art if I purchased iTunes Match?
No, iTunes Match uploads any custom artwork that you have added to your music.
Have questions of your own for the iTunes Guy? Send them along for his consideration.