Adventure Time is easily one of the weirdest, most creative things on television today, and it's also the rare show that means so much to kids and adults alike—and sometimes for different reasons altogether. The cartoon is alternately silly and sentimental, absurdist and still surprisingly relatable. It's a curious concoction, to be sure, but a rather wonderful one overall.
Just as the bite-sized episodes seem to flow out constantly, Cartoon Network has been launching games and apps for iOS and Android like mad—games especially, with a new one seemingly popping up every few weeks. Looking for ways to stoke your Adventure Time enthusiasm on the go? Here are six entertaining apps that will do just that.
Card Wars
It might have started out as a great episode, but Card Wars ($4; iOS and Android) surely works better as a game, offering up a colorful and rousing collectible card-battling experience. You'll build a deck, place creatures on land tiles, and wage war on your opponent until a victor emerges, and it's all presented with the rich humor and great style of the series.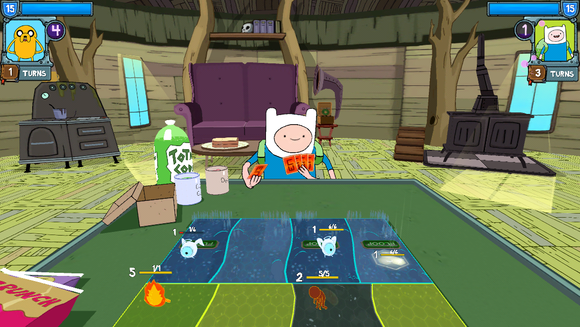 Online play is the biggest draw here, but there's also a lengthy campaign for solo play, which also helps with learning the ropes and expanding your roster. Despite being a paid game, there's a weird freemium-esque energy system here, but it's thankfully not too restrictive. Still, that feels totally out of place, and it's a rare knock against an otherwise well considered mobile card game.
Beemo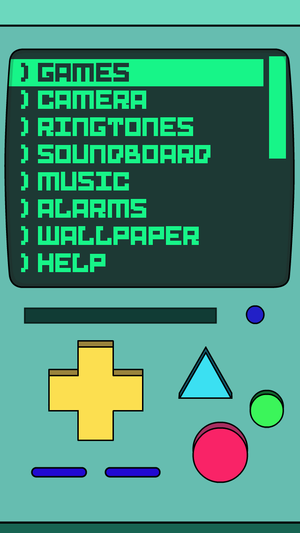 The Beemo app (free; iOS) recreates the walking, talking video game console from the series as an all-encompassing, interactive plaything for fans. You'll find soundboard clips, wallpapers, and stickers to place atop photos, as well as an amusingly dumb retro game wherein Abe Lincoln kicks footballs.
For $1, you can upgrade to the premium version, which adds a couple more simple games, along with other series-inspired bits—like a music board with beat buttons for laying down chiptune-esque tracks. It's a fun little diversion that takes great advantage of one of the show's best characters, so it's well worth a look even if you don't drop the dollar for the full package.
Ski Safari: Adventure Time
While it might not win any points for originality, Ski Safari: Adventure Time ($1, iOS and Android) succeeds in creating a fun side-scrolling runner experience with lots of nods to the animated series. It does so by effectively taking the core gameplay of the original Ski Safari, which had nothing to do with the show, and swapping out the graphics and sound.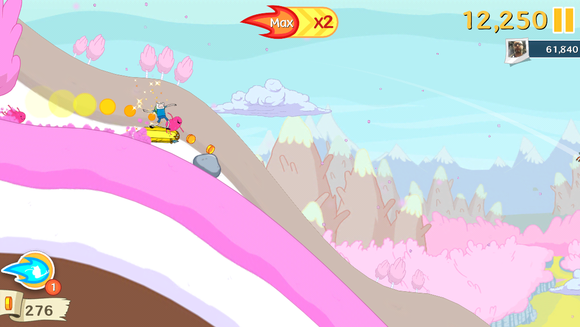 Luckily, that's enough to make it worth a look. You'll continually outrun a coming avalanche as Finn, jumping over hazards and doing backflips in the air to maximize your score while pushing further and further ahead. Riding a banana guard down candy-coated slopes or gliding through the sky on the back of Lady Rainicorn is unsurprisingly pretty fun, especially when wearing a wacky costume.
Cartoon Network
The core Cartoon Network (free; iOS and Android) app is a worthwhile destination for Adventure Time fans—but its real value only shines through if you happen to have a cable or satellite login handy.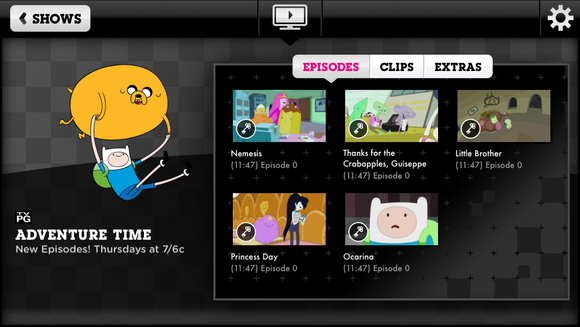 If you do, you'll be able to watch live TV and access the last handful of new full episodes via the app, as well as play a couple of premium mini-games within. Otherwise, without the login info, you'll be limited to short clips and other promo videos, plus a smaller selection of games. The limitations are a bummer, but if you haven't cut the cord, it's an essential resource. (And don't forget that Netflix has the first two seasons available through its app, as well.)
These Lumps
Even a very minor character can carry an Adventure Time game, as seen in These Lumps (free; iOS), which finds Lumpy Space Prince—the gender-swapped version of mainstay Lumpy Space Princess—trying to dominate the dance floor by bumping creatures with small spotlights out of the way.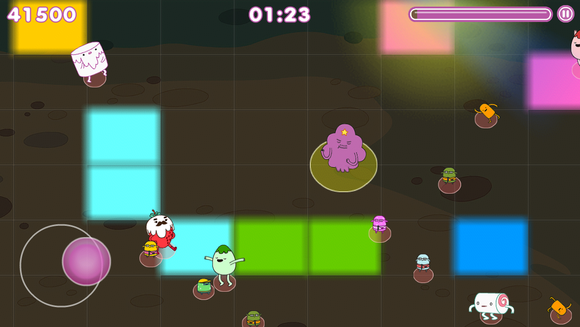 It plays like a silly twist on indie favorite Osmos, but instead of sucking up smaller organisms to make yourself larger, you're bumping the other dancers out of the way to hog all of the attention. Things get tricky as bosses are introduced with an ever-changing spotlight, as well as when the dance floor is packed. These Lumps is a simple thing, but among the free Adventure Time games, it's the most fun.
Time Tangle
Just released in August, Time Tangle ($3; iOS and Android) puts an interesting spin on the behind-the-back runner genre, challenging you to complete a series of quick tasks while sprinting through colorful worlds.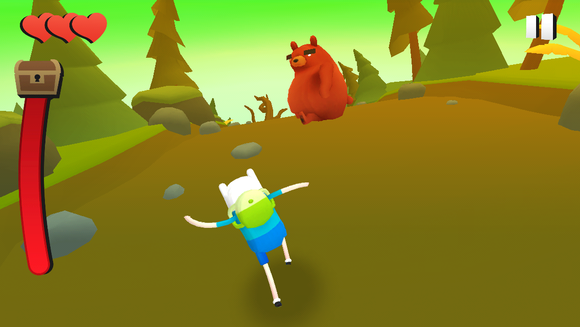 You'll tilt to guide Finn around hazards and tap left to jump and right to attack, and in some moments, you might be chasing down and punching enemies; in others, you're collecting a certain kind of item. Every couple of minutes offers something new, and bigger boss fights pop up occasionally to punctuate the action. The minimal 3D take on the world is quietly attractive, while the variety in levels, quests, and characters gives this solid game some legs.