Only a few months have passed since Foursquare split its popular location discovery app into two separate experiences—Foursquare, which handles discovery and recommendations, and Swarm, which handles check-ins.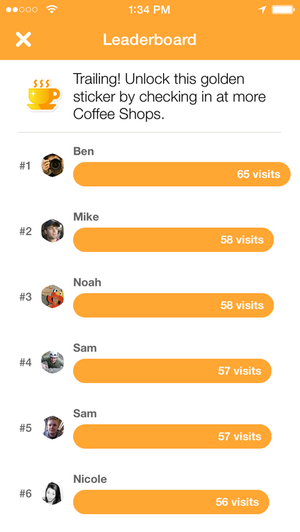 This conscious uncoupling hasn't gone over well with users, so the company has been rolling out updates to push these apps back to what we all know and love: In July, Swarm regained its mayorship leaderboards and introduced sticker rewards for check-ins, but users could only compete against people in their circle of friends.
Clearly, this wasn't enough, because Swarm was updated again on Monday to introduce a new game reward feature: Golden stickers. Instead of competing to go to a specific location more than any of your friends, you can now compete to go to any type of location more than any of your friends—like coffee shops, movie theaters, or music venues. That way, your leaderboard loops all of your friends together, even if you live in different cities.
Swarm will show how you stack up each time you check-in, keeping a tally of similar places you've visited. When you surpass everyone on your friends list at any location category—for example, when you check into more airports than anyone else, or if you have more gym check-ins—you get a pretty golden sticker as an award. It's kind of like a badge, except that it's not really like a badge at all.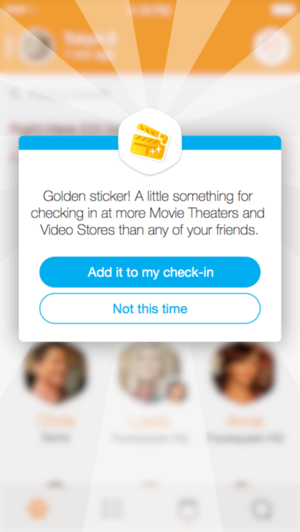 Though it's not the update most Foursquare fans have been waiting for, any Swarm update that reintroduces gameplay is a step in the right direction. Foursquare's gamification element is what made it so fun to use, and limiting mayorships to only your circle of friends took away the bulk of the app's social competition aspect.
These sticker awards broaden the gameplay a bit, but they still don't really replace badges. Leaderboards and stickers keep the focus on competing against others, where badges provided a different way to play. With the old Foursquare, I checked in specifically to earn badges, not to compete for mayorships. Badges were like little rewards for trying new things instead of just sticking to my usual haunts. We'll just have to see if these golden stickers stack up.
Swarm's latest update is available now for Android and iOS devices.